Technology
NDPB targets 250,000 Nigerians for capacity building on data protection 
June 5, 2023127 views0 comments
By Cynthia Ezekwe 
The Nigerian Data Protection Bureau (NDPB) is set to build the capacity of 50,000 Nigerians on data protection annually for the next five years, to boost employment opportunities in Nigeria.
The national commissioner of the bureau, Vincent Olatunji disclosed this during a one-day capacity-building workshop on Data Protection and Privacy for members of the Nigeria Information Technology Reporters Association (NITRA), held recently in Abuja.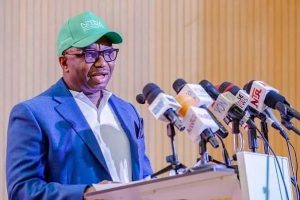 He said the NDPB is trying to put in place a certification mechanism and its target is to ensure that it builds the capacity of about 50,000 Nigerians every year.
According to Olatunji, a recent survey showed that the country has over 500,000 data controllers and data processors, but  those certified as data protection officers (DPO)  are not up to 3000.
"You can see the gap, where we have over 500,000 data processors and controllers and each of them is supposed to have a DPO; whereas, the number of certified DPOs in Nigeria is not up to 10,000. So we have a gap of about 490,000 jobs waiting for people,'' he said.
 Olatunji noted that data protection and privacy is a new sector that will create employment opportunities, adding that  part of the target of the digital economy sector is to create two million jobs in 24 months.
"You can now imagine if the data privacy system alone already has about 490,000 jobs waiting. You can imagine what that can do. You can imagine all the banks, insurance companies, hotels, schools, aviation, and all sectors, employing DPOs; imagine what that will do for the country. So it's a sector that is loaded with potentials to create jobs and to create wealth for Nigerians.