Frontpage
Markets
Nestle, Zenith, GTB, market bellwethers, buoy Nigerian bourse to close green
December 16, 2020636 views0 comments
By Charles Abuede
Market capitalisation increased by N140 billion to N18.6 trillion
With the equities market continuing to show a bullish trend so far this week, investors believe the current development might lead up to a consolidation phase in subsequent trading days, which could then lead to a temporal reversal at the end of the week.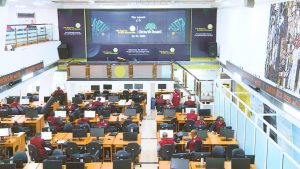 The expectation is, therefore, that the equities market maintains a bullish performance, given current stock prices, which appear to offer attractive investment opportunities to investors.
Today, Wednesday December 16, the market gained 76 basis points, leading the All Share Index to close at 35,493.15 points, while year-to-date return improved to 32.2 per cent and market capitalisation increased by N140 billion to N18.6 trillion.
Market performance was buoyed by buying interest in the bellwethers such as Nestle Plc (+7.5%), Zenith Bank (+2.6%) and Guaranty Trust Bank – GTB – (+1.2%).
However, market activity level was mixed as volume traded surged 146.2 per cent to 650.5 million units while value traded fell 22.4 per cent to N2.3 billion. The most traded stocks by volume were Jaiz Bank (415.0 million units), AXA Mansard (22.3 million units) and Zenith Bank (19.3 million units), while Zenith Bank (N472.7 million), Dangote Sugar (N257.6 million) and Nestle Plc (N231.0 million) led by value.
Mixed sector performance
Performance across sectors was mixed as 3 of 6 indices closed in the green. The Consumer Goods index led gainers, up 3.8 per cent due to buying interest in Nestle Plc (+7.5%) and Flour Mill (+7.3%). Trailing, the Banking and Insurance indices rose 1.9 per cent and 1.6 per cent, respectively, following price appreciation in Zenith Bank (+2.6%), GTB (+1.2%), Wapic (+4.8%) and Consolidated Insurance Plc (+7.4%). Conversely, the Oil & Gas and Industrial Goods indices were down 0.3 per cent and 0.2 per cent, respectively as a result of price depreciation in Oando Plc (-3.5%) and Wapco (-2.2%). Lastly, the AFR-ICT index closed flat.
Investor sentiment weakens
Investor sentiment as measured by market breadth (advance/decline ratio) decreased to 1.9x from the 2.1x recorded in the previous session as 25 stocks gained against the 13 that declined. AXA Mansard (+10.0%), May & Baker (+9.9%) and NCR (+9.6%) led the gainers while Cornerstone Insurance (-8.3%), Linkage Assurance (-8.2%) and Lasaco (-6.1%) led the decliners.
The NSE 30
The NSE 30 Index increased by 0.91 per cent to close at 1,458.51 points as against 1,445.29 points on the previous day. Market turnover closed with a traded volume of 107.99 million units. Nestle and Flour Mills were the key gainers, while Lafarge Africa and Dangote Sugar were the key losers.
Foreign Exchange market
The CBN official exchange rate closed at N379 to a dollar, while the street market rate closed at N476 to the dollar and at the Importers' & Exporters' (I&E) forex market, the naira weakened by 0.17 per cent as the dollar was quoted at N394.67 as against the last close of N394. However, most participants maintained bids of between N385 and N408.84 per dollar.
Treasury Bills
On Wednesday, the NT-Bills secondary market closed on a positive note, with average yield across the curve declining by 3 basis points to close at 0.53 per cent from 0.56 per cent on the previous day. The average yield across short-term, medium-term, and long-term maturities compressed by 1 basis, 3 basis points, and 5 basis points, respectively.
Meanwhile, in the OMO bills market, the average yield across the curve declined by one basis point to close at 0.39 per cent as against the last close of 0.40 per cent. Buying interest was seen across short-term and long-term maturities with average yields falling by 3 basis points and one basis point, respectively. However, the average yields on medium-term maturities increased by 3 basis points.
Bonds Market
FGN bonds secondary market closed on a negative note Wednesday, as the average bond yield across the curve cleared higher by 6 basis points to close at 2.57 per cent, compared to 2.51 per cent on the previous day. Average yields across medium tenor and long tenor of the curve widened by 32 basis points and 11 basis points, respectively, while the average yield across short tenor of the curve remained unchanged. The FGNSB 11-DEC-2021 bond was the best performer with a decline in yield of 6 basis points, while the 26-APR-2029 maturity bond was the worst performer with an increase in yield of 75 basis points.