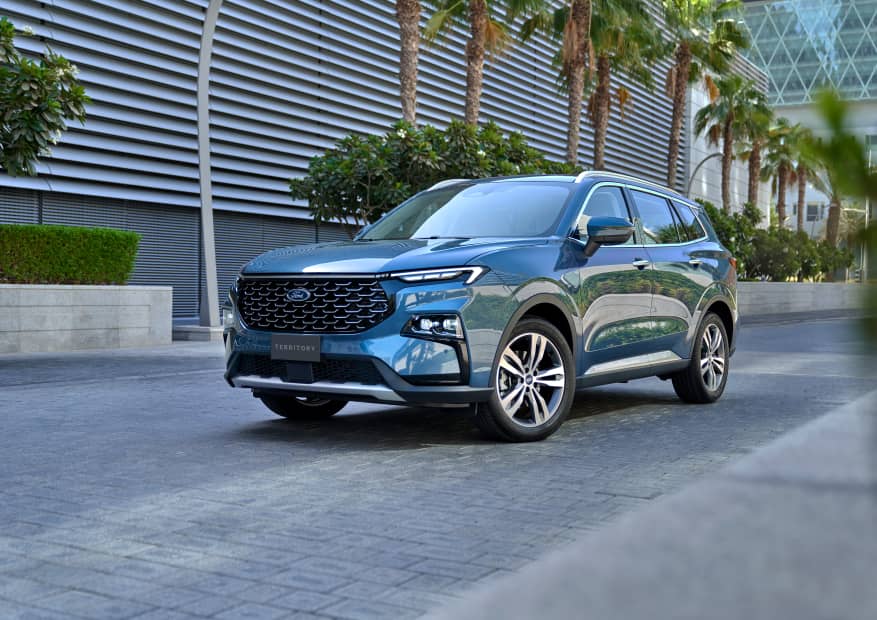 …hard to fault the fit, finish, performance
Mike Ochonma
Once upon a time, sedans and hatchbacks were Ford's brand bread and butter model line-ups. But this time around, that is no longer what most buyers want, they desire and deserve far more and better than that with good returns on their investment  especially in the Nigerian market.
Last week inside the Ford's millennium showroom located on Victoria Island, Lagos, Coscharis Motors teams took the veils-off the all-new Ford Territory SUV to the delight and excitement of customers and the motoring journalists.
The new Territory which is impressively screwed together, and hard to fault its fit and finish fills the void left by the discontinued Escape, and its mid-sized dimensions and pricing is positioned to lock horns against the likes of the Hyundai Tucson, Kia Sportage, Honda CR-V, Toyota RAV4, Nissan X-Trail and an ever-increasing number of Chinese SUVs.
Ford Territory is a midsize SUV designed for tech savvy automobile enthusiasts and to satisfy the work and leisure needs of customers and, corporate fleet buyers and stakeholders alike. It's a capable, well-built crossover that ticks most boxes for what buyers in this segment want.
Cosmas Maduka, president and chief executive, of Coscharis Group represented by Fred Amobi, deputy group managing director at the official launch of the all new Ford Territory last week Wednesday said that, as part of our corporate objectives as Coscharis Group to continually deliver value to stakeholders in any industry in which it operates, ind ourselves as players, Coscharis Motors and the exclusive representative of the iconic Ford brand in the country is laying emphasis on the leadership status within the Nigerian automobile ecosystem with the introduction of the all-new Ford Territory today.
 "As with all the brands and nameplates that we represent in Nigeria, Coscharis Motors has invested heavily on both human and material resources in order to ensure that all necessary support including; workshop equipments, certified OEM trained technicians and approved original parts and accessories required to keep the vehicle in top shape, for optimum performance at all times, are readily available''.
The deputy group managing director declared that, the steadfastness in the regular introduction of new innovative products into the Nigerian automobile industry underpins the level of confidence that the dealership repose in the possibility of a revamped national economy.
Amobi disclosed that, Coscharis investment in the automotive sector of the Nigerian economy is also evidenced in its huge investment in an auto assembly plant located in Awoyaya, Lagos, where it currently assemble the Ford Ranger and other brands.
He pointed out that, the product line-up of Coscharis Motors is one of the strongest and most diverse in Nigeria, adding that, with the introduction of the Ford Territory, it is clear that the dealership will keep dominating the automobile sector of the market.
"We hope that the market's huge acceptability of the Ford Territory, which is being introduced today, will motivate us to add the nameplate to the list of our locally assembled Ford vehicles in our stable.  This will surely translate into opportunity for more job creation, manpower development and reduced product price amongst other things".
The deputy group managing director re-assured all  customers and stakeholders that Coscharis Motors has put all necessary measures in place to ensure that they enjoy the best ownership experience when making the all-new Ford Territory a purchase decision.
Before its debut, the Ford Territory prototypes coped well with harsh climate conditions, even upgrades were made to the air-conditioning system, as well as the power train to ensure it could maintain a high-speed cruise in scorching temperatures without any issues. The infotainment system was also revised to cater to categories of customers. Visually, the Territory is as generic as it gets.
Although it might seem a small engine for a vehicle of this size, the 190hp/320Nm power plant serves up decent acceleration, and it's well complemented by the smooth-shifting dual-clutch auto.
More impressive still is how well the Ford's suspension has been calibrated. Contrary to expectations of slightly soggy dynamics, the Territory has crisp steering and it stays commendably flat even when flung through corners at much higher velocities than most owners are ever likely to replicate.
The Territory's dynamic competence doesn't come at the cost of ride or refinement levels, as it cruises in relative silence while its all-independent suspension (comprising MacPherson struts up front and a multilink set-up at the rear) soaks up most road-surface imperfections.
The cabin has virtual instrument gauges, a 12-inch infotainment touchscreen and a six-speaker stereo.The cabin has a welcoming ambience as the cockpit is attractively laid out with soft-touch materials
Driver's seat has adequate adjustment and rear-seat dwellers have loads of space to sprawl out in. Even taller occupants are likely to find knee and headroom to their liking. Luggage space measures a respectable 448 litres (enough for two large suitcases), although it can be extended substantially by folding down the rear seats.