Frontpage
People & Places
Neymar, Alison, other Brazilian footballers see market value fall $66m to $456.5m in 2020
January 1, 2021754 views0 comments
By Charles Abuede
The collective market value of Neymar, Allison, Roberto Firmino, Marquinhos, and Casemiro, the five most expensive Brazilian football players, hit $465.5 million in the fourth quarter of 2020, indicating a $66 million slump since the beginning of the year, recently reported data has shown.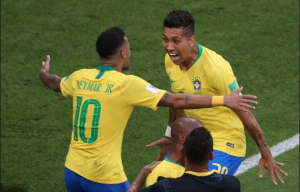 It is without a doubt that over the last two decades, the game of football has gradually evolved into becoming a massive recession-proof industry that generates huge profits in billions of dollars for the most successful football teams. However, the emergence of the coronavirus pandemic changed the normal, depleting clubs' earnings and causing a massive hit on the market values of football players.
Neymar's value plunged by $35.2m
Neymar, one of the most popular footballers in the world witnessed a colossal drop in market value by $22 million in two months this year after his value plunged to $176 million in December of 2019. Data by TransferMarket revealed that before the drop in the Brazilian's value, he was valued at $198 million in June 2019 after his move to PSG from Barcelona was completed. The downsizing trend, however, continued in 2020 as Neymar's valuation fell further by $35.2 million to $140.8 million in October 2020 amid the coronavirus outbreak.
Similarly, Alison Becker, Liverpool FC's number one goalie who is ranked as the second most expensive Brazilian footballer lost $11 million in market value in 2020. Alison was initially valued at $99 million as at December 2019 and then witnessed a drop to $88 million ten months later.
Roberto Firmino, Alison's compatriot both at Liverpool and in Brazil's team stands third on the list. According to the obtained data, the centre forward player witnessed a huge drop in market value in 2020 to $79.2 million in October. The Liverpool FC striker saw a $19.8 million drop from the $99 million value in December 2019.
Marquinhos value jumped to $77m
Further revelation from the TransferMarket data showed that PSG's centre-back Marquinhos was the only Brazil footballer whose value increased in 2020. In December 2019, Marquinhos was valued at $71.5 million. However, four months later, his market value dropped by almost 20 per cent to $57.2 million. But his value bounced back and hit $77 million in October, a $5.5 million increase since the beginning of the year.
And the market value of Real Madrid's midfielder Casemiro, who sits fifth as the most expensive Brazilian football player, dropped by $5.5 million this year, falling from $77 million in December 2019 to $71.5 million in October.