By Luther Animashaun
Nigeria Air, the long awaited proposed national carrier,  is at 98 per cent completion and would commence operations before the end of the President Muhammadu Buhari-led administration.
Hadi Sirika, the minister of aviation made the confirmation, while delivering a speech at the 10th National Aviation Stakeholders Forum held in Abuja, the country's capital city.
According to Sirika,the national carrier project includes the successful implementation of the aviation roadmap. He added that local and international flights would commence soon, following ongoing negotiations between the federal government and Ethiopian Airlines Group Consortium.
Prior to the latest development, the aviation project had been engulfed in controversies surrounding the ownership structure which led to a federal high court ruling,ordering the federal government from implementing the project. This, to a  large extent, delayed the initial commencement of the flight services, slated for December 2022 as announced by President Buhari in October 2022.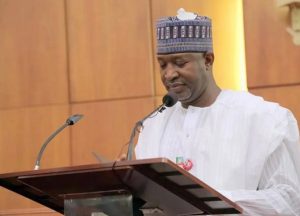 The aviation minister,while giving an update on the likely date Nigeria Air would commence operation,said the national carrier will fly within the remaining two months of the current administration.
He said: "Operation of local and international flights will commence soon. Before the end of this administration, before May 29, we will fly.
"However, with the successful implementation of the roadmap projects, our overall goal is to grow the aviation sector's contribution from the current 0.6 per cent to five per cent (approximately $14.166 billion)."
Speaking on the benefits Nigeria stood to derive from the establishment of the national carrier, Sirika said it will lead to reduced capital flight from Nigeria; optimal benefit of Bilateral Air Services Agreements (BASA), improve Nigeria's standing in the Single African Air Transport Market (SAATM), and lead to a a developed aviation hub.
He also noted that the national carrier would adequately contribute to the nation's gross domestic product (GDP), facilitate hospitality and tourism, facilitate growth and development of the Nigerian agricultural sector and create jobs around the agro-cargo terminals.
"A study showcases the significant contribution of air transportation to the national economy through providing 241,000 jobs (direct and indirect) and a contribution of $1.7 billion," he added.