Oyeleye
Nigeria and post-COVID-19 expectations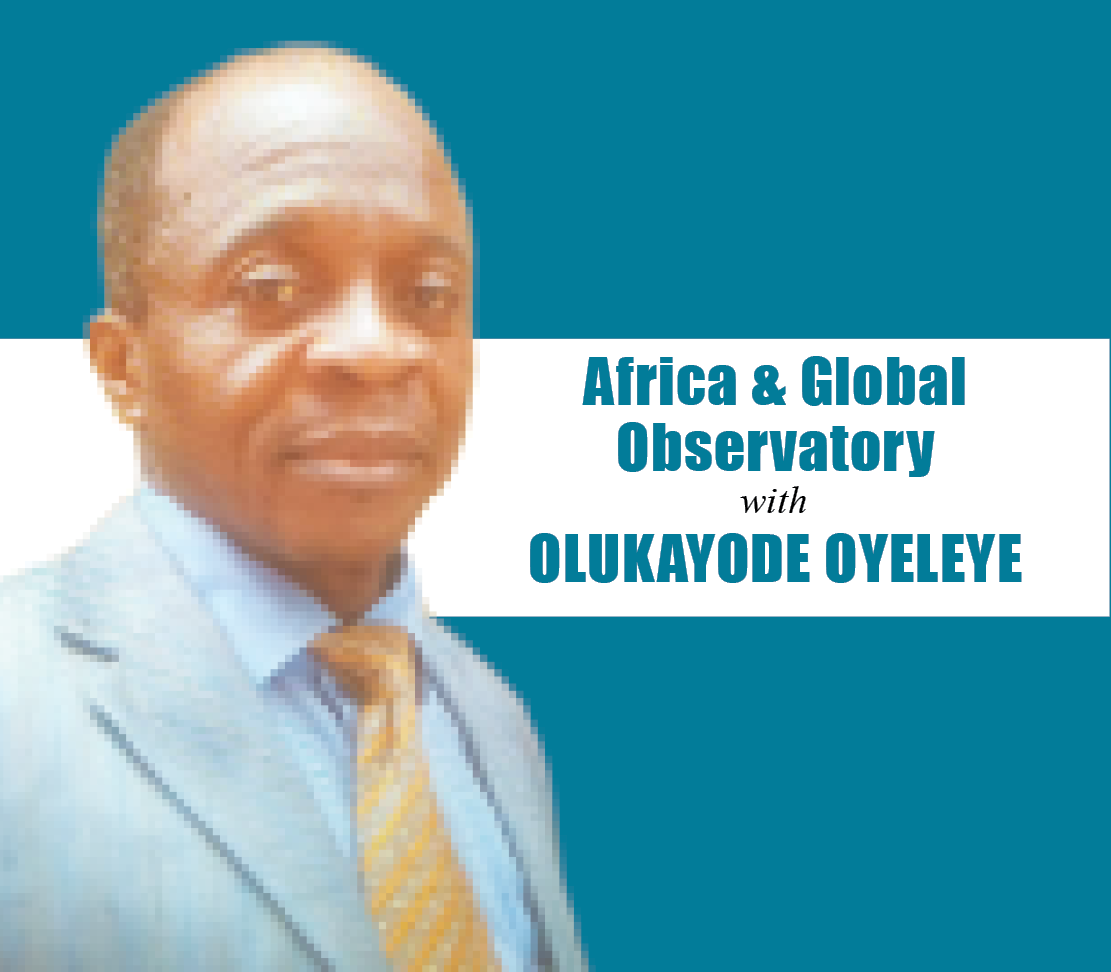 Dr. Oyeleye, a consultant, journalist and policy analyst, can be reached via:
oyeson2@yahoo.co.uk
Twitter: @OlukayodeOyele1
April 6, 20201.9K views0 comments
BY THE TIME THE roaring hurricane of the ravaging Coronavirus (COVID-19) pandemic must have spent its fury and the lull of calm sets in, various countries of the world will wake up to diverse realities. Much of these realities will either be consequences of years of hard work, meticulous scenario thinking and strategic planning or those of carelessness, profligacy, hedonism, fatalism and complacency. For the former category, the Coronavirus pandemic experiences will only serve to sharpen their proficiencies and the lessons learnt will provide a platform to re-launch into the rebounding global economy. The latter, however, will be struggling in perplexity as the impact of the COVID 19 experience will only be exacerbated by the previous experiences, indulgences and absence of lessons upon which to build any robust intervention.
The apologists and promoters of globalisation, neo-liberal economics and free trade will be confused and grossly disappointed as the recovery of various growth sectors will not be automatic and will not be equal, either in rates or magnitudes. Armchair economists might tell us that aviation industry, for instance, will pick up in the short term in response to demands for travelling, locally or internationally. The simplistic argument will be punctured by the difficulties the various airlines will experience, such as reluctance of many travellers to immediately return to air travels for fear of residual COVID-19 infections, outright closing down of some airlines, reduction of the number of routes by some, pricing war by others, or complications to lease agreements by some, all of which will restrict air travels to a significant degree.
The same argument holds for the hospitality and tourism industries, which will not be the primary priorities of most service consumers in the short to medium terms as fears of COVID19 would still lurk in the horizon for a long while. The world will need a reassurance from global competent authorities, and not from the airlines, before their confidence in air travels can be significantly restored. Tourism industry, heavily dependent on aviation industry, will suffer in tandem in many parts of the world for similar reasons, especially the fear of contagion and a resurgence of the pandemic. Global supply chains, disrupted during the spread of the pandemic will remain disrupted for a long period post-recovery, varying from weeks to months, but clearly lingering in many sectors till the year end. The economies that are heavily dependent on manufacturing might have tough time adjusting.
Energy sector will remain at the centre of the storm as petroleum export and import will remain problematic for some time. Demand for oil will remain dull in China in particular, as a major off-taker of Africa's petroleum. This will keep its import low as its economy struggles to recover for the rest of the year. The refusal of Russia to join OPEC in its oligopolistic decision to cut back in oil production since earlier in the year has thrown spanners in the works of the global oil cartel. This has negatively affected oil price determination in the past couple of weeks. The result has been a blow to OPEC members' revenues, Nigeria inclusive. The intervention of Trump towards the weekend appears to have nudged the price slightly upwards on the hope that Russia and Saudi Arabia might resolve their differences and get on board with agreement to work together to cut back production. If, on a straight line projection alone, Nigeria's 2020 revenue projection (of N10.6 trillion as shown in the annual budget) had to be reviewed downward by as much as 40 per cent on OPEC's failure to control production volume and price, emergence of the unexpected COVID-19 has introduced many confounding variables that would further drive down Nigeria's 2020 revenue expectations.
For the fact that Nigeria's economic base is narrow and depends on the oil market's price changes, the impending reduction in national revenue from the second quarter (Q2) of 2020 will impact so negatively on Nigeria's ability to officially import food. The impact of official neglect, incompetence and corruption will thus become obvious and the executive arm of government might need to explain its failure to sustain the implementation of the wheat policy that was revived in 2013 but was truncated since 2015 in the first place. A hint about recent renewal of the wheat policy has not been widely publicised. The impact of the billions of naira allocated to wheat development between 2015 and 2017 will need to be showcased. The legislative arm also will need to explain its failure to perform honest and thorough oversight functions on this. A forecast by the World Grain, a global commodity interest group, in 2019 that Nigeria was forecast to increase wheat imports in 2019/2020 by four per cent, an indication that Nigeria's progress towards meeting wheat demands from local sources remains in doubt. World Grain, quoting the U.S. Department of Agriculture (USDA), projected that wheat production in 2019/2020 in Nigeria would reach heat imports are forecast at 5.6 million tonnes. At a conservative $400 per tonne, that is expected to hit $2.24 billion or N806 billion.
Exporting nations may cut back in grain export in 2020 for many reasons; chiefly weather and COVID-19-induced economic uncertainties. Ukraine, one of the world leaders in wheat export has provided an early hint. According to ProAgro, Ukraine-based agriculture consultancy, in February, Ukraine's 2020 grain harvest was likely to fall 3.19 per cent to 72.673 million tonnes due to a smaller winter wheat sowing area and unfavourable weather. ProAgro added that the 2020 wheat harvest could fall by 7.31 per cent to 26.234 million tonnes from 28.3 million tonnes in 2019. Factoring in the COVID-19, the downward projection could even be steeper. Other exporters might choose to look inwards first before exporting their staples in 2020. That puts Nigeria in a quandary. Although the official information on rice importation points towards a significant reduction, the varieties of foreign rice in the Nigerian markets point in opposite direction, suggesting a massive smuggling of rice into the country since the past four years and possible official distortion of production figures within the same period. The realities and veracity of claims over local production and self-sufficiency in rice, a major staple in Nigeria, will become stark as the year progresses. The systematic policy that brought about the sufficiency in rice production will need to be elaborated as well.
Well over 90 per cent of dairy products consumed in both rural and urban populace in Nigeria are imported, without significant investments in promoting local production. It has been officially acknowledged that milk worth $1.2 billion is imported into the country yearly. The supply-demand gap widens year-in-year-out, and the gap can only be bridged in the short to medium term by importation. Based on the import licence issued by the Central Bank of Nigeria (CBN) to importers, earlier in the year, six dairy companies are approved by the federal government to import milk. Of all these six, only one is indigenous to Nigeria. Even the South Africa-based Promasidor as well as the other five (FrieslandCampina WAMCO Nigeria; Chi Limited; TG Arla Dairy Products Limited; Nestle Nigeria PLC and Integrated Dairies Limited), are expected to import massively from Europe. The outbreak of COVID-19, for instance, might diminish their import prospects for 2020 and possibly beyond.
Economically, Nigeria is weak in all the three areas known to drive the global economy outside mineral resources in contemporary times. The GDP, or terms of trade, from agriculture isn't significant, particularly as the sector remains predominantly dependent on subsistence farming and isn't so much involved in value addition, but sales of raw food, mostly in the local market. The industrial sector has suffered a serious setback since structural adjustment programme (SAP) era and is yet to recover due to the high cost of power generation. Instead, the sector has undergone a near irreversible de-industrialisation. The ascendancy of the service sector or knowledge economy does not help matters as Nigeria is far behind and isn't competitive here because it is not well prepared for it.  Now that the oil-based economy is under stress and threat (as there is increasing preference for renewable energy alternative) with poor demand and low prices, where is Nigeria hoping to look forward to?
Thus, Nigeria runs one of the most expensive governments of all developing countries, especially with the presidential system. There's clearly a lack of strategic direction in the governance of the country, made worse even now, with excessive allocation of national revenues to governments at the three tiers, namely: local, state and federal. Infrastructure remains derelict. The governance structure that allures people into government, not for service, but for the perks at all levels provides room for operators that are bereft of commitment to or ideas about development, with huge overhead costs being incurred annually. These fuel corruption and wastage, wrong priorities or no priorities at all. As a result, educational sector has undergone severe deterioration. Health care delivery, in terms of equipment and personnel, is below acceptable standard, particularly in the public sector. The impact of these shortcomings will be amplified in the aftermath of the coronavirus pandemic as the health sector will be severely stressed globally, making medical tourism pretty difficult and costlier for immigrants and food importation will be less easy as food exporting nations will reorder their priorities, including cutting back on export of major staple commodities in some countries or putting export on hold in some others.  For a country heavily reliant on importation of major staples, Nigeria is heading for food shortage in a scale unprecedented in recent times.
The textile and garment industry, which is all but dead, will experience a sharp shortfall in material supply as the imported stuffs have put the local industry in a quandary. Competition with products of foreign origin will therefore remain at Nigeria's disadvantage as cotton production struggles to keep pace with industrial demands in both quality and quantity. Without a realistic and implementable stimulus programme, Nigeria's lower class will have a tough time ahead. Job losses in both private and public sectors will increase. This will be made worse by the absence of effective labour law which will put millions of workers in jeopardy as their jobs would be on the line. To boost Nigeria's prospects, all these aforementioned problem areas would need to be fixed, and very early.