Currency
Nigeria banks' quote using investors' window seen moving towards single naira rate
August 3, 20171.7K views0 comments
A move on Wednesday that saw Nigerian banks using the naira exchange rate at the Investors' and Exporters' foreign exchange window was being interpreted as a clear desire by regulators to see a single naira exchange rate enthroned in the country much sooner than earlier thought.
Nigeria currently operates a multiple exchange rate system with five of them officially recognised while there are many other streets or parallel market rates. The officially acknowledged rates are the central bank's, investor's and exporter's rate, Nigerian Autonomous Foreign Exchange Fixing rate (NAFEX), Nigerian Inter-bank Foreign Exchange Fixing (NIFEX) and bureau de change (BDC) rate.
Nigeria banks were asked by FMDQ OTC, the securities exchange platform used for interbank trading, to publish quotes that reflected trades at the Investors' and Exporters' foreign exchange window, according to sources at Ecobank and Access Bank referred to by Bloomberg. The window had been introduced by the central bank as part of its measures to tackle an exchange rate that had gotten out of hand.
On Wednesday interbank rate went down 14 percent to N366.04 to the dollar late in the trading day. Thursday it was further down when it opened at N366.71 before closing at N367.19 to the dollar. The NAFEX rate is 367.08. This is the daily fixing published by FMDQ for the Investors' & Exporters' FX window. Naira three-month forward contracts based on the official rate rose as much as 1.3 percent to 342 against the greenback, the highest level on a closing basis since June 6.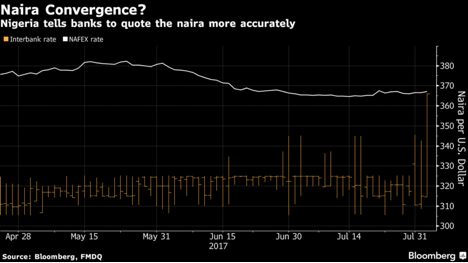 "FMDQ and traders reached an agreement to try to move toward a single exchange rate," Kunle Ezun, an analyst at Ecobank in Lagos, told Bloomberg by phone. He said the idea behind this was "to show the true reflection of the naira in the market. The I&E window in terms of transparency and price discovery seems to reflect where the naira should trade. All banks are now putting quotes at that rate."
Nigeria has faced dollar shortages since the price of oil, its main export, crashed in 2014 and the central bank responded by tightening capital controls. As the squeeze worsened, Nigeria opted for a system of multiple exchange rates rather than floating its currency like other crude producers such as Russia and Kazakhstan.
The change this week was made because banks have been trading with each other mainly via the Nafex market since its introduction, according to Bola Onadele, FMDQ's chief executive.
Banks "should quote where naira is trading with integrity and transparency," he said in a text message to Bloomberg.
While the move will be welcomed by investors, who have long criticized the existence of several exchange rates, a full unification may still be some way off, according to Standard Chartered Plc. The central bank maintains an official rate as strong as 305 per dollar, which it uses to ensure fuel importers get cheap dollars.
"It is probably a positive step toward greater transparency in the FX market," said Samir Gadio, head of Africa strategy at Standard Chartered in London. But "exchange rate unification across the board could imply higher fuel prices, or larger implicit subsidies, which will require national consensus. So it is not a straightforward step."