Frontpage
Nigeria economy grows 1.4% in q3 as oil production increases to 2.03m bpd
November 20, 20172K views0 comments
Nigeria's economy expanded in the third quarter 2017, as oil production output increased.
The gross domestic product of Africa's largest crude producer expanded 1.4 percent in the three months through September from a year earlier, compared with a revised 0.72 percent in the second quarter, according to the report by National Bureau of Statistics released Monday on its website.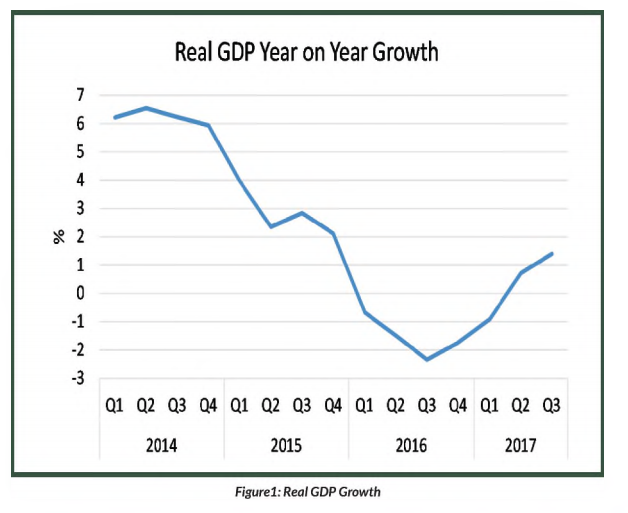 The economy contracted 1.6 percent in 2016, the worst annual slump in 25 years. The International Monetary Fund forecasts GDP growth of 0.8 percent this year and 1.9 percent in 2018 as output of oil, Nigeria's biggest export, increases and as more foreign currency becomes available for factory imports.
Oil production, according to the report is estimated to have averaged 2.03million barrels per day, 0.15million barrels higher than the revised daily average production recorded in the second quarter of 2017 (revised from 1.84mbpd to 1.87mbpd). Oil production during the quarter was higher by 0.42million barrels per day relative to the corresponding quarter in 2016, which recorded an output of 1.61mbpd. The crude sector contributed 10.04 percent to real GDP.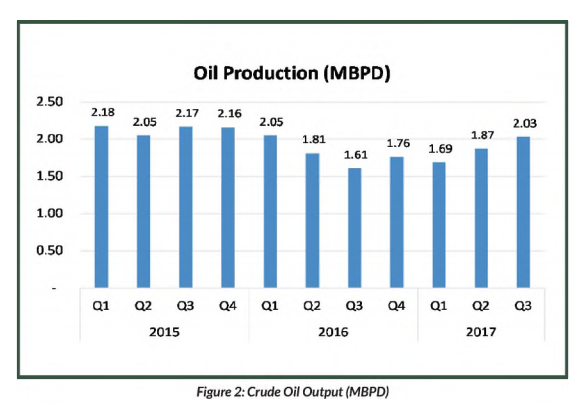 NBS states in the report that the non-oil sector grew by -0.76% in real terms during the reference quarter. This is lower by -0.79% point compared to the rate recorded same quarter, 2016 and -1.20% point lower than in the second quarter of 2017.(See Figure 3). This sector was driven this quarter mainly by Agriculture (Crop), Other services and Electricity, gas, steam and air conditioning supply. In real terms, the Non-Oil sector contributed 89.96% to the nation's GDP, lower than the share recorded in the third quarter of 2016 (91.91%) and in the second quarter of 2017 (90.96%).
President Muhammadu Buhari asked lawmakers to approve a 16 percent increase in spending to 8.6 trillion naira ($23.9 billion) for 2018. Buhari wants to invest about one third of the budget in roads, rail, ports and power to boost the economy.
The faster economic growth may allow the central bank to continue its tight monetary policy to fight inflation that has been above the upper end of the 6 percent to 9 percent target range for more than two years. The monetary policy committee is scheduled to announce its final rate decision for the year on Tuesday. The MPC has kept the benchmark rate at a record high of 14 percent since July 2016.
---
---