Frontpage
Nigeria government released N1.580trn capital votes to MDAs in fiscal 2017
June 19, 20181.4K views0 comments
Nigeria's federal government Tuesday announced that a total of N1.580 trillion capital cost was released to ministries, departments and agencies from the 2017 federal budget.
Kemi Adeosun, the minister of finance, who disclosed this in Abuja, said the N1.580 trillion capital releases for 2017 is remarkably higher than the N1.219 capital releases for 2016.
A breakdown of the releases indicates power, works and housing received the highest allocation of N523.011 billion, which was 33.10 percent of the total capital releases. The sector also received the highest releases in the 2016 capital budget, which was a total of N307.411 billion (25.21%) of the 2016 capital budget.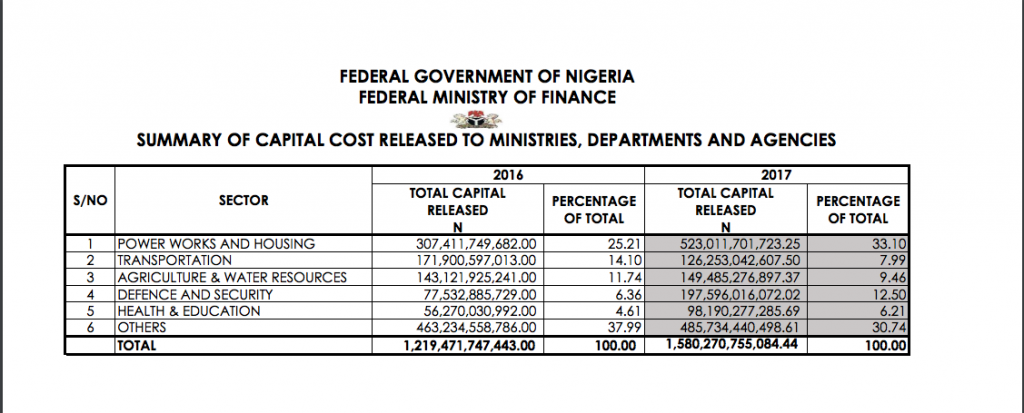 Defence and security received the second highest capital releases of N197.596 billion (12.50%) in 2017 as against N77.532 billion (6.36%) total releases the sector received in 2016.
Agriculture and water resources received a total of N149.485 billion (9.46%) in 2017. The sector had received N143.121 billion (11.74%) in the prior year
Transportation received a total of N126.253 billion (7.99%) of the 2017 capital releases as against the N171.900 billion (14.10%) it got in 2016.
Health and education together received a total of N98.190 billion (6.21%) for 2017 as against N56.270 billion (4.61%) the sectors received in 2016.
Other sectors combined received a total of N485.734 billion, which was 30.74 percent of the 2017 capital releases. In 2016, a total of N463.234 billion (37.99%) was disbursed to these sectors.
Adeosun said despite the economic challenges in 2017, the federal Government was able to fully cash-back the capital releases.
She further stressed that the sustained high allocations to key sectors was a reflection of the Federal Government's commitment to infrastructure development in the country.
The minister said the federal government was working assiduously to attract private capital to complement government spending in these key areas.