Commodities
Nigeria, Libya not seen as threat to OPEC cuts, says Saudi Energy Minister
June 20, 20171.4K views0 comments
Khalid al-Falih, the Saudi Energy Minister, has expressed optimism that the oil market will rebalance in the coming months, just as he stated that the outputs from Libya and Nigeria were not a threat to the OPEC initiative among its members to cut outputs in order to curb the current oversupply of crude oil globally.
Libya's output has risen to 885,000 bpd, while Nigeria continues to supply about 200,000 bpd after the 14 members of OPEC exempted both nations from agreed cuts, OPEC's first in seven years.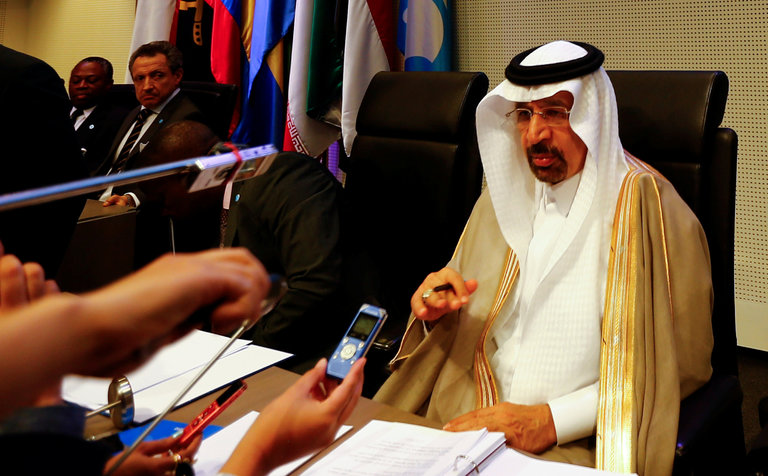 "It is inappropriate to pressure Libya to slow the recovery in its production. They (Libya and Nigeria) shouldn't be considered a threat to the initiative," al-Falid said in a statement to Bloomberg, as monitored by businessamlive.com.
OPEC members' output reached 32.14 million bpd in May, after Nigeria and Libya, were exempted from the agreed cuts.
Crude oil prices are expected to steady this week after last week's persist falls reached a six-month low. Analysts have warned that though prices may not see heavy slide, there is no reason to be too optimistic about prices in the immediate.
COMMODITIES DAILY WRAP UP
WEST TEXAS INTERMEDIATE (WTI)
Prices were at the $44.67 range as markets neared closing on Friday and the WTI saw a $0.01 rise as trading opened on Monday at $44.68. The day's high was $45.06 and the low, at $44.45. As trading wound down, prices were at $44.76, at 12.00pm EDT with earlier forecasts that a rise towards $44.95 signalled the presence of buyers and a further rally should be expected during the week, according to analysts at FX Empire.
BRENT CRUDE
Brent closed at $47.26 near the close of trading on Friday and began the week on a negative trend on Monday, trading at $47.21 and closed at an even much lower price at $47.18 at 12 pm EDT.
AGRICULTURE
COCOA
Cocoa prices continued a downward slide on Monday after last week's run of losses occasioned by a supply glut and a global drop in demand. After closing at £1,549.98, it rallied to take off on a positive note on Monday, selling at £1,551.45. But that was how high it went for the day before it resumed its downward trend, trading at £1,492.29 at 12.00pm EDT.
COFFEE
Coffee prices continued its lack of movement on Monday like it showed for most of last week. It began at $1.24, the same price it closed with on Friday, reached a high of $1.25 and a low of $1.23, before returning to $1.24 as at 12.00pm EDT.
CORN
Corn prices closed on a high on Friday, trading at $3.84. Monday was a different story however, as trading began on a negative of $3.78. A slight positive saw a day's high of $3.82 but prices steadied at $3.78 at 12.00pm EDT. Despite this loss, analysts at Farm Futures see prices rising later this week due to favourable weather. Light rains over night have pushed prices but a better weather forecast for the week means prices are likely to rise as well.
SOYBEAN
Soybean prices are set for a rally this week, according to analysts at Farm Futures. Prices closed at $9.40 on Friday, started Monday on $9.37, dipped to a low of $9.34 and a high of $9.48. At 12.00pm EDT, trading was at $9.42, a gain of $0.05 as trading began to close for the day.
WHEAT
Wheat prices opened at €174.25 on Monday, up by €0.5 after prices closed at €173.75 on Friday. Monday's high was €177.75 but at 12.00pm EDT, prices were at €177.50, as wheat prices attempt a rally after forecasts as Minneapolis spring wheat contracts are seen to be setting more contract highs late in the overnight session, according to Farm Futures analysts.
METALS
GOLD
Last week turned out to be a week of persistent losses for gold and silver and analysts forecasts for the week say the losses may continue as the market continues to react to the rates hike from last week. Gold began Monday at $0.00, after it closed on Friday at $1,254.00. The day's high was $1,253.00 but prices continued a downward trend trading at $1,248.19 at 12.00pm EDT.
According to analysts at FXEmpire, this signalled that traders were still awaiting word from William Dudley, member of the Federal Open Market Committee, FOMC, who is scheduled to issue a statement later this week. The U.S. Fed last week said it may likely raise the rates one more time as inflation was likely to stay below 2.0%.
SILVER
Silver prices for some time have followed same trend as those of gold. After the two markets took heavy hits last week, forecasts point to a similar downward trend this week. On Monday prices opened at $16.76, up $0.01 from Friday's $16.75. Another positive was the day's high of $16.84. Trading reached a dip of $16.58 at 12.00pm EDT, pointing to silver's first negative closing for the week.