Oil and Gas
Nigeria, Morocco to endorse $25bn gas pipeline funding agreement in 2023
October 14, 2022261 views0 comments
Nigeria and Morocco are expected to endorse an agreement on the funding of the $25 billion gas pipeline that would run from Nigeria to Morocco next year, reports said quoting Mele Kyari, group CEO of Nigeria National Petroleum Company Limited (NNPCL).
The huge infrastructure is expected to supply gas to Europe, according to the asset design and plan.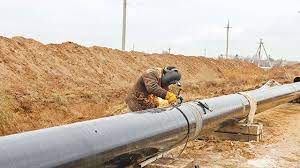 Last month, NNPCL and Morocco's National Office of Hydrocarbons and Mines signed a memorandum of understanding, bringing the proposed project one step closer to completion.
The pipeline is one of two programmes which NNPCL is promoting in an effort to capitalize on European demand for new gas suppliers following Russia's invasion of Ukraine.
'We will take a final investment decision next year," Kyari confirmed in Abuja at the weekend.
The 5,600-kilometre (3,840-mile) pipeline would transport gas to 11 nations along the African coast on its way to Morocco before connecting to Spain or Italy, according to Kyari, who declined to disclose the institutions interested in providing financial support.
The 15-member Economic Community of West African States is likewise a signatory to the MOU.
Kyari said that the project will cost $20-25 billion to build and will be constructed in phases. He estimated that the first phase will take three years to complete, and the others will take five years.
In accordance with an earlier agreement made in 2018, Maghreb Arab Press (MAP), the Moroccan governmental agency, stated that the pipeline completion might take up to 25 years. Nigeria's gas exports are presently constrained to shipment from Nigeria LNG Ltd., a joint venture between NNPC and foreign energy firms like Shell Plc and Eni SpA.
With about 200 trillion cubic feet of proven gas reserves, Nigeria has the biggest gas reserves in Africa. However, most of this gas is untapped, flared, or reinjected into oil wells. The government said that it aims to make significantly more revenue of that resource for both domestic use and export in order to replace crude as the primary export of the country. According to Kyari, it is extremely realizable to quadruple gas production in the next four years.
The NNPC has also rekindled a long-standing idea for a different transcontinental gas pipeline that would travel about 4,400 kilometres through the Sahara Desert to Algeria for onward transport to Europe.
"We have seen the opportunity to bring back every gas pipeline project that you can think of. It is a matter of who needs it and who's ready to pay for it," the company said.
Nigeria's oil output, which has been continuously decreasing since 2020 and hit a multi-decade low of less than 1.2 million barrels per day in August, is a greater urgent concern.
The government and the NNPC attribute this to the high rates of theft and vandalism to the pipelines that run throughout the Niger Delta.
Kyari told legislators last week that security forces in the country recently uncovered an illegal pipeline connected to an onshore facility that had been conveyed pilfered crude 4 kilometres out to sea for nine years.