Nigeria's lawmakers approved to boost spending by 21 percent this year to help the West African economy recover from its worst slump in 25 years.
The Senate, led by its President Bukola Saraki, agreed on Thursday in the capital, Abuja, to increase spending this year to 7.4 trillion naira ($23 billion). That compares to a budget of 7.3 trillion naira that President Muhammadu Buhari proposed on Dec. 14. The House of Representatives, the National Assembly's lower chamber, approved it earlier Thursday.
Nigeria's economy, which vies with South Africa's to be the largest on the continent, shrunk by 1.5 percent last year, the first contraction since 1991, after revenue from oil, its biggest export, fell by almost half. About 30 percent of the budget will be spent on roads, rail, ports and power to help stimulate business activity.
The government should implement the budget quickly "to boost the economy and take it out of recession," Michael Famoroti, an economist at Lagos-based Vetiva Capital Management, said by phone. Spending on capital projects to promote exports and in the oil-producing Niger delta region, is expected in the second half of the year, he said.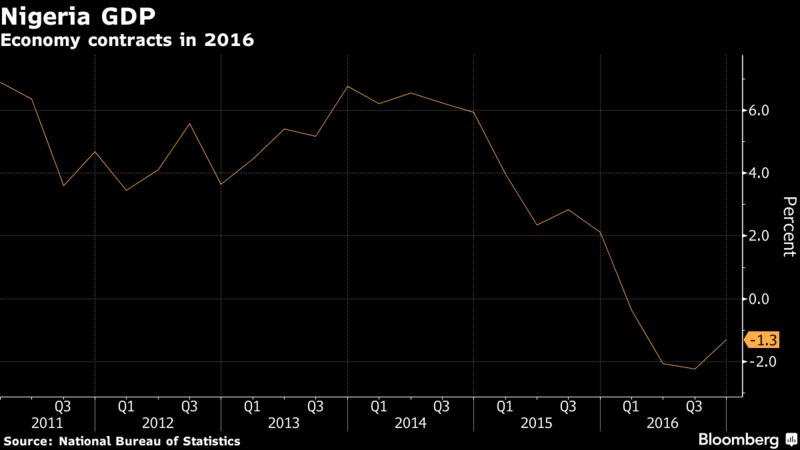 The government's oil-production target may be reached in the second half of the year as "oil revenue is expected to be strong," according to Famoroti. If non-oil revenue doesn't increase, Nigeria might face "another under-performance of the budget."
Foreign-currency shortages in the country forced the central bank to introduce multiple exchange rates, with the main rate at 315 naira per dollar, more than 20 percent cheaper than the street price.
The two chambers of Parliament debate and approve spending plans separately before harmonizing their proposals into a single document sent to the president to sign into law. Buhari's deputy, now acting President Yemi Osinbajo, might sign the bill in the absence of his boss, who flew to London on May 8 for treatment of an undisclosed ailment. The 74 year-old leader's ill health has fueled concern about his ability to rule Africa's most-populous nation of 180 million people.
Like last year, Nigeria delayed approving the budget by more than four months.
The budget's passage paves the way for the government to borrow 2.3 trillion naira, 46 percent of which will be from abroad, to help plug this year's fiscal deficit at 2.18 percent of gross domestic product. Buhari asked lawmakers on April 27 to approve the borrowing of $7 billion from China and the World Bank to build railroads and help recovery of northeastern Nigeria. The region has been adversely affected by Jihadist group Boko Haram's insurgency.
Courtesy Bloomberg