Frontpage
Nigeria signs climate risk finance and management MoU with African Risk Capacity
May 24, 20181.6K views0 comments
Nigeria government has signed a Memorandum of Understanding (MoU) with the African Risk Capacity (ARC) in an effort to address the impact of extreme weather events in the country, insurance against natural disaster risks and training support for government personnel.
The MoU was signed Thursday, at the annual meetings of the African Development Bank, in Busan, South Korea, where Akinwumi Adesina, the Bank's president pledged to support the ARC's work in the region and called for more stakeholders to join the ARC to ensure the availability of insurance against natural disaster risks.
The Bank and ARC have partnership since March 2017 to strengthen technical collaboration towards enhancing the risk management infrastructure and policy across Africa and in supporting countries in building resilience against climate shocks.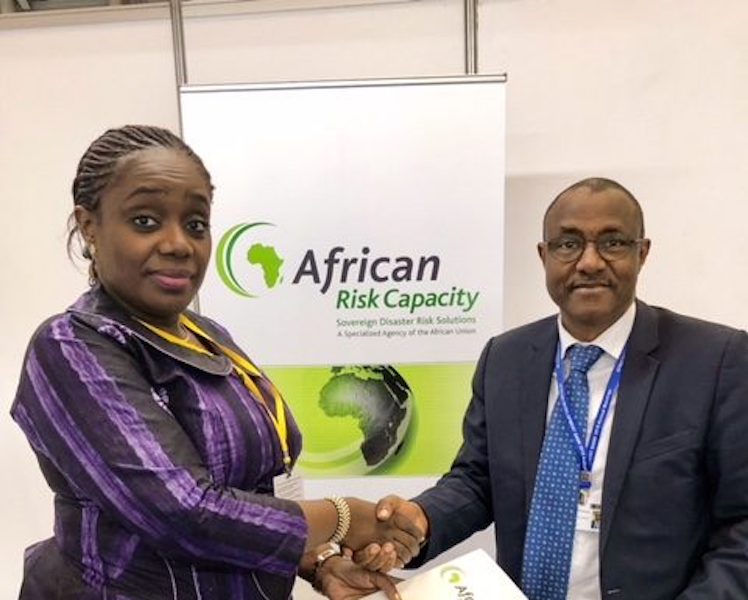 Kemi Adeosun, Nigeria's minister of finance, speaking on the MoU, congratulated the African Risk Capacity for the innovative approach it is taking towards climate risk financing and management in Africa, assuring that the Nigeria government will work with the Agency to address the impact of extreme weather events in the country.
The journey towards a mutual technical collaboration with Nigeria began in July 2015 when the ARC team undertook a scoping mission which established the need for Nigeria to give greater consideration to the ARC initiative.
Nigeria was a founding member of ARC, participating in the establishment discussions and the nomination of former Minister, Ngozi Okonjo-Iweala as the Chair of the Agency's Governing Board. Nigeria subsequently signed the ARC Establishment Agreement on December 4, 2014, thereby formally became a member of the institution.
ARC was established as a Specialized Agency of the African Union (AU) to help member states improve their capacities to better plan, prepare and respond to extreme weather events and natural disasters. Through its first financial affiliate, ARC Ltd, the institution provides African governments with innovative risk management and risk transfer tools and services towards creating a comprehensive pan-African disaster response system.
Mohamed Beavogui, the Director-General of ARC, expressed appreciation to the Nigerian Government for signing the MoU noting that, "the leadership role of Nigeria in the continent and in the establishment of the ARC makes the signing of a formal MoU quite momentous for our work in the region. We want to create systems that can truly protect the livelihoods of the most vulnerable and safeguard the significant development gains made by the country over the years."
Earlier in the week, the Government of Nigeria announced the extension of its agreement with the African Development Bank on the Nigeria Trust Fund (NTF) for additional 10 years to assist the development efforts of low-income regional member countries.