Commodities
Nigeria yet to maximise financial opportunities in textile industry- Founder, You Adire
November 1, 2021416 views0 comments
Omodolapo Rahman is the founder and Chief Responsibility Officer (CRO) of You Adire, an indigenous textile outfit dedicated towards promoting and preserving the Nigerian culture through the production of unique adire tie/dye designs in yardages ,ready-mades and handcraft. In this interview with Business A.M's Onome Amuge, she discusses the challenges and potentials in the Nigerian textile design industry. Excerpts:
What is You Adire all about, the motive behind its establishment and its role in the development of indigenous cloth production and marketing industry?
You Adire is indigenous textile company which was majorly set up to preserve and sustain the Nigeria culture in the 21st century. Our major preoccupation is to make the voice of indigenous fabrics such as adire(Tie-Dye) and batik more audible by modernising its designs while standardising the production process so as to be.
What are the basic materials used in production and how are they sourced?
Indigenous textile designing in Nigeria basically consists of cotton fabrics,dye, chemicals and industrial waxes. However,it's quite discouraging that none of these integral production materials are sourced from Nigeria.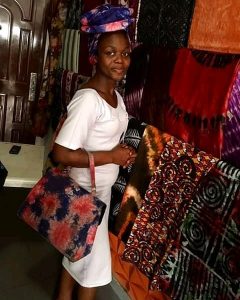 How viable is the adire production business in Nigeria and what does a modern production company require in a developing economy like Nigeria?
Adire production is and will always remain a viable business. This is because it solves one of the basic needs of humans which of course is clothing.Moreso,the fact it promotes our cultural values is what will continually make it indispensable in this dispensation and dispensations to come. A modern production company may need to come up with machines that will possibly target the limitations of the skill which of course includes mass production,weather control and protection of intellectual property.
What have been the effects of the COVID-19 pandemic on business operations, your driving force and prospects post-covid?
Covid -19 occurrence is a bitter-sweet experience for us. Bitter in the sense that we experienced a nose-dive in our business activities when the pandemic was at its peak. However,the aftermath of covid-19 increased our human resources owing to the fact that quite a number of youths and women were able to see the importance of venturing into entrepreneurship over paid employment. The emergence of covid-19 also engendered empowerment initiatives which you Adire as an organisation has benefitted from in no small measure.
As I speak,after the covid-19 invasion ,You Adire has been able to empower more than a thousand women in the art of textile ,in which over 60 per cent of the women taught have been able to embrace the art of making Adire as their major business or side hustle.
What are the value chains involved in the sector and how can it be scaled for investment by those looking to go into it at: small, medium and large scale basis?
The textile designing value chain starts from fabric and dye sourcing, designing, sewing , modelling,skill transfer(empowerment),book publishing and sales. Investors may decide to put in their money on any of these aspects.
As an entrepreneur in one of the subsectors of the textile industry, what is your assessment of the Nigerian textile industry and the impact of its value chain to the Nigerian economy?
Candidly speaking,as a descendant of a textile designing family,I will say Nigeria as a country is yet to exploit the vast opportunities inherent in this sector. Foremost,there's a need for us to own our process i.e being in charge of the major resources used. Also, there are needs for machines that will expedite the work process thereby making it less stressful and more productive. Talking about its impact to the value chain,Adire making as a business has created and is still creating more employment for youths and adults across boards whilst serving as a means of tourist attraction,thereby promoting our cultural heritage. Moreso,the emergence of new uses for the fabric which includes Adire soft furnishings like chairs,sofa,throw pillow,curtains and accessories keeps increasing its value chain in no small measure.
Do you think Nigeria's textile industry possesses the capacity to meet the country's demand and compete favourably with foreign competitors?
Not to deceive ourselves ,I'll say a mild No,owing to the fact that quite a number of the basic production materials are imported.Moreso,the fact that adire making is still limited to 80 per cent manual operation serves as another form of limitation.
However,we're optimistic that the appropriate authorities concerned would develop interest in this unique sector someday and do something about it. In our little ways, we keep trying our best to ensure indigenous textile designing in Nigeria attains its desired heights.
What do you think are the major challenges facing the industry and how do you think these challenges can be effectively controlled and managed?
Some of the major challenges affecting the industry includes; sourcing for raw material,mass production control,and standardised procedure of production. As mentioned ,there are needs for increased output in the sector.This can only be achieved when machines which would expedite and not necessarily take over the production process are invented. Moreso,there's a greater need for us to ensure that the raw materials(including dyes)used for these designs are sourced locally.
What are the basic actions or policies you think the government as well as industry players in the industry need to implement to ensure sufficient production and bolster exportation?
There's a need for our government to get closer to the entrepreneurs,and we have made it easier by joining Business Membership Organisations (BMOs) such as NECA'S Network of Entrepreneurial Women(NNEW),National Association of Small Scale Industrialists (NASSI) and more that will make easy liaising possible with the decision makers in the country.