Commodities
Nigerian cocoa dealers fret as price slump squeezes revenues
January 20, 2021514 views0 comments
By Onome Amuge
Nigerian cocoa farmers have bemoaned the current fall in prices of the nation's major export commodity caused by impacts of the second wave of the covid-19 pandemic, particularly in major consumption countries across Europe and America.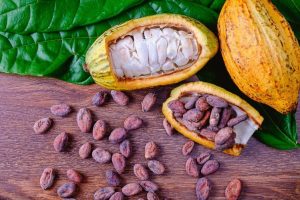 According to the local farmers, the cost of inputs is on the rise while cocoa prices have dropped drastically, creating a huge reduction in expected returns. The farmers also stressed that cocoa beans which previously sold between N1.1 million to N1.2 million per metric tonne, currently sell for N850, 000.
Adeola Adegoke, national president of the Cocoa Farmers' Association of Nigeria (CFAN), in his assessment of the precarious condition the farmers are currently facing, stressed that Nigeria, the sixth largest cocoa producing nation, needs to improve on value addition in order not to find itself in a situation where the commodity will be stranded and begging for buyers who may never come due to unforeseen circumstances.
He explained that prior to the rise of the second covid-19 wave, the exportation of cocoa had risen rapidly, buoyed by increased demand in Asia and sustained purchase of the beans by Europeans and Americans who are the major consumers of chocolate, cocoa's major end product.
The pandemic, he said, has resulted in a setback in terms of export as many of the export destinations are currently experiencing lockdowns, which has also affected some of the companies the farmers get their cocoa contracts from.
Sayina Riman, erstwhile national president of the national cocoa association, stated that the cocoa farmers are the worst hit by the downturn of cocoa price because prices of inputs are going up and the price of cocoa is drastically reducing.
Riman further noted that the exporters are having difficulties adjusting to the CBN's policy on export proceeds, which, he explained, has disrupted the commodity export of the country and keeps devaluing cocoa in the face of lack of buying strength for the exporters.
Dokun Thompson, a traditional ruler and cocoa dealer, said that the fluctuating exchange rate has added to the cocoa price woes.
He warned that a cocoa glut is imminent if the lockdown in Europe goes beyond February into the time of the light season of March and April, which would further crunch cocoa prices.