Frontpage
Nigerian equity market closes low as bellwethers drag NSEASI down 1.6%
April 3, 20181.2K views0 comments
Nigerian equity market closed low Tuesday, the first trading day in the month of April, as losses in market bellwethers – DANGCEM (-3.5%), GUARANTY (-2.9%), and WAPCO (-4.1%) – dragged benchmark index, the NSEASI, down 1.6 percent to 40,855.64 points.
The market thus retreated from the positive trade Friday as investors continued to book profit in caps that had previously declined.
Market year-to-date (YTD) gain dropped to 6.8 percent while market capitalization pared N234.4 billion to settle at N14.8 trillion.
However, activity level improved as volume and value traded rose 34.8 percent and 68.8 percent to 364.8 million units and N6.3 billion respectively.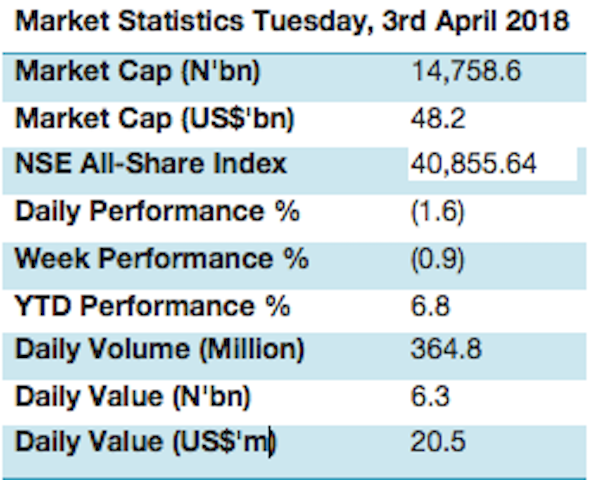 ZENITH (88.2m), TRANSCORP (60.0m) and STERLING (40.5m) led the top traded stocks by volume chart while ZENITH (N2.6bn), NIGERIAN BREWERIES (N1.2bn) and NESTLE (N0.6bn) were the top traded stocks by value.
Sector performance was equally bearish as all indices under coverage closed in the red. Leading the bearish performance was the industrial goods index, which shed 3.4 percent due to profit taking in DANGCEM (-3.5%) and WAPCO (-4.1%).
The consumer goods and oil & gas indices followed suit, closing 0.6 percent and 0.5 percent lower respectively on account of losses in NIGERIAN BREWERIES (-0.9%), DANGSUGAR (-3.7%), FORTE (-2.9%) and MOBIL (-0.4%).
Similarly, the banking index slid 0.4 percent as investors sold off position in GUARANTY (-2.9%) and UBA (-0.9%). Also, sell offs in MANSARD (-1.2%) and LINKASSURE (-4.8%) drove the negative performance of the Insurance index (0.1%).
Investor sentiment measured by market breadth (advance/decline ratio) weakened to 0.3x from 0.9x recorded the previous week as 11 stocks advanced relative to 37 stocks that declined.
Top performing stocks on the day were CAVERTON (+9.0%), LAWUNION (+4.1%) and NEM (+4.0%) while FIDELITY (-9.3%), TRANSCORP (-9.2%) and JAPAUL OIL (-6.8%) led the laggards.
The negative performance though, analyst envisage bargain hunting to buoy performance in subsequent trading sessions. Equally the outcome of the Central Bank of Nigeria monetary policy committee meeting would provide direction for the market.