Interview
Nigerian importers can save N25.3bn capital flight on CIF by going FOB, says Adebakin, CEO, FOB Global Logistics
August 26, 20191.9K views0 comments
Nigerian importers keep losing big to foreign trade partners under Cost, Insurance and Freight (CIF) terms. In fact, Nigerian importers paid $25.3 billion in freight to foreign shipping lines under the CIF regime between 2015 and 2017, according to statistics from the Nigerian Maritime Administration and Safety Agency (NIMASA). In this international trade web that Nigerian investors have been caught up for many years and remain somehow helpless, one man has found the escape route. He is OLUWAJIMI ADEBAKIN, managing director and chief executive officer, Free on Board Global Logistics Ltd. In this interview with SAMSON ECHENIM, the dogged businessman, who is the third generation running this family freighting business, speaks on how he conquered foreign agents of the inimical CIF to now run Nigeria's only Free on Board (FOB) international trading concern and how Nigerian importers can take advantage of his company's services to beat cheating foreign partners. Excerpts:
For many years now, Nigerian importers and their freight forwarders have been lamenting over their loses to the Cost, Insurance and Freight (CIF) regime in international trade processes, while calling for the Free on Board (FOB) terms. While Nigerian importers are crying foul over CIF, the Nigerian government is giving its crude oil to foreign countries on FOB. It appears that while Nigerian businessesare losing to their foreign partners in international trade, the country is also losing. People want to understand the dynamics of these trade systems and the differences between them.
Yes, there are various modes of effecting international trade. There is CIF and FOB, which are the most popular. CIF means cost, insurance and freight, while FOB is free on board. Over 90 percent of all international trades in Nigeria is done on basis of CIF, including 100 percent of all transactions that qualify for forex from the Central Bank of Nigeria and 100 percent of all transactions that the importers require credit from banks. CIF transactions mean that the importer is paying for the cost of the goods in advance; the importer is paying for the cost of insurance in advance; and the importer is paying for the cost of freight in advance. On the other hand, we have FOB, which gives the importer the frill to pay for freight after his cargoes have arrived at the port of destination. The reason the Nigerian government has decided to adopt FOB in our oil exportation is to reduce the cost implication of CIF. If we are doing CIF for export, that means the Nigerian government will pay for the freight and insurance in advance, which depletes our foreign reserves. Therefore, the Nigerian government adopting an FOB in the contracts that it has with 34 companies that are licenced to bring refined petroleum products into the country, the companies are responsible to pay for the freight of the crude going out, pay for the insurance and in return, bring in refined products to Nigeria. So, at the end of the day fiscal forex does not exchange between Nigeria's NNPC (Nigeria National Petroleum Corporation) or CBN (Central Bank of Nigeria) and these 34 companies that have been selected to convert our crude to refined products. The benefit of this is that while in CIF transaction, you pay for goods, insurance and freight in advance, in FOB transaction, you only pay for the cost of the goods and insurance in advance, the freight is only payable upon arrival of the cargo at the port of destination.
Many experts hold that there are economic implications of Nigeria selling crude on FOB. They believe that if it is done on CIF basis, Nigerian insurance firms will earn, while many Nigerians would be engaged in the process of freighting the cargo to the port of destination. Do you agree with them?
I beg to be corrected. Even on the FOB that the NNPC is having a contracting relationship with these selected companies, the insurance element is done by Nigerian insurance companies. The re-insurance is done by the Nigerian insurance companies' technical partners offshore. On the other hand, the reverse of what we are doing in Nigeria is what is happening in other oil and gas producing nations. However, because we don't have effective refineries, the country has no choice than to do this kind of trade by barter, whereby each private company will collect Nigerian crude, finance the cost of freight and the cost of refining the crude to petroleum products and then bring petroleum products back to Nigeria. But if the four refineries we have in Nigeria are working at full capacity, we don't need to take the crude out of Nigeria. We would refine the crude here in Nigeria and the country will now be a major exporter of refined products.
On the subject of having our own vessels, recall that in the past, Nigeria had her own vessels, same way we had national carrier; but unfortunately, this is what happens when you don't have best business practice. It is a popular saying here that government has no business in business; that government should just be the regulator. If you want to achieve efficiency and want the highest yield on return on investment, you have to put decisions in the hands of the private sector. I beg to refer to AlhajiAlikoDangote. In three years or five years' time, his profitability is not going to be determined by his cement project, but by his refinery that is being constructed in Lekki and the bye-products that will be gotten from oil refining. And at that point, you will find out that that Dangote Refinery has a capacity of all the four refineries we have in Nigeria that are not functioning. So, by 2023 or thereabout, the refinery would be operating at full capacity. By 2025, other things being equal, Nigeria will no longer trade one barrel of crude out of the country for refining.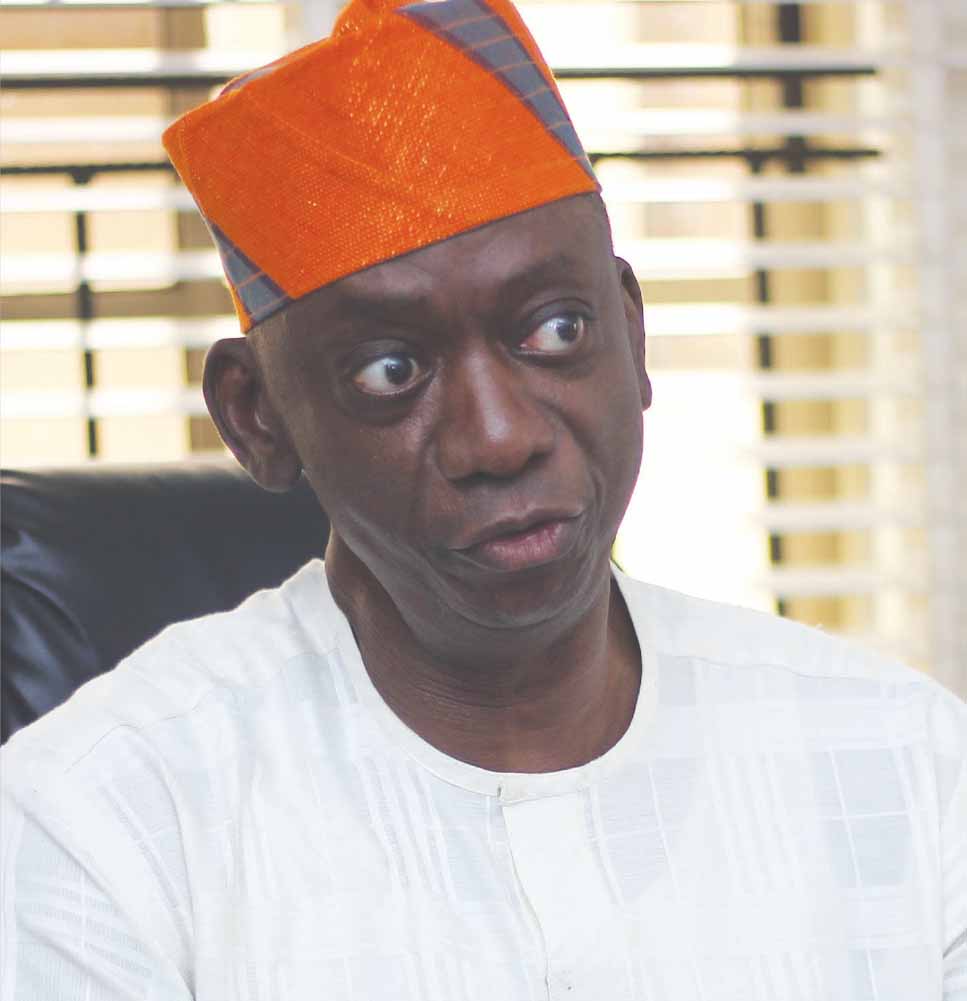 The freight forwarding group of the LCCI recently raised the alarm that importers are losing much to their foreign trading partners under the CIF terms. How can Nigerian importers stop importing on CIF and shift to FOB basis?
Thank you for this question. I am third generation of this company within the logistics, haulage and freight forwarding business. My uncle started haulage in 1950, moving cargoes from Apapa to Kano. My father was the first GM of Panalpina in Nigeria. He left Panalpina in 1969 to take over the haulage business from his brother and converted it from a sole trader status to a limited liability company in 1970 under the name, Napak Services Nigeria Limited. At the heart of that operation, we were competing with Panalpina, John Holt and all the other foreign freight forwarding companies. We had accounts with Mobil Oil, Shell and Agip and their likes. We had operations in Apapa port, Lagos airport, Tin Can Port, Owerri airport and others, but as they say, kingdoms rise, kingdoms fall. I joined the family business in 2007 and I looked at where we could find our niche in the marketplace. Every freight forwarder in Nigeria is involved with using the mode of CIF. We had an opportunity to bid for a project to bring in some cables from New Delhi— about 68 tonnes of cable from New Delhi to Nigeria. The client wanted us to do it on FOB terms. I had thought that since this client is a big player, we should have airlines falling on themselves to offer us FOB terms and I went round all the airlines and freighter services in the world, but no airline or freighter service would offer FOB on this transaction to Nigeria. After four months, I went back to the client and I said "sir, I'm very sorry for wasting your time. No airline is offering FOB into Nigeria." The client laughed and said, "Now, you have seen the problem; you go and solve the problem and you would create a blue ocean between yourself and the rest of the indigenous freight forwarding companies." I took up this challenge and it took me roughly 18 months to resolve the challenge and turned the problem to an opportunity and in 2016, we registered Free on Board Global Logistics to address the issue of Nigerian importers having to pay for freight, using CIF which means they are paying for the freight in advance. Now, FOB Global Logistics Limited is offering all importers the opportunity to be able to bring in their containers, general cargo from anywhere in the world into Nigeria on FOB terms, which means they will only pay for freight upon arrival of their cargoes at the Nigerian seaport or airport.
How can more freight forwarding companies in Nigeria begin trading on FOB?
Well, we are a neutral service provider, which means that we have collaboration with all freight forwarding companies. They can utilise our services. We will bring in the cargo for them on behalf of the client and upon arrival of the cargo, they pay us our freight and they will do the cargo clearance and delivery of the cargo on behalf of the client. We appreciate the fact there should be no circumventions and we respect non-disclosure agreements that we have with all freight forwarding services providers. We are what we've classified as a third party service provider, using our FOB facility. So, the contract is between us and the Nigerian freight forwarder and the Nigerian freight forwarder has a separate contract between him and the client. So, we are third party service provider in our relationship with other freight forwarders who want to utilise our FOB facility.
How is Nigeria's duty-free policy on machineries and equipment aiding the industry?
We have taken full advantage of the duty free zones we have at the moment. For instance, we have companies along the Lekki axis. If you go to Lekki port, no vessel is going there yet because it is not ready, but we have been on it for about 20 years now trying to make the duty-free zones work since 1999. Again, the question is, is the government willing to make the right decisions on the investment required to decongest Tin Can and Apapa ports so that vessels can be berthing at the Lekki port? The future is bright for that axis and for the free trade zones, but I cannot see it fully achieving the potential in the next five to 10 years. There is progress made at the Onne free zone. There is a fair measure of trading happening there.
The Lekki Port is actually a deep seaport where the country expects even bigger vessels than those that are berthing at Apapa and Tin Can ports, but stakeholders are concerned that the road network to Lekki port has remained inadequate. What is your take on this?
Again, if you look at the concession that was offered to build the tollgate from Lekki first roundabout to the 7th roundabout, which is by Chelvron, that axis was unpliable for a long time, but once private capital came into play, the axis was opened up. More people, up to and beyond Ajah, started buying lands and properties on that axis. But, from Ajah to Epe, basically you have single carriage way, so this is what I am saying when I said it would be difficult to open up in five to 10 years. Look at the Murtala Mohammed International Airport Road in Lagos, the plan has been on the table for over 15 years, but due to internal politicking, the project was not executed until 2016. Now the gridlock that we used to see on that road has disappeared. We now have 16 lanes. This is what is possible when there is a public private partnership (PPP). So, for the Lekki deep seaport to be economically viable there is need for the reconstruction and expansion of that link road between Ajah and Epe. If you go to Epe now, there is remarkable progress in terms of roads linking Epe to Ogun State – Abeokuta, Ijebu-Ode and so on. So that deliberate action also needs to be taken between Ajah and Epe for the Lekki port to be economically viable. I believe once the Dangote Refinery is up and running it will be a logical step to reconstruct that link road.
There have been complaints for many years from shippers about container deposits that are not refunded by shipping lines. Over N70 billion shippers' money is said to be trapped in the coffers of the foreign shipping lines. How did Nigerian importers get here?
Container deposit is quite unfortunate because in most instances the deposit we pay is equal or more than the cost of freight. Deposit can be up to N200,000 and if you are bringing five or 10 containers, suddenly, the deposit is over a million naira. Depending on the vessel liner, to process the refunds can take up to three months. And now, there are some vessel liners that have made the refund process so complicated that some people just forget about the deposit, unfortunately. But the container deposit is something that came into existence only about a year ago due to the congestion at the port. So, the container deposit will disappear the moment the congestion at the port disappears.
It appears the shipping lines are already enjoying the container deposit as another form of earning. Are you saying this with certainty?
That was the reason they gave for requesting for container deposit. There is no other reason for container deposit outside of the congestion. Again, the macro environment in Nigeria allows multinationals and expatriates to do things in Nigeria that they cannot do at their own stations. I don't want to be political. However, if the agencies regulating shipping and maritime in Nigeria are on top of their jobs, these things should not happen. We have a presidential taskforce that has been working on decongesting Apapa for some months now. Now, if you want to return your container, there is a cost consequence for the truck drivers to pay at about four points before the container reaches the port. Is it the vessel liner that is doing that? No, it is not the vessel liner. First and foremost, we should be looking forward to the container terminal that is being constructed and when it is finished there is a news now that there is going to be an electronic call up system from the park. Therefore, if everybody is compliant with using the park that is being provided, definitely, the roads and the ports will be decongested and I want to believe that the days of container deposit would be over in Nigeria because it is only in Nigeria that container deposit is paid. The shipping lines are in business. Unfortunately, some shipping lines have actually turned Nigeria to their dumping ground for their containers. Again, it is the responsibility of the Nigerian Ports Authority (NPA) to ensure that this does not happen but if they do not focus on their oversight functions, the shipping lines will do whatever they think economically viable for them. So, I don't really want to blame the shipping lines. I want to say that our corporate governance within the maritime sector needs to be reviewed and revived to ensure that Nigerians at large – whether you are an importer, exporter, or just one-off trader – the cost of doing business at our ports should be competitive with all the neighbouring countries, such that there is no need for Nigerians to take their cargoes to Lome and other ports and so that business activities in Nigerian ports will be increased. So, the government needs to look seriously at all the loopholes that are encouraging and sustaining bad practices that are resulting to receipted costs of doing business.
The Nigerian Shippers' Council tried to begin regulation of freight charges by recommending benchmark for cost of moving goods from the ports to the cities. The council is concerned about having a standardised freight cost system to help investors make better decisions on transport cost. How do you see the move sir?
Nigeria operates a capitalist economy, where the market dictates the buying and selling process. The Shippers' Council can only make recommendations to haulage companies when they have their own fleet as paternity for the importers and exporters to use. It is like the Lagos State government saying we don't want to see yellow danfoon the roads anymore. Are you saying that when Lagosians have the option to use clean BRT buses against the danfo, they will not? They will automatically abandon the danfo. So let the market as an intelligent instrument regulate itself because that is what the market is. In a situation where the truck spends a month on the queue trying to get loaded at the port; spends three days trying to avoid the traffic coming out from the port and spends weeks on queue trying to be loaded, you don't seem to have an option than to charge to cover upyour costs. Haulage companies know that they can only do, may be, two trips in a month. They have commitments with their banks to pay terms on trucks, so they do not have a choice. I remember the time the congestion started. We used to move 40ft container from Apapa to Ikeja at N250,000, but now it is N500,000, representing 100 percent increase. What options do we have? Look at five years ago before Uber and Taxify came into Nigeria. If you want to move from Maryland to Victoria Island, you will need to go to the road and wait for the yellow taxi. They give you a price you are not happy with, but you have to take it because you have been waiting in the sun or in the rain. Today, with technology and private sector participation, that area has been opened up and liberalised. You can project what it is going to cost you to move from point A to point B. We will get to that position. There are one or two companies already in the market that are providing least cost routes for businesses to do their haulage from one point to the other. FOB is actually at the edge of setting up what we call FOB Express, which is going to be haulage operation. We are doing the haulage operation with a major public sector body to ensure that small and medium size companies that want to participate in the e-commerce space will be able to move their goods from any point in Nigeria, across the 774 local government areas without any problem and at a predetermined rate. So, it is only the private sector, using artificial intelligence, coming into that space that will change the situation for the better. When that happens, what happened to the taxis will happen to the truck service.