Frontpage
Nigerian, South African economies hindering Nedbank's profitability
August 4, 20171.7K views0 comments
Nedbank Group Ltd. is finding its profitability at the mercy of the oil price, Nigerian and South African politicians because of the lender's reliance on its two biggest markets, according to Bloomberg's report.
The company has shaped its African expansion strategy around a 20 percent stake in Ecobank Transnational Inc., which makes the bulk of its money in Nigeria from the 36 countries in which it operates. A contraction in Nigeria's economy following a slide in oil prices and currency controls caused Ecobank to tumble to a 2016 loss, weighing on Nedbank's earnings.
In the Bloomberg's report, Richard Hasson, a portfolio manager at Electus Fund Managers in Cape Town, said "Nedbank's Africa strategy is the least attractive of the South African banks and it has a large exposure to Ecobank, which is an asset it doesn't control or manage, therefore it's unable to manage the lending practices or risk."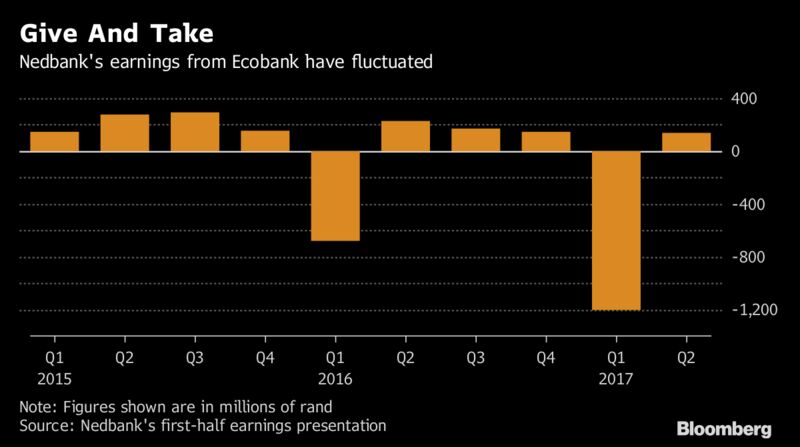 Ecobank makes up 22 percent of Nedbank's earnings and contributed to a 3.7 percent decline in the South African lender's net income in the six months through June, Nedbank said on Wednesday. Nedbank rose for a third day on Friday, extending gains this week to 1.7 percent. That helped pare losses this year to 6 percent, making it the worst performer on the six-member FTSE/JSE Africa Banks Index after Barclays Africa.
The market value of Nedbank's investment in Ecobank, which it paid almost $500 million for in 2014, is equivalent to $218 million based on Ecobank's share price on the Nigerian Stock Exchange on Thursday. The companies first entered an alliance in 2008.
Ecobank also has governance challenges, said Patrice Rassou, head of equities at Sanlam Investment Management in Cape Town. Issues over the past four years have ranged from former Ecobank Chairman Kolapo Lawson clashing with Nigeria's central bank over unpaid debts to allegations of fraud by senior managers, and a lawsuit over the firing of ex-Chief Executive Officer Thierry Tanoh.
Not everyone sees the investment negatively, especially with Ecobank returning to profit in the first quarter. The company's stock has rallied 65 percent this year.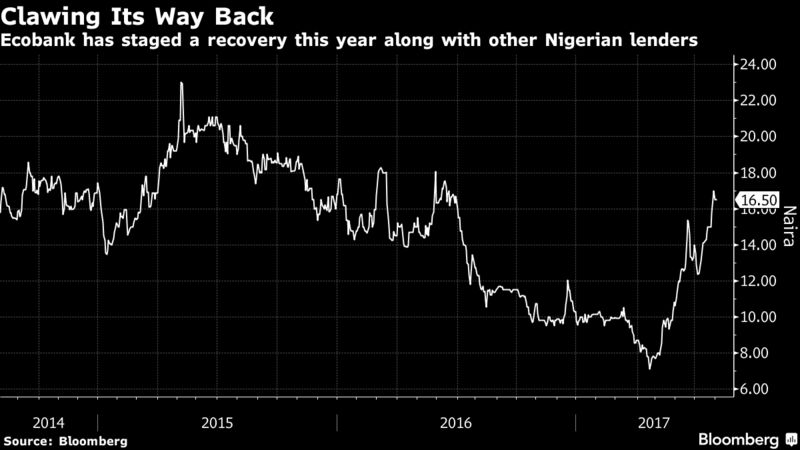 "Ecobank does give Nedbank a low-risk way of participating in the long-term growth prospects of the west and central African region in the long run," said Adrian Cloete, an analyst at PSG Wealth. "By owning more than a 50 percent stake you would expose yourself as a bank controlling shareholder to all the corporate governance and other regulatory risks. Nedbank definitely followed the correct strategy by buying a minority stake in Ecobank rather than setting up its own operations."
Nedbank CEO Mike Brown pointed out in an interview on Aug. 2 that Ecobank's fortunes are improving. Nedbank's corporate and investment banking head, Brian Kennedy, is also joining Ecobank's board, giving it two directors on Togo-based company's board.
Further, although they're small, Nedbank does have operations in countries including Mozambique, Lesotho, Swaziland, and Malawi. While it's mooted buying assets in East Africa, particularly Kenya, for almost three years, nothing has come of those ideas. Instead, it's hunkering down and focusing on existing operations, Brown said.
"Nedbank should be growing into Africa as opportunities arise to acquire control of smaller assets at reasonable valuations," Hasson of Electus said. "Getting to scale in Africa can take a very long time, over 10 years, but we do believe that the seeds for this future growth should be planted on an opportunistic basis."