Economy
Frontpage
Nigeria's central bank bankrolls country's economic sustainability plan with N1.8trn 
September 23, 2020984 views0 comments
By Charles Abuede
The Central Bank of Nigeria (CBN) has revealed that it will contribute over N1.8 trillion of the total sums of the N2.30 trillion needed for Nigeria's one year Economic Sustainability Plan (ESP).
Godwin Emefiele, the CBN governor made this disclosure on in Abuja while reading out the decisions made by the bank's monetary policy committee (MPC) from its just-concluded 275th MPC meeting.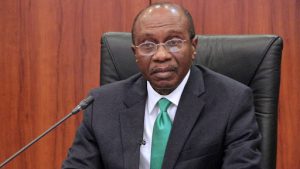 According Emefiele, the apex bank, having noted the various interventions and initiatives aimed at reflating the economy, the government lender will contribute over N1.8 trillion as an addition to the initiative by the federal government through its various financing interventions using the channels of participating financial institutions (PFIs).
At the meeting, the apex bank explained that recent interventions were largely in the areas of manufacturing, agriculture, electricity and gas, solar power and housing construction, among others. The bank also expressed optimism that these initiatives will significantly ease the adverse impact of the COVID-19 pandemic and set the economy on a path of recovery.
Meanwhile, the total disbursements from the bank's interventions so far, in the wake of the coronavirus pandemic, has climbed to N3.5 trillion and the interventions include the N216.87 billion Real Sector Funds; the COVID-19 Targeted Credit Facility (TCF) in the tune of N73.69 billion; the N54.66 billion AGSMEIS intervention scheme; a N44.47 billion Pharmaceutical and Health Care Support Fund; and the N2.93 billion Creative Industry Financing Initiative.
Further breakdown by Emefiele, of the funding to sectors shows that under the Real Sector Funds, a total of 87 projects, including 53 to manufacturing, 21 to agriculture and 13 services projects were funded. In the health care sector, 41 projects which include 16 pharmaceuticals and 25 hospital and health care services were funded. Also, the Targeted Credit Facility saw 120,074 applicants receive financial support for investment capital. Similarly, the Agri-Business/Small and Medium Enterprise Investment Scheme (AGSMEIS) intervention has been extended to a total of 14,638 applicants, while 250 SME businesses, predominantly the youths, have benefited from the Creative Industry Financing Initiative.
The Central Bank, however, has implored all relevant economic stakeholders to take advantage of these intervention initiatives to help support a quick rebound in growth.