Frontpage
Nigeria's inflation hits 17-year high in July at 19.64%
August 16, 2022298 views0 comments
Nigeria's inflation rate accelerated for the sixth consecutive month to a 17-year high of 19.64 percent in July, from 18.6 percent recorded in the preceding month of June 2022, according to the latest Consumer Price Index (CPI) report released by the National Bureau of Statistics (NBS) on Monday.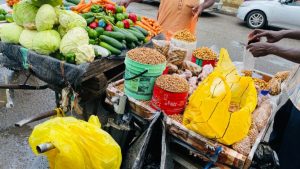 The July inflation figure is also 2.27 percent points higher compared to 17.38 percent recorded in July 2021.
According to the report, which measured the rate of changes in prices of goods and services, the  record-high inflation was driven by a consecutive uptick in the food and core index, underpinned by increases across all classification of individual consumption by purpose (COICOP) divisions that yielded the headline index.
On a month-on-month basis, the headline inflation rate rose to 1.817 percent in July, 0.001 percent higher than the 1.816 percent rate recorded the previous month (June 2022).
The report further showed that the percentage change in the average CPI for the 12-month period ending July 2022 over the average of the CPI for the previous 12-month period was 16.75 percent, indicating a 0.46 percent increase compared to 16.30 percent recorded in July 2021.
As a result, Nigeria's urban inflation rate jumped  2.08 percent to 20.09 percent in the month under review against 18.01 percent recorded in the corresponding period of 2021, while the rural inflation rate hit 19.22 percent from 16.75 percent recorded in July 2021.
The national statistical agency added that the food index rose to 22.02 percent in July 2022 from 20.60 percent in June, and this was attributed to increases in prices of bread and cereals, food products, such as potatoes, yams and other tubers, oils and fats, meat, and fish.
On a month-on-month basis, the food inflation rate in July stood at 2.04 percent, which is 0.01 percent lower than 2.05 percent recorded in the previous month. The NBS attributed the decline to a reduction in the prices of some food items including maize, garri, and vegetables.
Also, the average annual rate of food inflation for the 12-month period ending July 2022 over the previous 12-month average stood at 18.75 percent, which represents a 1.42 percentage point decline compared to the average annual rate of change which stood at 20.16 percent in July 2021.
The "all items less farm produce" or core inflation, which excludes the prices of volatile agricultural produce, stood at 16.26 percent in July 2022, compared to 15.75 percent recorded in the previous month. This represents the highest core inflation rate since January 2017, when the rate stood at 17.8 percent.
On a month-on-month basis, the core inflation rate was 1.75 percent in July 2022, 0.20 percent above 1.56 percent recorded in June 2022.
Notably, the highest increases were recorded in prices of gas, liquid fuel, solid fuel, passenger transport by road, passenger transport by air, garments, cleaning, repair and hire of clothing
On the state profile, Akwa Ibom State recorded the highest inflation rate on a year-on-year basis at 22.88 percent, closely followed by Ebonyi State with 22.51 percent. Kogi, Bayelsa and Rivers State also recorded high inflation rates at 22.08 percent, 21.6 percent and 21.37 percent, respectively. On the other hand, Jigawa, Kano and Borno State recorded the slowest rise in inflation at 16.62 percent, 17.04 percent, and 18.04 percent, respectively.
Meanwhile, Kwara State recorded the highest food inflation rate in July 2022 at 29.28 percent, followed by Akwa Ibom at 27.22 percent, and  Kogi at 26.08 percent.
The latest report showed a sixth monthly increase in a row in Nigeria's inflation rate and the highest since September 2005 when it soared to 24.32 percent.
Economic analysts who commented on the recent figure noted that the CBN's  Monetary Policy Rate (MPR) hike from 13 percent to 14 percent in July 2022 has failed to yield the expected result of easing the country's inflationary pressure.