Companies
Nigeria's N2.38trn trade deficit wake up call for export promotion, import substitution
December 17, 2020661 views0 comments
By Charles Abuede
Negative trade balance may weaken local industries
Nigeria's current trade deficit situation has again provided data based evidence to show how the country has been sinking, continuing to spend more on imports than exports. It would appear truly that Nigeria continues to be a country that cannot help itself out of a morass it has sunk into.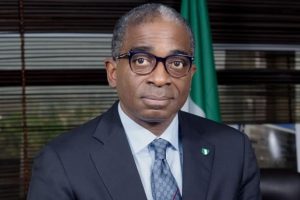 In the short-run, a negative balance of trade over time may substantially weaken domestic industries. Also, a huge reliance on imports also leaves a country, such as Nigeria, vulnerable to economic downturns, as the country is currently experiencing.
Nigeria recorded a trade deficit of N2.38 trillion during the third quarter of 2020 due to lower exports and higher imports compared to 2019; and representing the widest deficit in merchandise trade in three years (2017). This shows that the numbers surged 32.45 per cent during Q3 to N2.38 trillion from the N1.8 trillion recorded in the preceding quarter of 2020, data from the national statistics office shows.
The recurring trade deficit in Nigeria's trade account represents a pointer to the need to continuously seek means to improve exports of domestically produced merchandises and also substitute for the importation of these products in a bid to improve foreign exchange earnings, encourage local producers or manufacturers, as well as to protect infant industries in Nigeria. This would not be really new advice to the ears of the authorities, but how they manage not to truly and faithfully act on it remains a mystery.
Nigeria's export still low since 2017 and counting
According to the foreign trade statistics report from the National Bureau of Statistics (NBS), Nigeria has continued to experience low exports of merchandise out of its shores to earn foreign currency.  A cursory look at the data shows that exports account for only 36 per cent of the total trade which in turn, is made of 19 per cent crude oil exports and 81 per cent of non-crude oil exports during the period under review.
Consequently, during the period under review, Nigeria exported merchandise worth N2.99 trillion in 3 months while she recorded imports worth over N5.38 trillion with the latter accounting for over 200 per cent of the former. However, on the export arm, the crude oil and other petroleum oil products made up 81.02 per cent and 11.81 per cent of the total exports. While the non-oil sectors which comprise of the agricultural goods (2.02%), raw materials (0.37%), solid minerals (0.18%), energy (0.15%)and manufactured goods (4.44%) minimally contributing to the whole.
Furthermore, the data also shows that India ranks as Nigeria's top trade partner as the country imported 16.73 per cent of Nigeria's total export during the period while Spain ranks second on the log of Nigeria's major trading partners importing 10.97 per cent. Similarly, the Netherlands (7.61%), South Africa (6.81%) and Turkey (5.01%) also accounted for ample statistics of total external trade in goods in Q3 of 2020.
Also, the exports by section revealed that mineral products accounted for the largest proportion of exports, amounting to N2.7 trillion or 93.1%. This was due to the crude oil component of this section. This was followed by vehicles aircraft and parts (N103.4 billion or 3.5 per cent) and others.
Analysis of export by region revealed that Nigeria exported mostly to Europe (N1.2 trillion or 41.3 per cent), followed by Asia N1.12 trillion or 37 per cent), Africa (N442.3 billion or 15 per cent), and America (N150.86 billion or 5 per cent). Within Africa, goods worth N182.4 billion were exported to ECOWAS member states.
During the quarter, total trade-in Agricultural goods stood at N563.9 billion, out of which exported agricultural goods accounted for N60.5 billion. Analysis by economic region showed that Agricultural goods were exported to Asia (N32.2 billion), Europe (N16.7 billion), Africa (N9.1billion) and America (N2.4 billion). The key drivers of agricultural products exports were Sesamum seeds, Cashew nuts, good fermented Cocoa beans and Superior quality raw cocoa beans. Sesamum seeds were exported mainly to Japan (N5.3 billion) and to China (N4.7 billion), while Cashew nuts worth N8.3 billion and N2.2 billion were exported to Vietnam and India respectively.
Economic analysts who are well familiar with the matter have identified the need to tax the inflows of capital and more savings as some means to reduce the trade deficit. However, it is pertinent to note the implementation of favourable trade policies to discourage imports and thereby paving ways to execute the import substitution strategy will go a long way in enhancing local production and exports of these locally produced merchandises through the shores of Nigeria.