By Arakunle Kayode
Rotimi Amaechi, Nigeria's minister for transportation, has through a tweet post on his official Twitter handle on Wednesday, revealed that the federal government of Nigeria will commence an e-ticketing platform for the Nigerian Railway Corporation (NRC) one week from now.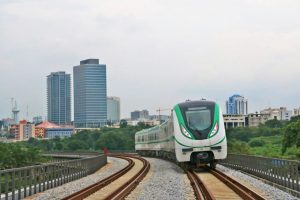 This followsearlier disclosures that the government has started test bookings on the e-ticketing platform on the Abuja-Kaduna rail line as a prelude to the possible launch.
"Yes, we have commenced test bookings on the NRC E-ticketing platform, starting with the Abuja-Kaduna rail line. Next week, we'll launch fully. Check it out and make bookings," Amaechi said in the tweet.
The minister also revealed that the electronic ticket, which will be sold at different assigned spots and platforms, are required to empower travellers to get these tickets effectively with minimal hurdles, guaranteed orderliness in the buying of the tickets in a bid to address some significant security challenges.
He furtherstated that the tickets can be sold through telephones, licenced outlets and at different stations, as measures have additionally been set up to guarantee that the e-ticketing satisfies global requirements.
Prior to this time, FidetOhiria, who is the managing director of the NRC had as of September 2019, disclosed that the corporation will before a long time present an e-ticketing platform for the nation's benefit, adding that the cycle was at its final stage of becoming a vital sign for the company.
Meanwhile, there have been several reactions by rail travellers who expressed their unpleasant encounters to getting tickets, hence the launch by the Nigerian Railway Corporation (NRC).