Frontpage
Nigeria's top banks' directors take home N6.17 billion in 2016
June 10, 20172.2K views0 comments
Executive compensation- Updated
---
* Bad bank, AMCON, directors earn N776 million despite 351bn loss…
Directors at Nigeria's top ten and profitable banks took home a combined executive compensation of N6.17 billion in financial year 2016, even as directors at loss making bad bank, Asset Management Company of Nigeria (AMCON), did not see its losses impact much on their compensation as they took home N776 million for the year.
A compilation by Nairametrics Research shows that the executive compensation paid out to the AMCON directors remains high in the
financial services sector, despite two years of recording operational losses.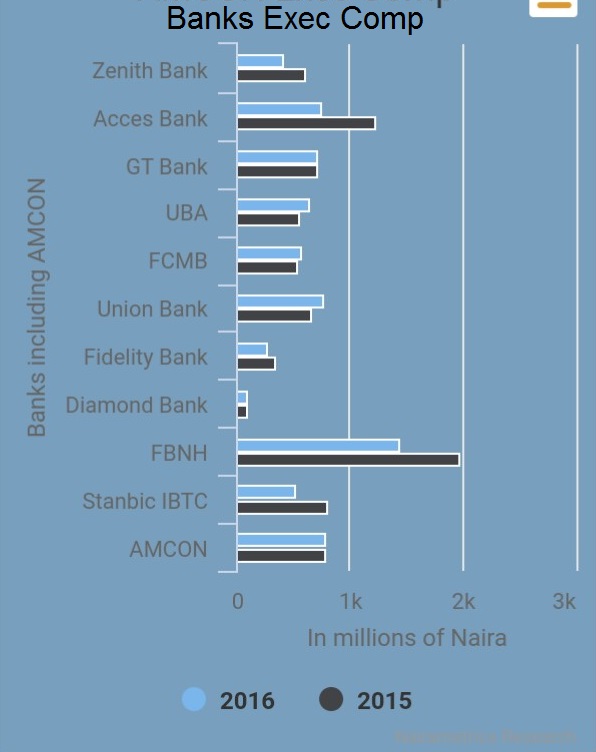 The N776 million compensations were paid to four executive directors for the period ended December 2016. In that year the company made an
oprational loss of about N351 billion. The directors equally earned N778 million in 2015, when the company also made a loss of N304 billion.
AMCON's personnel expenses amounted to N7.4 billion in 2016 compared to N9.7 billion in 2015.
The four executives include Ahmed Lawan Kuru (Managing), Aminu Ismail (Executive Director), Dr Eberechukwu Uneze (Executive Director) and Kola Ayeye (Executive Director).
But AMCON's executive compensation compares favourably in the financial services industry, coming second only to First Bank Holding Company (FBNH), which paid its directors N1.4 billion in 2016. The bad bank executive remuneration package was even higher than that of the most profitable bank in the industry, Guaranty Trust Bank, which paid N713 million to its directors in the review period.
Other top banks' executive compensation payout in 2016 includes Union Bank (N763 million); Access Bank (N748 million); UBA (N645 million).