Automobile
Nissan luxury automotive brand reveals new tech, Infiniti gas-engine
November 22, 20171.3K views0 comments
Nissan luxury brand Infiniti is claiming a breakthrough in engine technology that will allow for variable compression for the first time in a production vehicle.
The technology provides more power and better fuel efficiency by raising and lowering pistons depending on driving conditions. Currently, engine pistons move at a constant distance as they go up and down in the cylinder, a process that determines vehicle performance.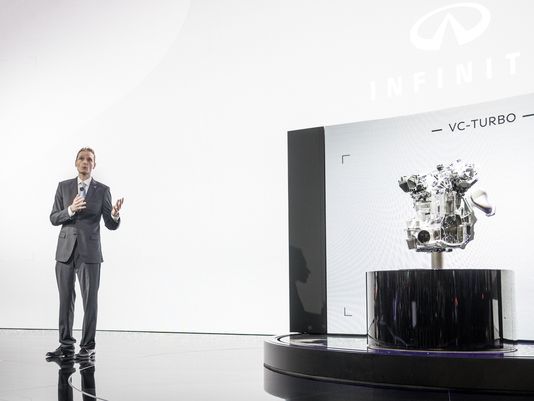 Just as automakers are prepping aggressive plans for electric vehicles throughout the world, they are also delivering significant advancements in the old-standby technology of internal combustion engines.
Japanese automaker Mazda recently claimed a breakthrough with compression-ignition technology that it says is 20% to 30% more efficient than previous models.
Infiniti showed off the 2-liter variable-compression turbocharged gas engine for the first time in 2016. Now, the Japanese automotive brand says the technology will arrive on the 2019 Infiniti QX50 crossover.
Automakers have been pursuing variable-compression technology for years.
Infiniti said the technology delivers "the torque and efficiency of an advanced diesel powertrain" without the diesel's emissions while delivering performance similar to a typical six-cylinder gas engine.
One reason it's more efficient is that it's lighter and more compact than six-cylinder engines.
Shinichi Kiga, Nissan's chief powertrain engineer, told Automotive News that the new QX50 would have 27% better fuel economy than its predecessor and go 0 to 60 miles per hour nearly a second faster than comparable 4-cylinder engines.
Despite the breakthrough, several major automakers have pledged to begin a slow transition away from gasoline.
Volvo recently announced plans to make only hybrid or electric vehicles. And General Motors has announced plans to switch to all-electric cars at some point in the future.