Companies
NSE bags NTITA's best use of technology for efficiency award
Adesola Afolabi was a businessamlive reporter and Head of Financial desk.
October 16, 2018928 views0 comments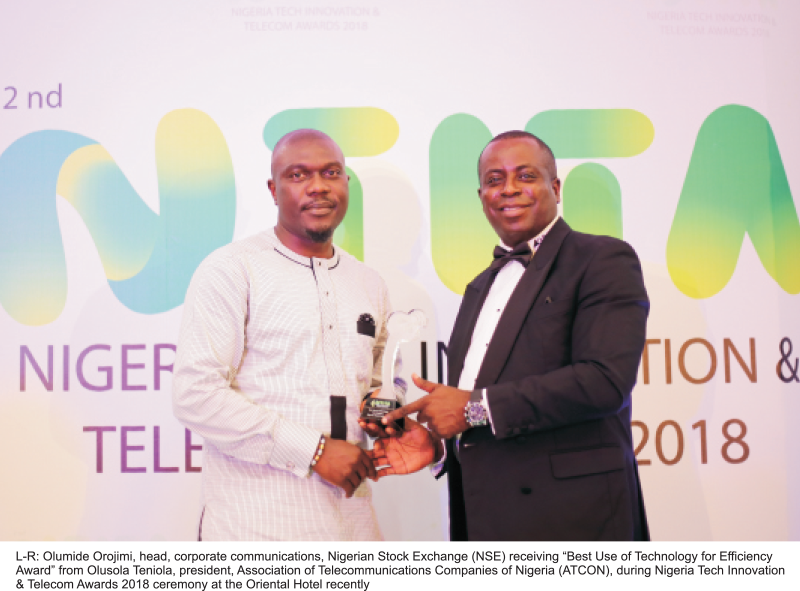 The Nigerian Stock Exchange (NSE) Tuesday announced it has received the 2018 best use of technology for efficiency award from Nigeria Tech Innovation and Telecom Awards 2018 (NTITA).
According to the organisers, the award is in recognition of NSE's outstanding service, innovation and tireless efforts in the industry.
The NTITTA is the most celebrated industry awards for the
t
echnology and
t
elecom industries attracting top decision makers in the sectors.
Akin Naphtal, chairman, organising committee of the awards ceremony, said
:
"We are proud to promote success stories, technology advancement and disruption in one of the most dynamic business sectors in Nigeria. Not only do we look at businesses, but also those who have made a genuine impact on the market from within these companies".
The award was presented by Olusola Teniola, president, Association of Telecommunications Companies of Nigeria (ATCON) to the chief executive officer of NSE, represented by Olumide Orojimi, head, corporate communications, NSE at NTITA award ceremony
recently
Commenting on the award, Bola Adeeko, head, shared services division, NSE, s
aid:
"
W
e are very honoured to receive this award. This achievement is a testament to the efficiency of our service offering which is underpinned by cutting edge technology. This award will spur us to continue to provide investors and businesses a reliable, efficient and an adaptable exchange hub in Africa, to save and to access capital".
The annual award event is held to showcase excellence and celebrate the continued growth of Nigeria's Information, Communication and Technology industry with focus on the exceptional and innovative performance within the industry.