Frontpage
On IWD, Emefiele, CBN governor, says apex bank working to close gender gap  
March 8, 2019997 views0 comments
The Central Bank of Nigeria (CBN) is working to close gender gap within the apex bank as a corporate strategy, Godwin Emefiele, governor of the CBN has said.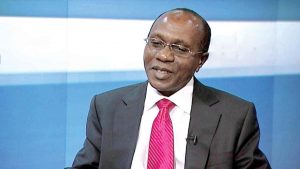 Emefiele spoke Friday March 8, on the occasion of the commemoration of the 2019 International Women's Day, lauding the contributions of women at the bank.
He noted that achieving gender equality must go beyond voicing the slogan and urged that deliberate steps be taken towards closing the gender gap, adding that it is something the CBN had taken seriously by integrating it into its corporate strategy.
He described this year's theme, "Think Equal, Build Smart, Innovate for Change" as apt, given the global wave of change towards finding more smart and innovative technological methods of achieving positive change.
While observing that achieving gender-equality was not one man's task, he charged employees of the apex bank to be conscious of and understand their individual and collective roles in ensuring equality without compromising excellence.
The CBN has lined up series of events to commemorate the International Women's Day, which is celebrated globally every 8th of March,  to hold on 12th,19th and 21st March, 2019.
The activities put together by the CBN to mark the day are being spearheaded by a bank-wide team led by Aisha Ahmad, the deputy governor in charge of financial system stability.