Frontpage
OPEC celebrates Nigeria's 50 years membership amid global oil gloom
June 27, 2021195 views0 comments
Cartel to mark 61st anniversary in September
Mohammad Barkindo, secretary-general of the Organisation of Petroleum Exporting Countries (OPEC) says Nigeria, the global oil cartel's 11th member, needs to be celebrated, as the country marks its 50 years membership of the organization on July 12.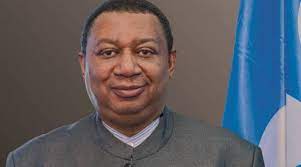 Nigeria officially became the 11th member of OPEC on July 12, 1971, barely a year after emerging from its civil war that lasted 30 months (May 1967 to January 1970). Barkindo, who in a statement from its secretariat in Vienna, Austria, said that day (12 July) has been of historic importance for Nigeria and OPEC.
To commemorate this landmark date, the OPEC Secretariat has pieced together a special OPEC bulletin, which will look at the history of Nigeria's relationship with OPEC, including the many giants of Nigerian public service, who have been responsible for the successful five-decade relationship that has evolved with OPEC, Barkindo, said.
"We will interview high-level figures and examine and explore other topical issues surrounding Nigeria. The focal interview would be with President Muhammadu Buhari, who I describe as an OPEC veteran for over 40 years. President Buhari has been heavily involved in the organisation's affairs," Barkindo said.
He said OPEC has been fortunate to benefit from the talent, wisdom and extraordinary capabilities of generations of Nigerian public servants who have served the organization. They have been integral to what the oil producers' organisation has achieved.
"Over the course of these five decades of OPEC membership, Nigeria has been a constructive partner, seeking consensus and always encouraging compromise. The special OPEC Bulletin highlights all these. The unique relationship between OPEC and Nigeria has been mutually beneficial and laden with a plethora of successes. The golden anniversary of Nigeria's membership is indeed a cause for celebration. I very much hope that all Nigerians will celebrate with us, not only reflecting on the past, but also considering how we can build a more prosperous future together," the scribe said.
OPEC is a 13-member oil cartel with current members as Algeria, Angola, Equatorial Guinea, Gabon, Iran, Iraq, Kuwait, Libya, Nigeria, the Republic of Congo (Congo Brazzaville), Saudi Arabia (the de facto leader), United Arab Emirates and Venezuela. Former OPEC members are: Ecuador, Indonesia and Qatar.
OPEC is an intergovernmental organization. The organization is also a significant provider of information about the international oil market. Founded on 14 September 1960 in Baghdad, Iraq, by the first five members (Iran, Iraq, Kuwait, Saudi Arabia and Venezuela), it has since 1965 been headquartered in Vienna, Austria, although Austria is not an OPEC member state.
As of September 2018, the 13-member countries accounted for an estimated 44 per cent of global oil production and 81.5 percent of the world's "proven" oil reserves, giving OPEC a major influence on global oil prices that were previously determined by the so-called "Seven Sisters" grouping of multinational oil companies. A larger group called OPEC+ was formed in late 2016 to have more control on the global crude oil market.
Economists often cite OPEC as a textbook example of a cartel that cooperates to reduce market competition, but one whose consultations are protected by the doctrine of state immunity under international law. In December 2014, "OPEC and the oil men" ranked as #3 on Lloyd's of London list of "the top 100 most influential people in the shipping industry".
However, the influence of OPEC on international trade is periodically challenged by the expansion of non-OPEC energy sources, and by the recurring temptation for individual OPEC countries to exceed production targets and pursue conflicting self-interests. The demand for OPEC oil fell to a 30-year low in the second quarter of 2020 because of the Covid-19 pandemic.