Interview
Our $100m Euro fund, N150bn Nigeria fund would target infrastructure, sports economy
March 14, 20181.1K views0 comments
Abubakar Lawal, group managing director of GTI Asset Management & Trust Limited, has led some notable corporate rescue missions as an investment banker. Roll-call: International Breweries, Eterna Oil, Wema Bank, Champion Breweries, Morrison Industries. There is something revolutionary about the way he thinks when you sit down with him to pick his brain, like business a.m.'s PHILLIP ISAKPA and STEVE OMANUFEME did in this interview held at his Lagos corporate office at GTI. His company is championing the first private-driven trading floor in sub-Saharan Africa, which he says is meant to spearhead capital formation. He holds the strong view that investment bankers have a major rescue role to play when a nation's economy, like Nigeria's, is in a crisis.
---
We would like to start by asking, what is GTI about and what areas of businesses are you involved in?
It is important that I let you know that GTI was founded by Nigerians; it is a purely Nigerian company. GTI is an investment firm with a Nigerian origin and an African focus, with international drive. This means we are a Nigerian company, but we have a strong presence in the United Kingdom; meaning we are international and the focus is on Africa. We went international because we believe there is capital drought in Africa, while there are plenty of opportunities in Africa.
Out there in the western world, there is plenty of capital, an over-abundance of capital, but opportunities are limited. So, what we did was to put GTI together and structured it in a manner that would allow us to have something like a JPMorgan coming out of Nigeria to service the rest of Africa, with an international presence.
That's what GTI is all about. If you look at what we have been able to do really, there are no surprises that we are the first to deliver the first private-driven trading platform in sub-Saharan Africa.
We have a trading platform that can interface Africa, receive mandates from Europe, America, such that we make GTI the gateway to Africa, and we look forward to a tomorrow and it is playing out right now.
You want to do a transaction and there is a development that is going on in Ghana, let's say for the purpose of this course, $50 million, $500 million, $1 billion deal that is breaking in Ghana, GTI will be in a position to say, we are not only going to move capital from just Europe, but also northern Africa, eastern Africa and also southern Africa, for that investment purpose. Just think about it and that is what we refer to as the GTI African connect.
We have that already and we are building on it. Hence we have representation in northern Africa, southern Africa and eastern and western Africa as we speak. So that tells you the exact framework on which the GTI model is premised. And we have been driving that and that is what we keep driving. Anyway, if you look at part of what I was trying to deliver, as we speak, we are trying to perfect our European fund right now. We have gotten all the approvals and would be launched by the next quarter.
Our local fund is going to be filed and it is going to be in Nigeria. What all this is doing is speaking to the same content and what we are trying to do is to bring liquidity to the market.
We believe that Nigeria shouldn't have 40 percent unemployment; but that this is happening because we don't have long-term capital.
We don't have capital that people could access, not just at single digit interest rate, but long-term, that will enable real sector development. Correcting this is our focus. And we have been driving it very tenaciously. And it is not far-fetched because, we just completed a couple of rights issues. It is evident in some of the capital raisings we are doing, even as we speak.
Our focus is we should serve Africa, but with Nigeria in particular, to be able to address our national issues. It is of great importance to us because the only way we can impact the economy is if we have our factories working.
If we go back and look at the Nigerian Stock Exchange, we have about 200 listing companies, but for how long?
Do your research, how many companies have enlisted in the last 10 years? What we have is delisting, and we have to stem that trend and ensure we work very hard to have more companies on the exchange.
We have to deepen our market, why do we have companies in Nigeria that are not listing? It is probably because the depth of the market is of a major concern to them.
And it beholds on the operators to do the job, and that is exactly what we are focused on doing. We need to get our economy working and that is what GTI is all about.
We want you to speak on the subject of a private trading platform, which you have. But before that, tell us the sizes of your European and Nigerian Funds?
The funds are open-ended. For example, in Europe we are looking at $100 million and this would be launched next quarter; and in Nigeria, we are packaging a fund of N150 billion to be filed soon with the Securities [and Exchange] Commission (SEC).
Assuming these funds are fully or over-subscribed, what areas of deployment are you looking to for the capital?
If you look at the Nigerian economy, which is our darling economy that requires a lot of attention, the infrastructure space is yarning for liquidity.
If you put the infrastructure together, then the economy will kick start in a manner that will be breathtaking. Today, we are generating power, 5000 to 7000 megawatts for a population of 190 million and counting. Today, in Nigeria, we don't have 5000 kilometres road at a stretch that is pothole free.
Today, in Nigeria, we don't have a railway system that we are proud of; we are still using locomotives of the 1900s. That is one area. The other one is sport.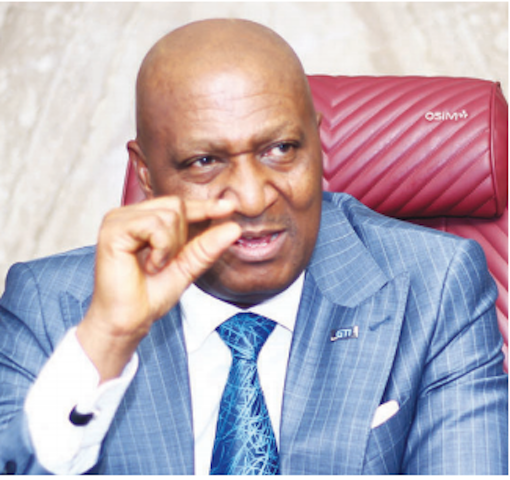 We have seen the speed. Every day, our youths are being drawn to the Mediterranean, we are not engaging them. Whereas, we can. Our focus is that we need to build a new sporting economy and, in that case, it becomes dollarized. And you would see that very soon. It is on the table; we want to file and once we do, we are going to rebuild the Nigerian economy and we'll call it a football economy.
Some boutique fund managers used to say there are funds, just like you are saying, that there is capital everywhere, but they also talked about the lack of bankable projects. Are you saying this has changed; that there are bankable projects now?
That is our work, if you look at the funds we are packaging in Europe for example, we are the fund managers to that fund and since we are the fund managers, we are the ones to lead the fund into investable projects in Africa. That is how we work. Like I have said before, we have established and engaged partners in northern, southern, and eastern parts of Africa as we speak.
So, if a major project is taking place in say, East Africa, we have our partner and valuations would have been done. There are bankable projects in Africa, but we need to protect them in a manner that makes sense to the world.
I can tell for certain that, twenty years ago, with all due respect to some of the stars we have in Africa today, nobody would have touched them until the proof of concept was established and now they are on Forbes. That is it because except we get to tell the narratives ourselves, nobody will help us do the narratives.
So, there are bankable projects, but it is for us to put them together and show sufficient business discipline to be able to railroad them.
I like the fact that you are interested in sports funding, it is unique. Can we hear this in more detail?
Well, I would be a little reluctant because we haven't filed with SEC and don't want to be contravened, but maybe subsequently, because it is huge. As I speak to you, we are done, we have appointed parties, and we have completed meetings with prospectors. It is a grand plan.
When you say oil is five percent of GDP, what are sports, one percent? They are on measurable terms. I'm telling you when nations are in trouble, it is the investment banks that should sit up. And so if you ask GTI, we are bringing solutions to Nigeria, national solutions. Let's leave it at that. In no distant future, you would get to hear from us.
The other part is your trading platform, first private trading platform; that seems exciting and futuristic thinking in this economy. How does it work?
It is a concept that borders on capital formation. You know I was saying there is capital drought in Nigeria and Africa.
This is a concept that drives capital formation in Africa and the objective of the trading floor is to be able to build an industry, to build capacities such that if a typical company, like Guinness, wants N50 billion for development – because today, everybody looks up to the banks, whereas it is wrong.
The banks are only expected to deliver short-term funds. It is the investment banks that are supposed to drive long term funding – they don't need to talk to a bank.
We are building a structure here that will deliver that to you in three weeks and at very reasonable cost. That is the model and that is where we are going.
I tell you what, imagine an economy that says come and pay 20 to 30 percent interest; you kill the industries, simple! And the goods produced on the back of the high-interest rates can't compete. But if you want real development, it is going to be infrastructure like this, because the concept is to drive capital formation.
Let me tell you practically how it works. If a Guinness comes around today, and says we need N50 billion, it is very easy because we have a team already. We have people that come in because we have the retail and wholesale legs to our trading floor back to back.
We would quickly need to set up a meeting and if we are convinced with the valuations and other things, we set up the book and we call in our colleagues that are members of the "club", that this is what we have and in seven days, we close the books.
Before we even approach SEC at all, the money is on the table, which is the whole essence. And it is not limited to here in Nigeria because the essence is that once, we pull the trigger, the money should be able to come from anywhere in the world and this is where we are going. So, we leave the bank and redesign the field they are supposed to be playing on.
They are not supposed to be lending money to everybody; they can't lend money for development as commercial banks. Their money is 365-day cycle; long-term funding is 12 to15-year kind of capital. Hence, you see companies liquidating everyday because the banks will come after you, it is short-term funding for long-term projects. That is what we are trying to correct.
I like the fact that you mentioned investment banking and we know how the banking industry has metamorphosed, with the NAL and Icon Merchant banks leading the push, then universal banking came and disrupted the architecture. Now, investment banking appears to be coming back, and you just said investment banking owes this economy a lot. Could you speak to that, why has investment bankers not taken up the gauntlet?
In this part of the world, I'll tell you what I found in practical terms, if I'm going to be modest, is that we are very risk-averse. We are afraid because we are poor people, Nigerians are largely poor people, nobody wants to lose their money and we are a very transactional people, worried about short term. Nations don't develop like that.
Show me the blueprint where we were thirty years ago, till now. As at 1988, did anyone project Nigeria to be this way in 2018? That is the issue. We have never had long-term planning and projects for this nation.
Nigeria has been searching for its soul for a long time and the soul of a nation are its investment bankers, which was never present in Nigeria.
There is nothing like universal banking, the government ought to have provided large funding for investment bankers and provided initiatives to drive the economy and not transactions, which are short term. What am I getting?
What is in it for me? That is not business, that is not going to develop nations. To develop nations is to close your eyes and go in, five years, ten years and commercial banks can't do that. Hence, if you go back in time, thirty years ago to 1988, you will see that we had more companies in 1988 than 2018; stronger naira in 1988, a lower population in 1988 vs. high and increasing population in 2018; low unemployment in 1988 vs. high unemployment in 2018. And the gap was one, leadership taking that space and recognising that there is a nation-building process and not transaction. To build a nation means you must have basic infrastructure.
In the next thirty years, Nigeria's population will be around 300 million people; what are we doing now, because whatever you are doing now will shape your five years? It is beyond belief the kind of potentials that are here in Nigeria, but since forever, all we have been hearing is potentials, potentials, and the people that can harness the potentials are people that can dirty their hands and not transaction people.
GTI appears to be looking at things differently. There are investment bankers that are not of the same view. What's this GTI thinking, how do you view the role of investment banking in Nigeria?
I'll put it in a simple way. GTI was born in 2000, and we would be 18 years this year. What have we done in that space? We have opted out of playing in the conventional space.
We decided to play in that space where some people call Blue Ocean, some call it high risk.
Today, I'll tell you some corporates that we have touched, that we have played in, like private equity model, and the rest. We are in 2018; by 2006, I visited a company called International Breweries Plc. personally and the company was under lock and key for ten years when I visited the place. I came back to Lagos and said: "Look, gentlemen, I need money."
Everyone shut their doors at me and GTI and said: "We don't deal with no numbers."
Whereas these are the 'no numbers' we are supposed to be impacting. You don't go advising Nigerian Breweries, Heineken; we took that risk, and I raised the first N1 billion for International Breweries in 2007. None of the banks looked at me.
Today in their staff alone, they have over a thousand dependents and it is the only success story that has come out of Osun state. From International Breweries under lock and key, we brought in Castle, SABMiller, and AB InBev Breweries, and AB InBev Breweries is the number one brewery in the world today and everyone has forgotten about GTI.
When we did the dirty job, though it is not our money, that tells us something. Go back in time, we salvaged a company called Eterna Oil in 2008 and today, records are there.
Go back, the same thing is being done with Wema Bank, we moved in as part of a team that impacted on Wema Bank when Sanusi and some people said the bank was dead, we said no and today look at the difference. Today, GTI is in other institutions where hope was lost.
Champion Breweries is one; we just concluded a process with Morrison Industries and we have been working with them for four years and we just completed the first capital raise now and getting SEC approval.
So, we are not talking in a vacuum; it is real. See the way we try to impact the economy and we are taking it to the national space and the African space as a whole. It is a lot of work. You can see the need for the trading floor as a capital formation vehicle because we need to drive capital; and it is a journey, quite a remarkable and interesting journey. I can show you but we need a bit of time. The economy will tell the story by itself.
Let's transit to Europe. What sort of transactions are you involved in Europe that will impact Africa?
Five years ago, we had an office in London, GTI London, and the first thing we tried to do was to acquire an investment bank in London, which we did. We went and we are still in the process of transfer, and just because we are a Nigerian company, we are still having issues and it is the same narrative. But we have to go beyond that, that wouldn't stop us. What we did was to launch our full-fledged independent London office in order to change the narrative and business model, because we are very strong concerning foreign direct investment; we are chasing after FDI every day.
The second product we are driving is securitization as in trade. We are trying to chase after a couple of trades to be able to pay their bills, third is to drive capital. So the launch pad is the fund, the European fund and we are done with the regulators and just waiting for the traders and they are doing marketing tests right now. So to us, it is a very interesting journey and it is a good thing that we have started and we are not in doubt about what we do, it is just a process.
How do you position this in an economy just out of recession, do you see opportunities?
Does the economy provide the latitude for the huge things you've talked about? I agree with you, but if you are doing nothing, I'm doing nothing, everyone is doing nothing, it is not going to get better.
If you ask me, what I can see is that government is really tired and they need direction, and the people to give direction? It is not a political thing, it is the economy, but it is the politics that is in front and the economy lagging. And except we all understand that and agree to take the bull by the horns, no one is going help us. An average politician and it is not limited to Nigeria, they can't do any better, all they know is politics; but there is a difference between the economy and politics. And the economists must take the economy to the forefront, but clearly as things have unfolded in Nigeria over time, I can say politicians are tired and they are even looking for new ways, because this is not a matter of political solution, you have to provide economic solutions and these things don't come cheap. You can't get the naira to trade N1 to $1 if you don't have the export capacity.
If you are working, you must get your hands dirty, it is not by fiat. So how do you get it working? By providing infrastructure! There must be 24 hours' light and fantastic roads. If you go out there and look into the sky, you would rarely see an airplane in 10 minutes, but go to other countries, you would see fifty planes hanging in the balance, some ascending and others descending, that is the power of connectivity and energy that is flowing.
We can't afford to be sleeping in 2018, for want of a better language. There is no more a 100 million people sleeping; is it Brazil or China or India? Everyone is moving on, this is beyond government, we have to come out, and we are the government. Given what we are doing, the government can't say we are disruptive.
We are creating employment and opening up space by making our environment better. The government would instead look for a way to support us, so it is in our hands really.
What about private sector-led investment, in terms of infrastructure?
When you come around the Marina, Lagos, you see there is no cooperation among the companies, and there is no coming together to solve problems, like for example, electricity, as everyone is burning diesel?
You know the way Africa is structured is different and I can tell you for certain that time will take care of some of those things, just a little bit of time.
We have made a lot of progress in Nigeria, if you ask me, getting to where we are today and I see us bursting the blooms in no distant future.
In those days, we used to pick up our tally number in banks, but today everything is online. That is a revolution. So, technology is one of the things that will revolutionize the Nigerian economy. Another one is internationalization and a number of other things.
We are doing N7 trillion budget in 2018 with about 200 million people; that means we have accepted defeat, even before we started.
Let's go back to infrastructure, investment in infrastructure, especially if you are using the kind of funds you are talking about; so are you looking at the challenges the Nigerian way of doing things poses?
It is natural when you say you are an investment banker, you are to proffer solutions, solutions only address problem areas and problem areas are seen as a risk and that is the whole idea. The more risks you can take, the more problems you solve. So, to me, and that makes it better for you, it is not an issue. It is one of those things we have to incorporate; because some people went into the sky in 1845 and died, did that stop the process of revolving the airplane economy?
Some of us are, sorry to say, chronic optimists; we believe very much in Nigeria. It is a façade for me to hear that you have an American passport, a British passport. It is good for you, but it wouldn't change anything. The only place you know is Nigeria, the only place I know is Nigeria, and for a fact, nobody is going to help us build Nigeria. Until we come to such terms, we are still going to be beating around the bush.
We should all clamour against why interest rates should be 30 percent. Nigeria is our own and we should do everything to develop our country because we don't have a better country. If you live in America for one year, you will still find out that the value is gone; it is not your country. With all the money, it can't save you.
The best place for you to live is your fatherland and you can go anywhere in the world to do business, but home is home. But when your home is a shithole, will that allow you time to sleep at night? Before my eyes, Dubai was a desert. It takes human capacity, so don't limit that human capacity.
This is what we need in Nigeria. We need to put our hands together and change our narrative, nobody will help us. If Mr. A makes money and takes it to U.K., Mr. B makes money and takes it to Norway, we have fallen and forgotten that nobody will help us; everybody should bring their money back. Everyone should come back home and build a tomorrow for our children and grandchildren; nobody is going to help us.
The interest rate is 25 to 30 percent; could investment bankers have done something that would have made a difference or can they do something that would make a difference now?
This is the capital formation process that we are building. Twenty years ago it wasn't like that. Go round the world, you would see pension funds, asset management with trillions of dollars assets under their management. That is the build-up, the make-up; once you begin to create such kind of capital, they would then become the bedrock of the economy.
Today, we have a deficit health structure and there should be a structure that would emanate from the investment banking space to address the health sector of Nigeria and solve it. Those politicians can't solve it, with all due respect.
We need capital, technology, and knowledge, no bias. We are not interested in stories and they get the job done. When you are talking about opportunities, bankable opportunities, there are plenty. Can you imagine the number of doctors we have in the health sector?
We need someone to trigger something and knock that industry to shape and become a money-spinning industry. And that is the kind of thing we are looking at; sports, the same thing.
Today, what you are hearing is donations. What are you donating in sports when it is supposed to be generating dollars? You are still doing, the government gives us money; virtually all the football clubs are owned by a government.