Finance
PAPSS, ASEA sign MoU to promote cross-border payments in Africa
April 26, 2023296 views0 comments
By Olivia Nnorom
The Pan African Payment and Settlement System (PAPSS) and the African Securities Exchange Association (ASEA) have signed a Memorandum of Understanding (MoU) to enhance collaboration and cooperation in promoting cross-border payments of capital markets infrastructure in Africa.
This was announced in a press release distributed by APO Group on behalf of Afreximbank on April 26, which stated that the MoU was signed on 14 April 2023, during the ASEA 2023 Building African Financial Markets Seminar held in Victoria Falls, Zimbabwe.
The event brought together Stock Exchanges and capital markets stakeholders from across Africa to discuss ways to deepen integration and connectivity of African capital markets.
The report noted the difficulties encountered by investors doing business in Africa which includes; making and settling cross-border payments for a long time, long delays in the completion of payment and expensive payments considering the existing environment necessitates the use of correspondent banks outside of the continent, and are done in foreign currencies (USD or Euro).
This, it explained, is why the African Export and Import Bank (Afreximbank) and the African Continental Free Trade Area (AfCFTA) Secretariat developed PAPSS, which enables instant cross-border payment in local currency.
According to the press statement,Through the umbrella of ASEA, with nine exchanges and a combined market capitalization of $1.5 trillion, PAPSS provides an opportunity as the payment system to further enhance the African Exchanges Linkage Project (AELP), a flagship project of ASEA to facilitate cross-border trading of securities in Africa.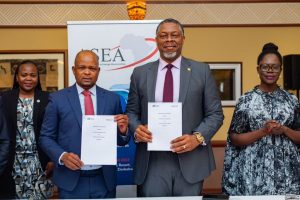 "PAPSS has started a period of fast deployment of its system throughout all African nations, having already gone live in the countries comprising the West African Monetary Zone (WAMZ), namely Nigeria, Ghana, Liberia, Gambia, and Guinea. As a result, Zimbabwe, Zambia, and Djibouti have recently joined the network and will soon be operational.
Also, this partnership with ASEA will facilitate the deployment of PAPSS across the ASEA member nations," the statement added.
Mike Ogbalu, the chief executive officer of PAPSS, who commented on the partnership said that PAPSS supports a wide variety of use cases, including cross-border retail and trade transactions for individuals and corporations and cross-border investments with the African Stock Exchanges.
According to Ogbalu, through the partnership ASEA, PAPSS aims to create a reliable and efficient payment system that will enable investors to easily trade across different stock exchanges on the continent
"This partnership is a demonstration of our commitment to driving trade flows and economic growth in Africa." Ogbalu said.
Ogbalu highlighted that the  immediate task is to create a workforce between PAPSS and ASEA as soon as possible to identify ways to facilitate the transfer of funds across ASEA member African Stock Exchanges. To that effect, he extended an invitation to the relevant capital markets stakeholders to join in this ground-breaking venture for the African business and investment communities."
Also speaking on the partnership, Thapelo Tsheole, the President of ASEA and chief executive officer of Botswana Stock Exchange, expressed his delight to partner with PAPSS on this important initiative. He said that PAPSS's expertise in payment settlement will be instrumental in the cross-border transfer of funds among the participating exchanges.
Tsheole added that the capital markets integration initiative through the AELP will play a critical role in deepening Africa's capital markets and promoting cross-border investment.
PAPSS is unwavering in its dedication to fostering the growth of a thriving payment ecosystem and encouraging the development of new solutions for the economic advancement of the African continent and its people.