Comments
Parts of Asia will grow old before getting rich, IMF warns
May 9, 20171.1K views0 comments
Population growth estimated to fall to zero in Asia by 2050

End of demographic dividend to drag on global growth
Asia's rapidly aging population means the region is shifting from being the biggest contributor to the global workforce to subtracting hundreds of millions of people from it, according to the International Monetary Fund.
The reversal of the so-called "demographic dividend" will drag on global growth and also that in Asia, the world's fastest growing region, the IMF warned in its
annual outlook
for the area.
The population growth rate will fall to zero for Asia by 2050 — it's already negative in Japan — and the share of the population who are working-age has already hit its peak, the IMF estimates. That means the ratio of the population aged 65 and older will be almost two and a half times the current level by 2050, and even higher in East Asia.
"The speed of aging is especially remarkable compared to the historical experience in Europe and the United States," the IMF said. Per capita income in Asia relative to the U.S. remains at much lower levels than those achieved by mature advanced economies in the past.
"Countries in Asia will have less time to adapt policies to a more aged society than many advanced economies had," the fund wrote. "As such, parts of Asia risk becoming old before becoming rich."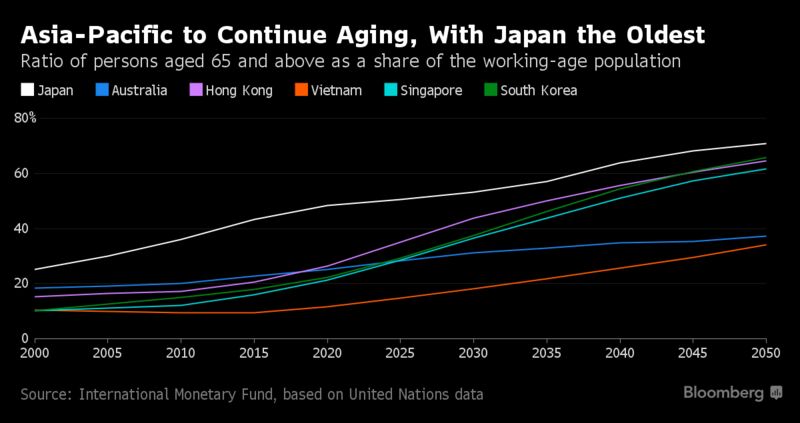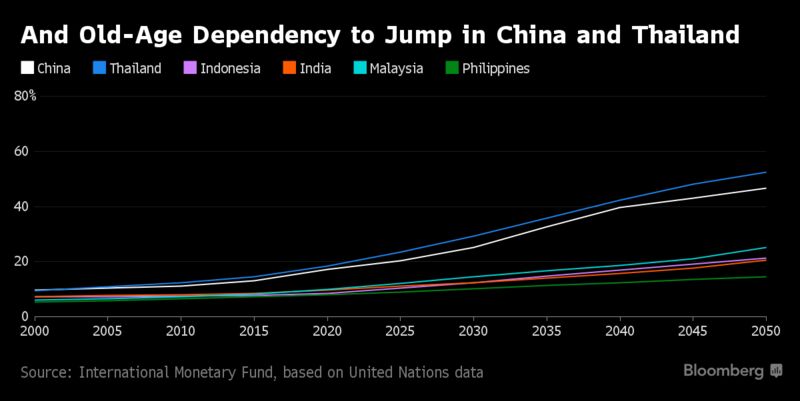 For economic growth, the aging process could erode up to one percentage point from annual output over the next three decades in Japan, and between 0.5-0.75 percentage point in China, Hong Kong, South Korea and Thailand. While some bright spots remain, such as India and Indonesia, demographics could subtract 0.1 of a percentage point from annual global growth over the next three decades, the IMF estimates.
"Adapting to aging could be especially challenging for Asia, as populations living at relatively low per capita income levels in many parts of the region are rapidly becoming old," the IMF said.
Needed Reforms
Reforms to labor market laws, pension programs and retirement systems are among the changes needed to offset the pain. Immigration can also help.
An older workforce isn't the only challenge facing Asia. Finding ways to boost productivity is also vital given headwinds that include slowing investment, the growing influence of less productive sectors such as services and the waning influence of external trade, the IMF said.
While the severity of the productivity slowdown varies across Asia — it has been most severe in advanced economies and China — reversing the trend should be a priority. Enhanced trade liberalization and more effective spending on research and development are among the steps needed, the IMF said.
"Reforms to strengthen domestic sources of productivity growth should be high on the policy agenda in Asia," the IMF said.
Courtesy Bloomberg