Martin
Peace and security education for all now!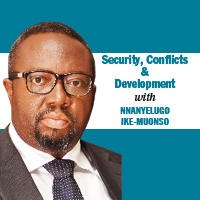 Prof Ike-Muonso is MD/CEO, ValueFronteira Ltd, and a Visiting Professor at the Institute for Peace, Conflict and Development Studies of Enugu State University of Science and Technology can be reached via email at martinoluba@gmail.com
May 24, 2021447 views0 comments
The need for a properly structured and well-targeted public education and information-sharing for managing the insecurity crisis in the country rarely receives deserving scope of attention. Prevalently suggested insecurity minimizing panacea revolves around the might of war weapons and the gallantry of soldiers. As important as they are, compared with the efficacy of education and information, it is inconsistent with the famous proverb claiming the superiority of the pen, symbolizing knowledge over the sword that represents military might. Sound public education and information-sharing that rebuilds the minds towards peace, nation-building, safety from harm and harmonious existence deserve strong attention as a critical solution-source to the crisis. The human mind is the primary layer of battlefields for war and a significant reconciliation point for the actualization of peace. Education and information combine to inspire, empower, and transform those who receive them positively. With criminality currently at a crescendo, the need for national value reorientation is urgently necessary. This need for public education is even more expedient because many of these crimes gain root from ethnic sentiments and religious bigotry, and unfounded claims, demanding vigorous counter-narratives. Yet, it does not appear as if the government's agency with this responsibility neither understands the centrality of this desirable national mind renewal nor apace with it. However, since nature abhors a vacuum, most Nigerians have resorted to social media. They copiously create cacophonous cocktails of constructive, nation-building, destructive, malicious and insecurity creating information and inspiration.
Practical public educational information for peace and security typically follows the three dimensions of crisis prevention, conflict engagement, and post-conflict reconciliations. Crisis prevention is no doubt by far the most important and should always receive the highest priority attention. Yet, public knowledge on how to behave and protect themselves during conflict and heal the wounds of discord are equally essential. As a critical stakeholder in the tensions in Nigeria, the public has the primary burden of supporting security agencies with reliable intelligence that will help nip a potential crisis in its bud. It is much easier for a community to identify suspicious activities and outlaws than for the police working independently. However, public education on how to play this all-important role is vital. For instance, public education may need to address the broken bridge of trust between the police and many Nigerians who detest having anything to do with them because of the image of untrustworthiness they created over the years. In the absence of a robust relationship based on trust between the police and the citizens, it becomes more challenging for both stakeholders to share information. Again, even during conflicts, ordinary citizens should know how to defend and protect themselves against criminals without necessarily relying on the overstretched and equally vulnerable security agencies.
Without a doubt, the cultural values of most ethnic groups in Nigeria do not support violence. So far, there is no ethnic group in Nigeria that is intrinsically trouble-hungry. Our cross-cultural value systems encourage peace and good neighbourliness. Unfortunately, the values and belief systems that sustain the peace and safety that we hitherto enjoyed face the threats of extinction with each passing day. Alien norms and cultures which easily create unwarranted heat are increasingly replacing these time-tested and cherished values. Therefore, it becomes indispensable to revive and mainstream national values that engender peaceful coexistence and minimize crime in our country's nooks and crevices. Public information and education and patriotism, civic responsibility, authentic history and cultural values of ethnic groups, accountability and integrity, human rights, the rule of law and so on are necessary aspects of the to-be-revived value reorientation efforts.
The civic, peace and security education taught in Nigerian nursery, primary and secondary schools in recent times are insufficient to prepare our citizens for the currently suffocating air of ethnic and religious distrust and bigotry. Yet, it is undeniable that the moral upbringing and education received at the early years are usually more enduring than that imbibed at a more advanced age, constantly subjected to internal mental interrogations. Therefore, our children should start as early as nursery school to receive high doses of civic and peace education necessary to develop the values of patriotism, peacebuilding, and tolerance. Peace education should be made mandatory at all levels of education, up to secondary school, the same way that English language and mathematics lessons are at the core of the curriculum. Religious education typically offered at these levels, albeit good, cannot serve as an adequate substitute. Boundaries or discrimination can quickly be drawn into the minds of pupils by mischievous and religiously passionate teachers. Hence, the Ministry of education must create powerful and impactful lessons on peace and security that are compatible with the educational levels of our children.
While the public needs the police for a safe and peaceful society, the latter depends on the citizens for reliable intelligence and information to prevent crime and fruitfully appreciate and prioritize the community's security needs. Essentially, it is in the interest of both groups to collaborate to achieve an orderly and crime-free society. Such a level of friendship and support rarely exists between them because of their deep-seated mutual suspicion, disrespect, and distrust. The recent endSARS protest demonstrated the extent to which many Nigerians disapprove of the military-style policing that have made both groups strange bedfellows. It is unclear whether the recent addition of community policing structures has significantly improved the relational bridge between the public and the formal police. The key to unlocking this productive collaboration is through the development of trust and confidence in the police. But it is the police that will endear itself to the public first by improving their professional conduct, respect for human rights, quality of response to the safety demands of the public, prioritizing fairness and integrity in their cultural ethos and being civil and friendly. On the other hand, the public needs to understand the value of the police and appreciate the uniqueness of their irreplaceable functions in society. This focused education should cover such issues as interference in police activities, respect for the police as the face of the rule of law, and faithfully considering the police as friends.
Besides the police, appreciating youth corps members and what they symbolize is equally essential for national cohesion. The National Youth Service Corps is unarguably a frontline program for promoting and cementing inter-ethnic relationships. Unfortunately, its glow is slowly waning because of poor education quality, ethnic distrust, and attendant insecurity. The face of a youth corps member symbolizes a united Nigeria. That is why corps members from a particular ethnic and geopolitical zone are readily accepted and received in an entirely strange community in another part of the country. While on that one-year service to the country, corps members bring the knowledge and other expertise gained from their schools, share, and use them to benefit their host communities. Each year, thousands of fresh graduates from universities and polytechnics across the country go aboard this extremely generous venture to discover, engage with, and better appreciate Nigerians of other cultural backgrounds. Needless to stress, the need for our policymakers not to allow this program to suffer more setbacks than it already has. But the public needs education on the role and significance of the corps members company in various communities. On the other hand, Youth Corps members should learn to be good bridge builders and play critical roles in evangelizing the values for a peaceful and united Nigeria.
In much the same way that youth corps members practically promote these inter-ethnic relationships, traditional rulers, market women leaders, religious organizations, political parties, and non-governmental organizations should have dedicated programs for educating and informing their publics about values for engendering peace and security in the country. Success in this respect will depend on how soon the National Orientation Agency rises from its slumber to create the momentum that should galvanize it. They must engage with and elicit the support of these stakeholder groups to take up these responsibilities. One may argue that these groups also probably do their best to promote peace in their communities. The difference, however, is that peace and security education and information for their communities need to be better structured in line with the program of the National Orientation Agency for best impact. For instance, one expectation may require traditional rulers and market women to devote some hours each week or month to preach national coexistence and peacebuilding approaches to their subjects. Formal media houses, such as radio, television, and newspapers, also need to adopt this as a significant part of their corporate social responsibility. Social media will naturally catch up with the momentum upon proper initiation. The goal should be for everybody to discuss and be better informed about living together in peace and unity.
The National Orientation Agency working with the ministries of education and information, should develop robust programs targeting different demographics and information dissemination channels for positively informing and influencing Nigerians for peace and security. Together, they should collaborate with non-governmental organizations, media houses, social media influencers, market women, political parties, traditional rulers, and religious groups to launch far-reaching public education for Nigerians to appreciate and coexist with each other. The centrality of this need requires proper funding with clearly defined outcome targets.
Finally, the type and quality of information and education the mind receives considerably determine the manifested behaviour. That is why those fed with extremist beliefs that using munitions to compel people to accept their faith or destroy public property is an excellent thing to do essentially end up as insurgents and bandits. This mind reprogramming is even more dangerous when there was no prior formal education by the recipient. Unarguably, illiterates and persons with poor education are more vulnerable to such mind manipulation. That is why cultlike behaviours, gangsterism, banditry, and terrorism appear to have stronger holds among poorly educated persons. While these groups are victims of negative mind programming, the National Orientation Agency has an onerous duty to be ahead with widespread positive mind reorientation for nation-building, peace, and security. There is no better time than now to counter crime-encouraging narratives and revamp patriotic zeal through public education and information.