Energy
Petrol up 54.52% in January 2023, NBS reports
February 21, 2023177 views0 comments
By Habeeb Adamu
The average retail prices of petrol in the local markets  recorded an annual increase of 54.52 per cent and a monthly increase of 24.70 per cent in January 2023, the National Bureau of Statistics (NBS) disclosed in its most recent petrol price watch report.
According to the NBS, many Nigerians are still paying far above N185 per litre approved pump price of petrol amid fuel scarcity across the country. The report said the January 2023 price represented a 54.52 per cent increase when compared to the value recorded in January 2022 at N166.40.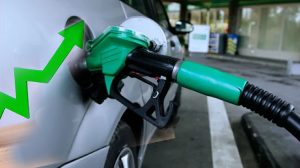 "Comparing the average price value with the previous month of December 2022, the average retail price increased by 24.70 per cent from N206.19," the report stated.
Analysis on state profiles stated that, Imo state residents paid N332.14 the highest average retail price for petrol followed by River's state resident N327.14 per litre and Akwa Ibom at N319.00, respectively.
Meanwhile, Sokoto state residents paid N191.43, Plateau residents paid N192.14 and Borno residents paid 193.91, to record the lowest average retail prices.
Also, analysis by zone showed that the South-east region recorded the highest average retail price in January 2023 at N307.85, while the North-central recorded the lowest at N217.15
Similarly,the NBS disclosed in its Automotive Gas Oil (Diesel) Price Watch Report, that the average retail price for diesel swung upwards month-on-month as consumers bought the commodity at an average of N828.82 per litre during the month under review.
The statistics bureau said the January 2023 price amounted to a 187.69 per cent increase compared to  N288.09 per litre recorded in January 2022. On a month-on-month basis, the price increased by 1.34 per cent from N817.86 per litre reported in December 2022.
Meanwhile on state profile analysis, the report said the highest average price of diesel in January 2023 was recorded in Bauchi at N900.00, followed by Benue at N885.71, and Adamawa at N866.67.
In addition, the analysis by zone showed that the South-West had the highest price at N845.59, while the South-South recorded the lowest price at N800.49.