Frontpage
Presidential visit cripples economic activities in Imo
September 9, 2021379 views0 comments
By Dikachi Elemba, in Owerri
There was an unprecedented crippling of economic activities in the history of Imo State today, Thurday Semptember 9 on account of President Muhammadu Buhari visit to the state and his commissioning of over N2 billion worth of projects  executed by the Governor Hope Uzodinma administration.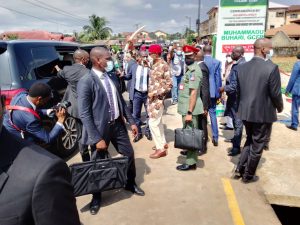 Tens, even hundreds of millions of naira may have been lost as there was no economic activity in all the 27 local government areas because people of the state appeared to have complied with a stay-at-home order issued by the Indigenous People of Biafra (IPOB). 
In Owerri,  the Imo state capital,  there was total lockdown of the open markets, filling stations, banks, POS centres, schools, shops, kiosks, and artisans, road traders,  hawkers, eatery places,  hospitality sector, were  all closed for business. 
The same situation was also recorded in Owerri West,  Owerri North,  Okigwe,  Mbaise,  Orlu and all the 27 local government areas in the State.
Meanwhile, projects  commissioned include the N2 billion technology driven balloon constructed to tackle perennial flooding within the Owerri capital city,  the first phase of the Naze/Ihiagwa/Nekede/Obinze road, which plays host to both the Federal University of Technology Owerri (FUTO) and the Federal Polytechnic, Nekede; which was previously in a deplorable condition, an Ultra Modern World Class Council Chambers at the Government House Owerri, as well as the Egbeada by pass road, to decongest the lingering heavy traffic on some roads in the state.

However,  the president did not make any pronouncement  to build some projects or anything that could gladden the heart of the people,  he said the problems  facing  Imo State were similar to those confronting the federal government.  
He rather advised the people to be patient with his government in its quest for solutions to  all the challenges facing the nation.