Commodities
Putting economic value into Nigeria's agro-commodities
January 19, 2022335 views0 comments
Africa is one of the least industrialised regions of the world with an economy mainly centered on the exportation of agro-commodities, which are in most cases, processed into finished products by foreign industries, according to a report by the African Development Bank Group (AfDB).
The report also asserted that most African countries have continually traded their natural resources majorly in raw forms which to a large extent, has limited diversification of value added commodities in global export trade.
This, analysts explain, has become a familiar pattern for many African countries, including Nigeria, the continent's most populous nation and largest economy, making it one of the most persistent challenges facing the country's agribusiness/export sector.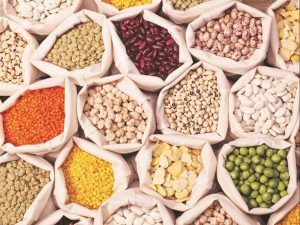 They also warn that failure of non-oil exporters to process their raw commodities into finished products for export could prove costly to economic development because it stands as the most feasible development model to boost commodity value, create relevant export revenues and strengthen competitiveness for local producers in the global market.
Issues hindering value addition in Nigeria
Analysts and stakeholders in the manufacturing sector argue that one of the major constraints to value addition of commodities is the lack of an efficient market infrastructure and industrialisation development.
They also pointed out that the country's industrial sector is continuously hampered by many factors including, high cost of capital, erratic power supply, lack of relevant skills, high prices of raw materials, infrastructural decay, poor customs and logistics, government policies and interferences.
These, according to them, have hindered many indigenous industries from operating effectively, while some have been forced to shut down as a result.
The United Nations Food and Agriculture Organisation (FAO) identified infrastructure constraints including, bad roads, electricity supplies, insufficient packaging inputs, lack of technical expertise, inadequate policies and weak institutional support as some of the peculiar challenges hindering value addition in locally produced commodities.
These challenges have to a large extent reduced the country's profitability, competitiveness and ability to fully exploit the market opportunities arising from rapid population growth, urbanisation and changing lifestyles and consumer preferences, the international agriculture agency noted.
Okewole Oyewole, founder of Oakwell Agro-Industrial Consult and Services, lamented that limited attention is invested into recycling of by-products into functional commodities. He noted that materials such as cassava peels, maize cobs, egg shells, rice husks, groundnut shells, maize husk, poultry waste, among others, are generally considered waste materials when they could be recycled and converted into valuable products.
Oyewole pointed out that the weak infrastructure capacity of the country puts the local agro-industrial enterprises at a competitive disadvantage to industrialised competitors in other countries making it difficult for them to make a significant impact in the global market.
He also stressed that access to credits and lack of finance has been a challenge to many individuals and organisations willing to promote value addition in the agro-industrial sector.
"Agro industries in Nigeria are largely underutilised and many of them have only been able to access one out of the expansive opportunities in the agriculture sub-sector,(food production), and even that part is yet to achieve significant results," he said.
Olusegun Olaoye, a food scientist and researcher at the Michael Okpara University of Agriculture,Umudike, Abia State, remarked that the required processing techniques to convert crops into value added products are usually obstructed because of non availability of necessary processing facilities, and when available, the power required to run them is lacking or grossly insufficient.
Olaoye added that there is a communication gap and little collaboration between researchers across the country's agriculture research institutes and stakeholders in the agro-industry sector.
"This may in part be due to the problems endemic in research institutions in the country, which may have eroded the confidence reposed in them," he stated.
Emmanuel Ijewere, chief executive officer, Best Food Global Limited, a food processing company, observed that the majority of cash crops produced in Nigeria only pass through the bare minimum required for export while the next part of the value chain is handled by the importers.
Ijewere lamented that despite being the highest cassava producer with over 20 percent of global production, Nigeria's export value of the agro-commodity is of little significance in the global market.
"Indonesia produces less than 11 percent of global output but has through its industrialisation prowess, exported 80 percent of the processed crop, generating millions of dollars annually, while Nigeria on the other hand, is yet to add substantial value to its cassava as it does not possess the industrial capacity," he said.
He attributed the low production value to the country's unfavourable business environment, inadequate financing for industrial development and lack of access to affordable credit for indigenous industries.
Creating a pathway towards value addition
Okewole noted that for Nigeria's agro-industries to play a more significant role as engines of growth and development, it should be focused on exploiting the various investment aspects of the sector rather than just concentrating on food provision.
He advised stakeholders in the industry to replicate a model where waste at the primary production can be recycled to an input along the entire value chain. He also emphasised on intensified public-private partnerships (PPPs), and adoption of technical knowledge and building capacity on value-added processing and preservation by small and medium enterprises, logistics systems and cold chains.
He added that the production of value-added products from agricultural raw materials should be supported by the government through establishment of industries and creating a favourable business environment, access to credit and financial support to existing and emerging agro-industries.
The agriculture consultant also submitted that protection of intellectual property rights and consistent investments in science/technology and research, would help develop new value chains, as well as strengthen existing ones.
On his part, Olaoye emphasised the need for collaboration between primary producers, agro-industries and research institutions including; universities, polytechnics, and research institutes, to enable better performance and ensure the economic potential of the country's commodities are fully exploited.
He encouraged the government to focus interventions on commodities where they have an advantage, and areas that are showing potential to build niches, as a way to build manufacturing capabilities.
Ijewere posited that the African Continental Free Trade Agreement (AfCFTA) presents a golden opportunity for Nigeria to properly structure its manufacturing sector and transform its supply chains to produce higher valued "Made in Nigeria" goods and services.
He further asserted that Nigeria needs to diversify its economy by replicating East Asia's aggressive focus on manufactured exports rather than remain trapped in the colonially defined role as producer and exporter of raw agricultural or mineral products used in industrial production in Europe, America and other continents.
According to him, industrialisation should be considered a major priority of government policy as there is much to be gained economically if the country's most important commodities become