Oyeleye
Recalibrating Africa's external trade relations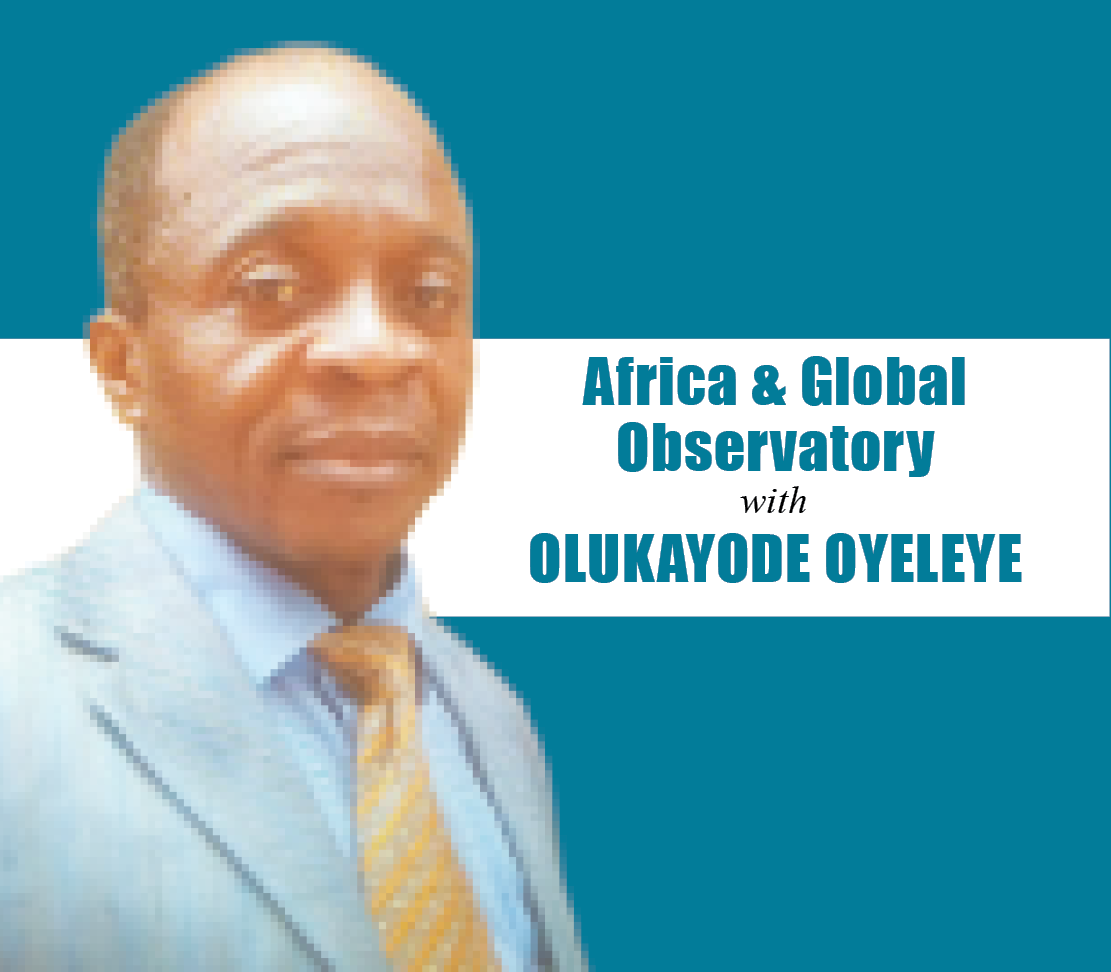 Dr. Olukayode Oyeleye, Business a.m.'s Editorial Advisor, who graduated in veterinary medicine from the University of Ibadan, Nigeria, before establishing himself in science and public policy journalism and communication, also has a postgraduate diploma in public administration, and is a former special adviser to two former Nigerian ministers of agriculture. He specialises in development and policy issues in the areas of food, trade and competition, security, governance, environment and innovation, politics and emerging economies.
April 22, 2019747 views0 comments
FOR SO LONG, AFRICA has been at a disadvantage, holding the short end of the global trade stick. Trade surpluses have been more in favour of exporters to Africa while the continent struggled to justify its relevance by intensifying its own contribution through the extractive industries aimed mainly at export. The outputs of the extractive industries have mostly been abused, unsustainably over-exploited and have created diverse environmental complications and human safety hazards as a result of intense pressure to earn foreign exchange and achieve economic prosperity.
Africa has been more of a consumer than a producer of modern goods, mostly imported from industrial nations of the West and, by so doing, trading away its own prospects of boosting local economies while at the same time exporting jobs.  Where Africa produces any commodity, it is mostly sold in the raw unprocessed forms that fetch very little revenue and most of the gains go to those who buy and add value. From the extractive industry perspective, for instance, Africa sits on huge wealth in the sub-soil, yet to be exploited. Such mineral resources are assets for the future economies but are yet to be discreetly exploited for the benefit of the continent.
The governance failure of state actors to properly organise and control activities relating to mineral resources has either provided a conducive environment for or fuelled conflicts in some mineral rich countries. The 1991 to 2012 war in Sierra Leone had much to do with illegal extraction and trade in diamond, on which both the rebel forces and government at that time have been found culpable.  Some analysts inform that South Africa's potential mineral wealth is estimated to be around $2.5 trillion, while the mineral reserves of the Democratic Republic of the Congo was thought to be about $24 trillion. Niger Republic has two significant uranium mines providing about five per cent of world mining output from Africa's highest-grade uranium ores and these are sources of about seven per cent of the global total, with the world's fourth-largest uranium reserves.
The industrialisation challenges of Africa have not been limited to power generation, roads or market information. They have been largely influenced by cheaper imports from more advanced economies that render local industries uncompetitive. They have also been influenced by deficiencies in quality and standards of finished goods of African origin, many of which could have been exportable at higher premium had they been done well in conformity with global best practices. And the unequal bargaining strengths between African countries and their trading partners on commodities place Africa at an ever greater disadvantage, thus trading away great wealth for very little. Africa's economic development therefore requires a fresh look at the bargaining powers, intellectual strengths, development of critical infrastructure and an overhauling of policies that would put the continent on a sure footing while conducting international trades.
The case of Niger Republic is a microcosm of trade relations that have political underpinnings worth considering. Poverty stricken Niger's uranium lights the Eiffel Tower and one-third of households in France. But the people of Niger, from where this wealth is extracted, lhave ived mostly in the dark and in chronic hunger and malnutrition for years.  The World Bank reckons that around 60 per cent of Nigeriens live below the national poverty line. Niger, with a per capita income of $420, is classified as one of the world's poorest nations, ranking 187 out of 188 countries on the 2016 United Nations Human Development Index.
On a global turf, the World Trade Organisation's (WTO) rules have not been strictly kept and many bilateral trade opportunities have been missed. The opportunities in the African Growth and Opportunities Act (AGOA) midwifed by the United States have not been well utilised by the beneficiary African countries. The Economic Partnership Agreement (EPA) of the ACP-EU has been largely contentious with many African countries reluctantly acceding due to the inserted clauses that were viewed with misgiving and were seemingly disempowering for African partners. The various regional economic blocs have not served as veritable engines of economic growth as they should and the continental body, the African Union, has been struggling to turn the tide in the continent's favour.
The resultant African Continental Free Trade Area (AfCFTA) came into existence in 2018 with promises to position the continent well on the global trade map. Laudable as it may sound, the AfCFTA could be a boon to some countries and a bad news for others. As it stands, a few anecdotes would give a fair idea of how things may play out. The ECOWAS Trade Liberalisation Scheme (ELTS) was a trade pact put together by the ECOWAS regional bloc to facilitate trade across the region, in theory. In practice, though, some have been more of gainers while some others have been losers. Nigeria, the largest country by population size and economy, has not been at an advantage. Importers from outside Africa have taken advantage of the proximity of Benin Republic and the relatively cheaper importation costs at the Benin port to establish outposts in Benin for many commodities destined for Nigeria, thus depriving Nigeria the opportunities to reap the benefits of revenues from its own port.   
The reality of Brexit, the resort to emphasis on bilateral trade relations over multilateral trade by the Trump administration in the US, the trade war between the US and China as well as the coming on board of AfCFTA are good reasons for Africa to rethink its trade strategies in the context of prevailing circumstances. Although the mainstream media and commentators have criticised President Donald Trump on his decisions to slam tariffs on China's goods and for his seeming disregard for the multilateral trade rules set out by the WTO, it is important to assess the situation and the implications of this new arrangement in a broader sense vis-à-vis the changing configuration of the global trade turf. It is also appropriate to think of how Africa could hope to take advantage of this and the new EU without Britain.
China's ascendancy and goodwill with the mainstream media on recent claims on the global trade need to be treated with some circumspection.  As Chinese President Xi Jinping positions himself as a champion of globalisation at the World Economic Forum in Davos and he called on the G20 nations to resist protectionism and maintain a multilateral trade system during the G20 Summit in 2018, the world needs to know about the transparency of his flagship Belt and Road Initiative and the rules guiding its operations. The tit-for-tat trade tensions between China and the US since 2018 need to be more objectively reviewed. Perhaps there could be a silver lining in the dark cloud of the trade war.
According to Mohamed El Erian, formerly Chairman of US President Barack Obama's Global Development Council  and now Chief Economic Adviser at Allianz, "free and fair trade is in the interest of most people in most countries, but it is not sufficient for inclusive prosperity. Specific segments of society can be displaced, marginalised, and alienated. As such, trade is not just an economic issue. It also entails important institutional, political, and social dimensions." In El Erian's view, "the international community must guard against regional arrangements, such as China's Belt and Road Initiative, which are intended to promote development but can end up undermining partner countries. This requires steps to enhance transparency on the terms and conditions of projects and debt undertaken through such initiatives, encourage greater reliance on local labour, and ensure that recipient countries are not encumbered with excessive liabilities. Excessively one-sided debt-for-physical-assets swaps, which can also raise genuine national security concerns, must also be resisted."
A big issue that must be addressed is the context of smaller regional arrangements within bigger ones and the implications for the effective running of any regional economic and political systems. Within the ECOWAS block, the West African Economic and Monetary Union (WAEMU in English or UEMOA in French) operates a different system within the bigger ECOWAS framework.  France's continuing relations with former colonies in West and Central Africa represent the term "La Françafrique," the positive and negative effects of French influence in the post-independence period. The CFA franc has recently been contested for severely limiting the monetary independence of African countries and for its impacts on their economic development. It has been emphasised that French economic policies prevented African states' development and contribute to increased migration from the continent. For WAEMU/UEMOA countries to meaningfully participate in the emerging trade turfs, the existing structures need to be revisited and modified.
The growing impact of emerging trade partners with Africa will have some positive and negative implications. China, in particular, is having growing influence on Africa's trade structure. China and the United Arab Emirates (UAE) are already ranked first and second, respectively, in levels of investment. Chinese investment reportedly reached $38.4 billion in 2016, compared to France's sixth-place $7.7 billion in investment throughout Africa in 2016. Add the China's loan commitments of about $60 billion recently, and imagine the level of Africa's exposure. France's trade with Africa has remained heavily focused on commodities, with over 80 per cent of France's $8.5 billion of imports in 2016 coming from sub-Saharan African countries. Are these sustainable? If they aren't, what can be done to make them sustainable? These are challenges that Africa must face up to, very urgently.
Africa's economies and trade require some urgent interventions. The increasing trade deals with China, the Middle East country of UAE and any other rich country coming on board may upset existing relationship between Africa and Europe politically and economically. As China's market share in Africa grows, European countries' economic relations may diminish, potentially increasing political and diplomatic tensions between Europe and African countries. African countries may instead favour emerging partners such as India, Brazil, Turkey, and Middle Eastern countries. Since the world of trade is fluid, Africa must brace for the unforeseen developments, some of which may be more tasking than envisaged.
Given the future implementation of the AfC FTA, the emergence of Brexit, the likelihood of tweaking the WTO rules and the subsequent overhaul of many existing regional trade agreements, the economic partnership agreements negotiated between African countries and the EU-ACP groups of countries may have to be revisited. In trade circles, the world is in a greater state of flux now more than any other time in history. For Africa to benefit from the prospects in the future of trade and to minimise missed opportunities, a lot of confounding variables will have to be constantly brought to the fore for strategic consideration, action plans and to facilitate informed policy interventions. While the world is moving on, Africa needs to be on the move too.