By Omobayo Azeez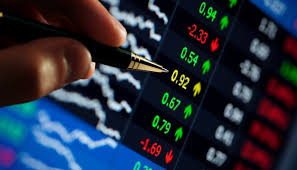 The tide turned for investors at the Nigerian Stock Exchange (NSE) on Tuesday as the local bourse closed positive with a capital net gain of N133 billion.
The gain of the day was specifically driven by investors' massive demand for MTN Nigerian and WAPCO stocks which appreciated in prices by 3 per cent and 9.7 per cent respectively as well as those of banking stocks.
Specifically, the All-Share Index (ASI) added 255.81 points or appreciated by 1.24 per cent to close at 20,925.19 basis points while the aggregate value of listed stocks at the local bourse closed higher at N10.905 trillion from N10.772 trillion it closed the previous session.
Consequently, Month-to-Date (MtD) and Year-to-Date (YtD) losses moderated to -1.8 per cent and -22.0 per cent respectively.
The day's record also showed that total volume of trades increased by 328.8 per cent to 1.44 billion units, valued at N5.57 billion and exchanged in 4,647 deals, while market breadth closed positive with emergence of 24 gainers against 10 decliners.
Meanwhile, sectoral performance was mixed, following 3.2 per cent gains in the banking index and 0.3 per cent appreciation in industrial goods index, in contrast with -2.2 per cent loss in the insurance index, -0.6 per cent and -0.1 per cent declines in oil and gas and consumer goods indices respectively.
According the NSE statistics, MTN Nigeria gained N2.80 to close at N94.80 to lead other gainers. WAPCO Plc and ZenithBank Plc followed with N0.95 gain each to close at N10.75 and N12.95 per share respectively.
CUSTODIAN and United Bank for Africa (UBA) appreciated by N0.50 and N0.45 to close at N5.75 and N5.45 per share respectively.
On the flip side, ARDOVA slipped by N1.35 to close at N12.45 per share. CADBURY fell N0.70 to close at N6.30 per share while Flourmill, BUACEMENT and Mansard depreciated by N0.50, N0.30 and N0.17 to close at N21, N31.50 and N1.58 per share respectively.
The improved volume for the session was driven by Omoluabi Mortgage Bank Plc with traded 1.1 billion share units valued N605 million in just one deals while it equally emerged in second position in terms of turnover.
GUARANTY emerged first and second in terms of turnover and volume of trade respectively by trading 161.051 million shares valued at N2.9 billion in 814 transactions.
While Nestle Plc occupied the third place in terms of value of trade, by transacting 773,503 share units valued at N591.67 million in 148 deals, First Bank Of Nigeria Holding (FBNH) came in third position on the volume chart with traded 32.383 million shares worth N140.759 million that exchanged hands in 307 deals.