Oyeleye
Rethinking Africa's economic and social development (4)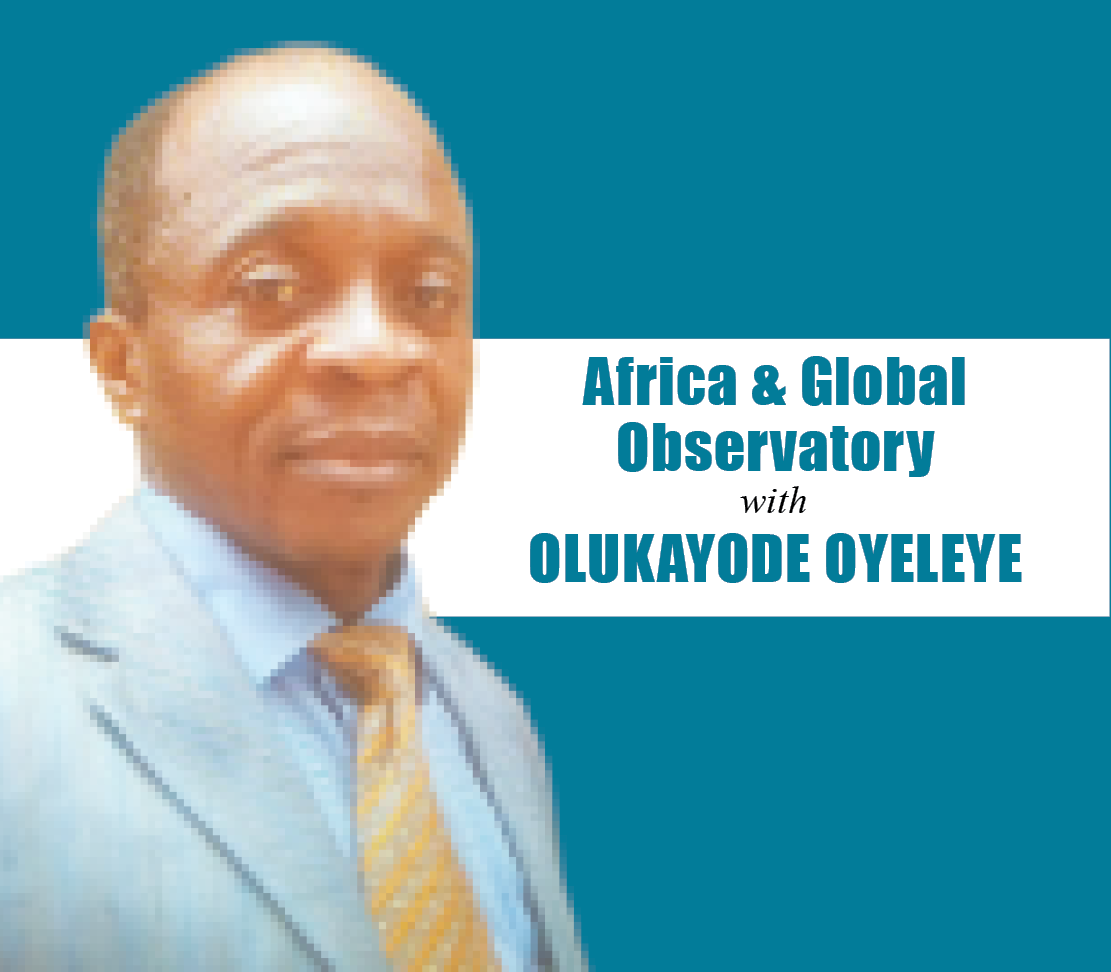 Dr. Olukayode Oyeleye, Business a.m.'s Editorial Advisor, who graduated in veterinary medicine from the University of Ibadan, Nigeria, before establishing himself in science and public policy journalism and communication, also has a postgraduate diploma in public administration, and is a former special adviser to two former Nigerian ministers of agriculture. He specialises in development and policy issues in the areas of food, trade and competition, security, governance, environment and innovation, politics and emerging economies.
September 17, 2018858 views0 comments
The wave of economic and social transformation sweeping through the world has brought its effects to bear with varying intensities and in many different ways in various parts of the world over the years. Those variations are still observable now and, for obvious reasons, might continue to be seen in the future. While it came like a tempest in specific cases in some places, it took the form of a gentle breeze in many others, hardly perceived, but leaving behind significant changes, with far-reaching and irreversible impacts. We are in a world of constant, steady and continual changes in which individuals, nations, regions and continents must constantly adapt in order to cope with the changes that are not necessarily under the control of anyone in particular as one change leads to another, and to another and to yet another.
With the benefits of hindsight and from current experiences, we are in a better position to know which political, economic or social manifestoes do good and which ones do harm. We are able to know what blends of ideologies impede or promote growth and development. We can say what governance style, structure and system could help or hinder our march toward progress, or greater growth. There is a surfeit of literature to give us perspectives on why nations succeed or fail. And, so, we have the groundswell of opportunities to avoid pitfalls that many nations have fallen into in the past. We thus have the good fortune of growing in leaps and bounds without going through experiential learning curves many have gone through in the process of their national evolution. This means we can leapfrog in our development journeys in many different ways without undergoing the pains of making progress in uncharted terrains.
We have been told, time and time again, that Africa lost many growth opportunities in the past. It lost the opportunities in the first to third waves of industrial revolution. It lost the opportunities presented by the green revolution and it is not an active player in either the unfolding gene revolution or the ICT revolution. Because these recent revolutions are within the reach of Africa for reasons of the fact that they are mostly knowledge-intensive as opposed to equipment-intensive, African nations need not be back-benchers in the present circumstances. The transfer of knowledge across borders is much easier today than it was three decades ago; not so yet with the transfer of equipment and hardware. The ease of knowledge transfer therefore confers a lot of advantages on nations willing and ready to be part of the new waves of revolutions.
The coming of Infosys that transformed Bangalore to an ICT hub in the 1980s and propelled India into a higher realm in the ICT world did not entail the movement of heavy equipment or heavy investment in manufacturing. It took just the assemblage of minds. The leading edge that Brazil got in soybean production and export and the attendant competitive advantage that the crop conferred on Brazil's poultry industry over many other producing countries in cheaper poultry production all owe much to the adoption of genetically improved varieties of soybeans. The transformative impact of the crop was amplified by the result of the knowledge that converted a hitherto worthless swathe of cerrados land to a productive agricultural hub. As a consequence, Brazil was better off. None of these could have happened under any stiff, unbending and insular policy environments.
Economic and social progress will require a deliberate adjustment of the existing ways and a decision to make positive impacts. The inevitable accelerated global transition to new economic and social pluralism must be recognised and adapted to. Governments must come to terms with the realities of deinstitutionalisation, the need to let go of long-entrenched monopolies, the desirability of free market economies and the need for a shift from supply-driven, stifling hierarchical economy to a demand-driven flat system that encourages innovation. Policy makers and implementers must clearly decipher the disruptions of the socio-economic equilibrium through innovations and must be prepared to respond appropriately.
While it is not recommendable that Africa should utterly jettison its culture and social practices or supplant them with foreign ones, a big lesson should be learnt from the economic and social transformation in Japan which is largely explained by the fact that Japanese managers were able to plant imported management concepts in their own cultural soil and make them grow. The results are all obvious today.
In any country, region or continent, the political fortunes or fiascos and economic successes of failures are inextricably linked and intertwined and sometimes operate in a cycle, vicious or virtuous and sometimes in a cause-and-effect manner.
During the last decade and a half, some countries, especially in Eastern Europe, have transformed from authoritarianism, centralised totalitarian state socialism to democratic countries with other different values. The type of transition involves complete set of normative and operating principles embodied in historical structures, systems and practices. One of such can be summed up as de-collectivising society and deinstitutionalisation of collectivism. The opening up of such countries has come with a lot of benefits as well as costs. More importantly, the benefits have been worth the costs as foreign direct investments (FDIs) have poured in, creating new business opportunities, jobs and improved social welfare. Africa must latch on such prospects.
Regulatory reforms must be a top priority all across Africa. These will contribute greatly towards the opening up of many countries to FDIs. Successful implementation of policy reforms will require enabling institutional arrangements. Although four decades ago marked the age of nationalisation or indigenisation of private enterprises left behind by colonial businesses, the new millennium marked the birth of deinstitutionalisation of many publicly owned enterprises. One of the potent forces imposing the deinstitutionalisation on the world was the ICT revolution, a swing from an analogue world to a digital one. Among the early casualties were the postal and telecommunication systems, once regarded as exclusive preserve of the state.
The changes that were unleashed in this twin communication sector would have been considered a wild imagination if their prospects were mentioned half a decade earlier.
The emergence of disrupting alternatives that would render this conventional system almost entirely irrelevant or that would restrict its sphere of relevance soon became real as Yahoo!, Hotmail, Gmail and AOL ruthlessly crushed message transmission by post and the FedEx, UPS and DHL have done to parcel and light cargo logistics. The world of postal services has therefore been irrevocably altered and the pendulum of fortune has swung in a different direction. None of these needed to happen by permission of government bureaucracies. For those bureaucracies, however, the need to adapt to new realities is no longer an option, it has become an imperative. The disruptive changes are sending strong signals to governments, policy makers, researchers and institutions to voluntarily let go of the rigid and antiquated bureaucracies, the organs of that stifle growth in the name of doing things right. Institutions need to be unfettered to grow and generate greater wealth, the much needed job opportunities and the economic development.
The experience of the postal and telecom systems should serve as worthy lessons for other public institution bureaucracies whose potential urgently needs to be unlocked for the common good. It applies to the health sector as well as education, to the transport sector as it does communications, to sports and to agriculture. States must henceforth learn to allow these sectors evolve organically, grow and blossom. The public bureaucracies must have the humility and sincerity of playing supportive roles, providing conducive environments and level playing fields for the private enterprises rather than pretending to be better suited to embark on those sectors' core activities.
There is thus a crying need to deinstitutionalise and allow these productive sectors evolve into wealth creation mechanisms. This call is not an advocacy for selling public institutions to private hands.
Far from it; rather, it is to let the public bureaucracies evolve responsive laws, statutes and policies that would support the entrepreneurial economy and transform many incompetently implemented public functions into private sector domain where they would thrive better. Governments must be ahead of their games and must provide the needed support for sectoral growth and development.
All across Africa, the time has come to take advantage of opportunities inherent in productive sectors outside the spheres of public bureaucracies.
The latter must henceforth restrict itself to core public administration and let the wealth producers thrive. We are eagerly waiting for when Africa will truly make social and economic progress. Will deinstitutionalisation top the continent's next economic agenda?