Companies
Frontpage
Share illiquidity forcing Ellah Lakes' majority owners to sell down 25%
February 25, 2021456 views0 comments
By Charles Abuede
Ellah Lakes' major shareholders are to sell down 25 per cent of the shares they hold in the company due to the company's lack of liquidity in its shares and the deficiency of free float which currently stands at 14.55 per cent, and valued at N1, 236,333,070.75, according to a statement issued by the company's chief executive officer on Thursday.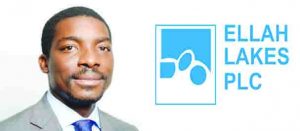 In the statement filed with the Nigerian Stock Exchange (NSE), the company said the decision followed its discussions with the Exchange on Ellah Lakes' shares illiquidity and three of the company's major shareholders who have decided to sell down 25 per cent of their respective shares towards the resolution of the company's free float deficiency. The sell down is expected to happen on or before March 15, 2021.
Chuka Mordi, chief executive officer of the Ellah Lakes, the largest oil-palm producer in Nigeria, said of the plan: "We fully appreciate why we need to have more shares in the hands of the public, which is why we are listed on the Nigerian Stock Exchange. We are working towards compliance, and fully expect that we can achieve this by the deadline of 15 March 2021, so as to galvanise, and encourage liquidity in the shares of Ellah Lakes Plc."
However, the 2019 acquisition of Telluria, the former majority shareholder, saw the consolidation of the company's shares reducing the free float to 13 per cent, well below the 20 per cent threshold.
CBO Capital Partners, Blackman & Co, and Osaro Oyegun have respectively, therefore, given an undertaking to bring Ellah Lakes into Compliance with the 20 per cent free float threshold of the Nigerian Stock Exchange in a bid to rectifying the situation.
The NSE regulations stipulate that all companies listed on the Exchange's Main Board must have a minimum of 20 per cent of their shares held by members of the public or a free float value of N20 billion.