Companies
Frontpage
Maritime
Shippers Association predicts shortfall in cargo imports as covid-19 bites harder
January 20, 2021667 views0 comments
By Onome Amuge
The Shippers Association Lagos State (SALS), has warned of a deadlier second wave of the covid-19 pandemic, likely to pose more damage to the world economy with the Nigerian ports witnessing a shortfall of cargo import in the first and second quarters of the year.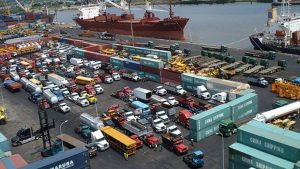 Jonathan Nicol, the association's president, noted that countries like China and others where Nigeria imports a large chunk of its commodities are being affected by the virus as most of them are on lockdown, resulting in shut factories.
According to Nicol, if the situation is not placed under control soon, it would adversely affect the shipping sector as Nigerian ports will be barred from receiving more goods in the second quarter of the year.
America, China and European countries, he said, are recording more cases every day and Nigeria has to be wary of the danger even as the most populated black nation isn't badly affected by the second wave compared to the aforementioned industrialised countries.
The second wave, he continued, would most likely affect imports as nobody is permitted to clear goods in other countries' ports.
"We really don't know the effects of the second wave now. Although, we know it will be deadlier than the first one," he added.
Nicol stated that during the first wave of the pandemic, people took maximum risk to go to the ports to clear some essential goods, which is very unlikely due to the more serious impact of the second wave.
He further noted that if Nigeria eventually has more of the effects of the virus, the government will be forced to announce a lockdown, further damaging an already weakened economy.
He advised maritime agencies at the ports to comply with protection measures, as well as, direct their staff and workers to always wear their facemasks and observe every other guidelines.