Old Finance
Singapore startup takes Bitcoin into real world with Visa
July 25, 20171.4K views0 comments
A recurring challenge for Bitcoin and other cryptocurrencies is how to make them work in the real world. A Singapore-based startup says the answer is its Visa card.
TenX is pitching its debit card as an instant converter of multiple digital currencies into fiat money: the dollars, yen and euros that power most everyday commerce. The company said it takes a 2 percent cut from each transaction and has received orders for more than 10,000 cards. While transactions are capped at $2,000 a year, users can apply to increase the limit if they undergo identity verification procedures.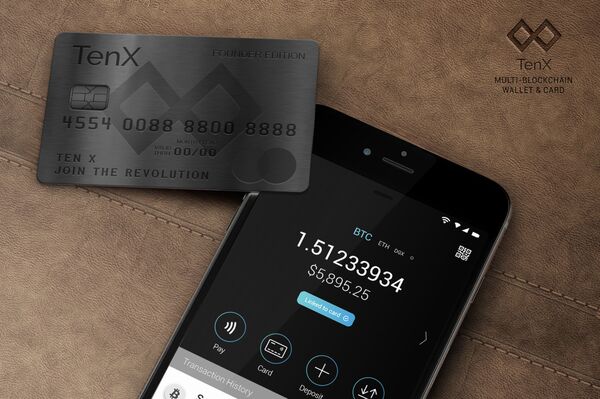 Tenx's bid to make digital currencies easier to spend comes amid massive volatility and infighting within the cryptocurrency community. Bitcoin, the most popular, slumped after reaching a record in June amid concerns about a split in two, only to recover as fears faded. The company has built an app that serves as a digital wallet connected to the Visa card so that when it's swiped at a cafe or restaurant, the merchant is paid in local currency and the users' crypto account is debited.
"You're mixing two worlds that are night and day," co-founder Julian Hosp said in an interview. "When the user spends the cryptocurrency, we have to instantly switch these currencies to fiat and pay to Visa straight away. It's a lot of pathways."
Hosp said transactions are processed immediately and it doesn't impose any charges on top of the conversion fee that is set by cryptocurrency exchanges, which typically is 0.15 to 0.2 percent. The card now supports eight digital currencies, including the lesser-known dash and augur, and aims to offer about 11 of them by the end of the year.
TenX currently processes about $100,000 of transactions a month. By the end of 2018, it's targeting $100 million in monthly transactions and a million users.
TenX has an advantage in moving early, but the startup can expect competition in the future from major financial institutions and venture capitalists with deeper pockets and direct access to clients and databases, said Mati Greenspan, a Tel Aviv, an Israel-based analyst at social trading platform eToro.
"It's an incredible concept," said Greenspan. "At the end of the day, it's going to depend a lot on customer relations. Are they meeting the customers' expectations? Can somebody else do it better?"
TenX's efforts to make digital currencies spendable come as it joined the many blockchain-based start-ups taking advantage of initial coin offerings. ICOs are a cross between crowdfunding and an initial public offering that firms use to raise funds by issuing digital tokens rather than stock.
In its token sale last month, TenX raised $80 million with about half to be used to expand operations while the rest will provide liquidity for a crypto currency exchange in the works, said Hosp.
The company had previously raised $120,000 from angel investors and $1 million in a seed round led by venture capital firm Fenbushi Capital, which lists Ethereum's co-founder, Vitalik Buterin, as a general partner. TenX isn't expecting to become profitable in the next two years as it focuses on expanding services.
"One thing we want to offer in the end, is that you can switch cryptocurrencies within the app," said Hosp. "If we do this, we can become the market maker, which can bring in a lot of revenue."