By Sade Williams/business a.m.
Hadi Sirika, Nigeria's aviation minister, said the high cost of Jet A1 in Nigeria is as a result of high demand for crude oil, the ongoing Russian-Ukraine crisis, and low capacity to refine Jet A1 around the world.
He said the federal government and the country's carriers would have to reach a middle ground on how to stem the continuous hike in price of aviation fuel, urging the operators to cooperate with the government in resolving the crisis.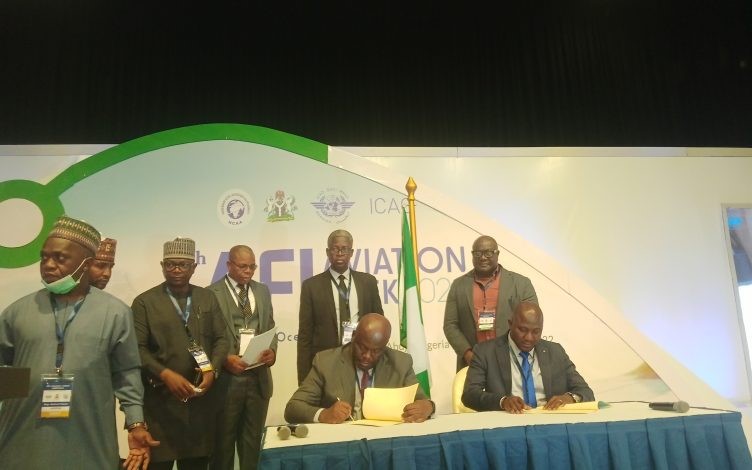 Sirika, spoke at the 7th Africa-Indian Ocean (AFI) Aviation Week in Abuja.
Nigeria also signed two Memorandum of Understanding (MoUs) with Sierra Leone and Rwanda for technical support to enhance the safety and security of civil aviation in the Africa Indian-Ocean region.
The MoUs were signed by Musa Nuhu, director-General, Nigeria Civil Aviation Authority (NCAA), and representatives of the two countries at the opening ceremony of the 7th AFI Aviation Week in Abuja, Nigeria
Speaking on the fuel crisis, Sirika said, "There is huge demand and the population of the world is increasing. There is huge demand for these products. It is not peculiar to Nigeria. It is worse in other countries in terms of pricing and availability. So, it is something we have to live with and I am sure they understand that.
"If you continue to pass the buck to the passengers, you will kill the transportation business or you make the air transportation unattractive. A middle ground would have to be found and I am sure it would be found," Sirika added.
He disclosed that the Nigerian National Petroleum Corporation (NNPC) Limited was going to look for a way to get the commodity through the oil majors or deep oil.
With that, he said, there would be less demand, leading to price stability, adding that the country was looking at ways to refine the commodity.
"When you have to bring it in from outside, there is the landing cost, the charges, taxes and that adds to the price of Jet A1.
"It is really biting around the world. We hope the airlines do understand this because what it is sold in Nigeria is not the highest in the world and they can attest to the government of Buhari that has been very impactful on their businesses because the number of airlines has doubled; that means we are doing the right things. I think the government is doing a lot for them just to mention a few in terms of support," Sirika said.