Technology
Social commerce to climb $604.5bn globally in 2027
December 9, 2020260 views0 comments
By Zainab Iwayemi
Over time, online shopping has gradually witnessed an increase in alternative shopping habits like social commerce. The global social commerce market is estimated to grow to $604.5 billion by 2027, while also rising at 31.4 percent compound annual growth rate (CAGR) between 2020 and 2027.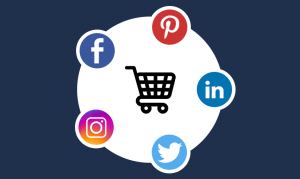 Quite a number of e-commerce are either selling already or are planning to sell via social media. Data analyzed by Stock App shows that while 15 percent of these companies worldwide are already selling on social media, 25 percent are planning to start.
Similarly, it is estimated that China's social commerce market would grow at a 30.5 percent CAGR over the analysis period. E-marketer predicted an estimation of 357.2 million social buyers by end of 2020.
The figure will spiral to 392.2 million, 420 million and 446.8 million by 2021, 2022, and 2023 respectively, while China is to account for 37.9 percent of social media worldwide at the end of the period. According to Statista, there is the tendency of witnessing an increment in the number of social commerce users as its 2020 estimate is 713 million.
Also, E-marketer projected that by 2020, retail social commerce sales in China will hit $242.41 billion. This year, the sector is to account for 11.6 percent of total retail e-commerce sales and almost double to $474.81 billion by 2023.
US social commerce record $23 billion in 2020
China surpasses the US in social commerce. The 2019, e-marketer reported $186.04 billion as the sector's total sales, which was close to ten times the US total of $19.42 billion.
Since 2017, when it launched Mini Programmes, Tencent's WeChat has been at the forefront of the trend as it witnesses major online retailers to create Mini Programmes to make direct sales within the app.
The 2019 annual report has it that Tencent generated over $115 billion in total transaction volume from its Mini Programmes.
According to Research and Markets, the sector is projected to be worth $26.9 billion in 2020. Although the e-markets projection is a little less optimistic, as it projects sales worth $23.26 billion by the end of 2020. It further estimated that the figure will rise to $31.35 billion in 2021, $38.22 billion in 2022, and by 2023 and it will reach $45.63 billion.
Also, Statista projects that the figure could be as high as $84.2 billion by 2024, accounting for 7.8 percent of retail eCommerce sales in the US.
Duoyin Creator to generate $11.8 billion in 2021
In the US, top-ranking companies like Walmart and Facebook seem to be taking cues. Walmart, in August 2020, announced its intention to buy a 7.5 percent stake in TikTok. The CEO noted that the move was based on the visualization for huge business opportunities in social media.
In 2018, Duoyin, the Chinese version of TikTok, partnered with Alibaba to introduce a shopping feature on the app and refined its offering to include product search features and native storefronts.
By August 2020, Duoyin emerged as the country's most popular platform for shoppable videos with 600 million daily active users and 22 million creators who realized over $6.15 billion over the year.
Duoyin, in 2020 announced its plan to invest traffic resources worth $1.5 billion in order to generate $11.8 billion in income for creators.
However, the competition became stiff as the main rival, Kuaishou, announced a total of 500 million eCommerce orders in August 2020; while daily active users grew around 300 million at the time.
Similar to Taobao Live on Facebook Shop, Facebook introduced a live shopping experience that serves as a dedicated section for eCommerce within the app, hence making it easy for businesses to go live and feature their products.
During the pandemic, Taobao recorded impressive growth as the number of streaming events on the platform increased by a whopping 110 percent in February 2020. The platform posted during the first quarter of 2020 a sales increase of 88 percent year-over-year.
According to China Internet Watch, Taobao Live GMV surpassed $53.2 billion from September 2019 to September 2020.