Commodities
Soybean production: Global market relevance beckons, for Africa's largest economy, Nigeria
November 24, 20201.1K views0 comments
By Onome Amuge
Soybean, also known as 'miracle bean' due to its numerous values, is a consumable and highly nutritious legume notable for its oil-rich seeds and for forage.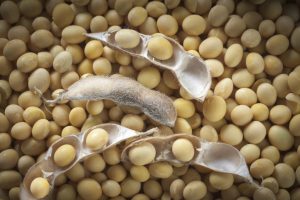 On a global scale, soybean is regarded as one of the most predominantly grown and used oilseeds and its use ranges from human to animal production and manufacturing of industrial products. 
More so, soybean oil is currently rated as the second most consumed and produced vegetable oil in the world after palm oil, amassing 55.46 million metric tonnes of global consumption between 2019 and 2020, according to a recent data by Statista.
BetterHealth, a medical website noted that soybean is high in fibre, protein, saturated fat, cholesterol free, lactose free, a good source of antioxidants, high in phytoestrogens, contains all the essential amino acids, and offers the best dietary choice to reduce the risk of cardiovascular diseases.
Ayoola Oduntan, a veterinarian and CEO, Amo Farm Sieberer Hatchery Ltd, in his declaration on the importance of soybean as a poultry/livestock feed stated thus: "Soybean is the most favourable protein of choice and feed for livestock and poultry. It is by far the best oil seed that is out there, we've gone through an evolution where we used groundnut, cottonseed and a few other oil seeds, but soybean has become by far the most critical source of protein in poultry diets."
Soybean is largely produced in the middle belt region of Nigeria with Benue State as the major production hub, representing over 30 per cent of total production in the country. Other key producing states include Adamawa, Bauchi, Borno, Jigawa, Kaduna, Kano, Katsina, Kebbi, Kogi, Kwara, Nasarawa, Niger, Plateau, Sokoto, Taraba and Zamfara, states an International Institute of Tropical Agriculture (IITA) report.
The United States Department of Agriculture 2019/20 report estimates Nigeria's soybean meal production to be 368,000 metric tonnes; soybean oil production stands at 83,000 metric tonnes; while soybean oilseed production is 700,000 metric tonnes. The total soybean value chain production is approximately 1.15 million metric tonnes, which positions Nigeria as the highest soybean producer in sub-Saharan Africa and 15th highest in the world.
In many parts of the country, most especially the north, processing of soybean occurs in rural communities where the crop is processed into soybean soup, soybean cake, pap, cheese, etc., for human consumption.
Soybean production has also been driven by the poultry, fishery, livestock and edible oil industries.  It is regarded as a vital and preferred source of protein in compound feed accounting for 20 to 30 per cent of poultry feed and 20 per cent of fish feed and livestock feed compositions.
Challenges hindering production in Nigeria
Despite a steady increase recorded in the soybean production sector, buoyed by a growing demand from the poultry, livestock and edible oils industries,  Nigeria soybean production is hindered by several factors some of which, according to the Food and Agricultural Organisation (FAO), an agency of the United Nations, include, poor planting material, low agricultural extension systems, reliance on rain-fed agriculture.
Habib Tarnongu, a soybean farmer based in Benue stated that one of the biggest challenges facing his soybean farm is attack by pests leading to post-harvest losses. He lamented that storage facilities and pesticides are quite expensive to acquire, especially when cultivating on a large scale.
A research journal article titled 'An economic analysis of soybean production in Nigeria', by Eniola Olorunsanya, a professor of Agricultural Economics, showed that over 60 per cent of soybean farmers had no access to mechanised farming or modern farming techniques that could effectively increase production. This, according to the research has led to over 90 per cent of farmers cultivating only a hectare of farm land for soybean.
The research also noted that one of the key issues constraining the production of soybean is the low adoption and limited use of improved varieties by the local farmers. This, the research explained, is because the farmers prefer the TGX 1448-2E variety, the most popularly used in the country. "Although the variety is a high yielding seed, the practice among farmers, including re-using the same seed for multiple planting cycles, has led to low yields," the research stated.
Olam, an international agri-business company operating in Nigeria, noted that the Nigerian soybeans suffer from a lot of negative quality perceptions such as high presence of foreign matter, low oil content and excessive dryness, which affects exportation, as global buyers have to be convinced to overlook some of these parameters.
Beeior Chris, an agriculture analyst of the Department of Agricultural Education, Oju, Benue State, noted that inadequate funds on part of farmers limited farming capacity. He explained that this factor has limited many farmers from boosting their farm production because they operate small scale farms that give very low monthly income resulting in low or no savings for future investment. Chris also mentioned that most of the farmers had no access to credit facilities to fund their farming operations, which forced many of them to operate small scale soybean farming.
Steps toward a better soybean industry
Beeior Chris suggests the extension of the Anchor Borrowers' Programme to the soybean sector is expedient to its development as it would enable farmers to facilitate the implementation of credit facilities, which would in turn, lead to large scale farming.
He also proposed the necessity for the local farmers to get enlightened on the operations and adoption of useful farming technologies and methodologies as well as updated with new information relating to soybean production to enhance productivity.
Abiodun Olaniyi, executive director, AgriQuest Africa Network (AQAN) opines that favourable government policies are needed to develop the soybean industry. Citing Brazil as a reference point, Olaniyi stated that economic reforms created favourable conditions for agriculture investment production, and exports in Brazil, a move that strengthened its coffee production, making the South American country the largest producer and exporter of coffee. Olaniyi also added that making research projects and agriculture seminars is not the driving force for the soybean industry as the government has to create an enabling environment and policies aimed at encouraging soybean production.
According to Olam, Nigeria has an advantage of being a country that allows the farming of non-Genetically Modified Organisms (non-GMO) which has a unique demand in global markets. "If Nigeria leverages on this distinctive soybean crop and encourage large-scale production, it will strengthen the niche demand in the global market which is a big plus for the country," the company stated.
Olam also recommended an active participation of various government, non-government (NGO) and private sector partners to jointly develop farmer support packages and agronomy programmes including training in good agricultural practices, to achieve a sustainable soybean development goal.
Why Nigeria must penetrate global soybean market
Despite being the fifth highest soybean producing country in the world, (After Brazil, U.S.A, Argentina and India) with a production that hovers around 18 million tonnes a year (USDA estimate), China is unable to produce enough soybeans to sustain its piggery consumption demand.
According to Chinese customs data, the world's most populous country imported 8.7 million tonnes of soybean in October, 41 per cent up year-on-year. Its cumulative import this year has also risen by 18 per cent with speculations of a higher demand by 2021.
Given the continued vigorous import demand from China and forecasts of dry weather conditions across parts of Brazil and Argentina, set to limit export availability from the South American top soybean producers in 2021, the outlook appears very bullish for soybean prices.  The Chinese soybean demand surge also sets an economic potential for other soybean producing countries such as Nigeria to break into the vibrant market.
A report by the United Soybean Board also shows that the soybean sector has continuously enjoyed the fastest global demand growth as territories such as India, the Middle East, North Africa, Southeast Asia and Latin America have all ignited a demand spike.
Based on the growth in global demand, analysts predict that in the next decade, global consumption will witness 70 to 80 million tonnes of additional soybean annually. An indication that higher soybean yields will be required, providing an opportunity for soybean farmers and producers across the world, including Nigeria to dominate the booming soybean market.
Analysts in the agriculture value chain believe that Nigeria needs to recalibrate its approach to agriculture and rethink how its sees the crops and produce that come out of its farms.
"While food security is important, against global commodities markets development, Nigeria must see economics and commercial value in each and every one of its farm produce and look at what is going on in the global market to see how it can extract value from the global markets," said one analysts who wishes not to be identified.
In Nigeria's quest to diversify its economy, it would appear there is shallowness in the country's approach. Given decades of laziness fostered by fossil fuel produced with technologies developed by other people, Nigeria appears to think that it can succeed with its diversification into agriculture if it fails to be deliberate, strategic and detailed in how it approaches it and in particular the produce that its lands yields to the country, especially soybeans, in this case.