Frontpage
US-China Trade War
Soybeans and wheat remain steady as grain harvest in the US continues at a slow pace
November 13, 2019748 views0 comments
Kenneth Afor
The Chicago soybean price futures in the early hours on Wednesday withstood the sluggish moves of United States' grain harvest activities as anxiety over the US-China trade talk agreement drags on.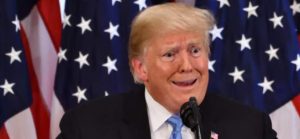 Investors witnessed a 0.2 percent rise at $9.18 half a bushel of soybean contract on the Chicago Board of Trade (CBOT).
Elsewhere, wheat fell by 0.3 percent at $5.15 for half a bushel after closing on Tuesday to a high at 2.2 percent, while corn lost couldn't meet with rival grains, it closed at 0.1 percent for $3.77 a quarter of a bushel.
According to Ole Hoe, industry advisor at Brokerage IKON Commodities, he said that soybean is still maintaining its lead due to the delayed harvest from the U.S. but that corn is likely to be vulnerable on the delay.
"Soybeans are finding support due to the tail-end of harvest delays, although the risk is actually bigger to the corn crop, we are still unsure about the US-China trade deal, but seems like it is inching closer."
According to data made available by the U.S. Department of Agriculture (USDA), it revealed that soybean harvest in the country was 85 percent complete which is behind analysts' projections and below the average speed of 92 percent.
Business a.m. also learnt that corn harvest a major grain for export was at the close of trading on Tuesday was at 66 percent complete, behind expectations and lower than a five-year average of 85 percent.                      
USDA's released data shows that 54 percent of U.S. winter wheat crop is in perfect condition despite lagging behind projections of a 57 percent standard rating.
Investors on Tuesday were optimistic that Donald Trump would give a hint on a possible time table the U.S. and China will finally sign the anticipated trade agreement but the American at the Economic Club in New York did not give a clue on the actual date for the agreement.
However, Houe assures investors that U.S. grains futures will not surge as expected due to the impending cold weather which could dampen their appetite.
"Global prices eased a couple of dollars last week, so no reason for U.S. futures to run up, wheat had a bit of an unmotivated rally as it was too early to have real concerns about the cold weather," Houe said.
The agriculture department had previously reported that 528,875 tonnes of U.S. wheat has been inspected for export at the of the first week in November a little bit above analysts' 300,000 to 500,000 tonnes projected figures.