VETIVA
VETIVA COMMENTARIES
STANBIC IBTC HOLDING PLC H1'22 Earnings – Profits soar 36% y/y on impressive earnings growth
September 6, 2022141 views0 comments
What shaped the past week?
Global: Global equity markets remained under pressure this week, as broad-based selloffs were observed across the global space. Starting in the Asian region, the latest lockdown by the Chinese government in the city of Chengdu, which is home to 21 million people, weighed on investor sentiment in the region; the country is already facing a slowing economy as key cities remain under strict lockdown measures. The Shanghai Composite sank 1.54% w/w, while the Hong Kong Hang Seng and the Japanese Nikkei 225 dipped 3.56% and 3.46% respectively. Moving to Europe, where the region is facing an unprecedented energy crisis, major markets closed lower as investors become increasingly unnerved about the impact of the crisis on the region's economy. The German Dax lost 0.83% w/w, while the French CAC and London FTSE dipped 2.84% and 2.09% w/w respectively. Finally, in the United States where investor focus had shifted to the latest batch of economic data. The U.S. saw a marginal uptick in unemployment to 3.7%, while the latest nonfarm payroll numbers came in better than expected, with 315,000 new jobs added in August. Tech stocks were the worst performers this week, as the Nasdaq Composite sank 2.62%, while the Dow Jones and S&P 500 fell 1.46% and 1.71% respectively.
Domestic Economy: In Q2'22, capital imports increased 75.34% y/y to US$1,535.35 million, according to the National Bureau of Statistics. Despite recording the best second-quarter performance since the pandemic in Q2'22, capital importation has yet to reach pre-pandemic levels. Portfolio investments accounted for 49.33% of total inflows, while banks (the top sector) attracted 42.10% of the lump sum. In summary, Nigeria's is still struggling to raise capital externally, due to the multiplicity of exchange rates, pre-election uncertainties, and difficulties in repatriating capital.
Equities: Nigerian equities rebounded slightly this week as the NGX All Share index rose 73bps w/w to settle at 50,045.83pts. The market's performance was driven by broad-based gains across the index, with the Consumer Goods sector ending the week as the best performer. The sector rose 2.01% w/w, fueled by interest in FLOUMILL and DANGSUGAR; the counters rose 3.89% and 2.50% w/w respectively to ₦28.05 and ₦16.40. Meanwhile, following last week selloffs, the Industrial Goods space rebounded, rising 1.36% w/w due to interest in WAPCO amongst others. The cement maker's stock rose 4.60% w/w to settle at ₦25/share. Likewise, in the Banking space renewed interest in the Tier-I space saw the sector return 1.21%, as the likes of ACCESSCORP and others propped up the space; ACCESSCORP gained 6.10% w/w to settle at ₦8.70. Finally, in the Oil and Gas space interest across the oil marketers drove the sector's performance as it gained 0.65% w/w.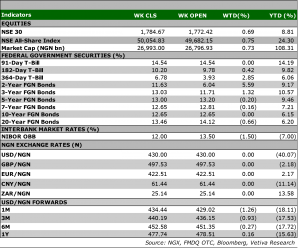 Fixed Income: Trading across the fixed income space was largely bullish this week, as we saw yields trend downwards across the three spaces. In the bonds space, a better than expected economic data drove positive sentiments. Thus, investors bought up securities at the short-and long ends of the curve. With this, yields across benchmark bonds declined 3bps on average. Meanwhile, as system liquidity was relatively positive this week, trading activity in the NTB and OMO spaces were buy-side driven. Consequently, we saw average yields decline 1bp and 6bps respectively.
Currency: The Naira depreciated 2bps w/w at the I&E FX Window to ₦431.50.
What will shape markets in the coming week?
Equity market: With the last 3 sessions of positive activity in the market, all the sectoral indices closed the week in the green. We anticipate a slow start next week, with possibilities of profit taking in some of this week's gainers.
Fixed Income: As we foresee no catalyst to sway market direction next week, we anticipate a continuation of similar, sell-side trading in the bonds market. Furthermore, the NTB segment is expected to trade in line with system liquidity.
STANBIC IBTC PLC – Profits soar 36% y/y on impressive earnings growth
STANBIC recently released its half-year earnings for 2022, reporting a 44% y/y jump in Gross Earnings to ₦134.9 billion, slightly above our estimate of ₦133.3 billion. The impressive growth was the result of a 54% y/y increase in Interest Income to ₦68.2 billion (Vetiva: ₦65.9 billion), as the bank saw yield on loans and advances for the period improve to 6.5% from 5.2% in H1'21, while its balance sheet grew by over 30% y/y. Non-Interest Revenue (NIR) also supported the impressive growth, with the bank reporting a 37% y/y increase to ₦62.9 billion; this was driven by significant improvements in trading revenue, which doubled y/y to ₦16.3 billion amid higher yields in the Fixed Income market.
On the other hand, the bank's costs grew at a slower pace, with Opex coming in 23% higher y/y at ₦67.9 billion amid a 22% y/y rise in staff costs and a 12% rise in AMCON charges. Meanwhile, group impairments remained negative, with the bank recording provisions of ₦5.5 billion, as recoveries on loans fell to ₦0.3 billion from over ₦3 billion in H1'21. Therefore, Pre-tax profits came in 62% higher y/y at ₦39.9 billion, while PAT for the period was ₦30.7 billion (Vetiva: ₦32.4 billion) 36% higher y/y.
Q2 performance remains flat on higher provisions
Despite the steady rise in FI yields, STANBIC's Q2 performance remained flat due to a combination of factors. Firstly, the bank's Net interest Income grew q/q after Interest Income increased by 7% q/q while Interest Expense fell by 13%; driven by a 32% drop in interest paid on Term deposits during the quarter. However, this improved performance was somewhat cancelled out by a significant jump in loan loss provisions, with the Q2 figure coming in at ₦4.9 billion. Furthermore, NIR moderated by 5% after the bank saw weaker income from trading on FI securities and currencies during the quarter.
This meant that the bank only reported a 4% q/q increase in after tax profits to ₦15.6 billion despite a 9% decline in Opex to ₦32.3 billion. Interestingly, we did not observe an increase in the bank's cost of funds despite the first increase in MPR which occurred towards the back end of Q2. However, we anticipate a passthrough to the line item in Q3, especially after the CBN's adjustment of the savings rate to 30% of MPR from the previous 10%.
TP adjusted to ₦43.00
We have slightly adjusted our forecasts for STANBIC for H2, with our Gross earnings estimate increased to ₦270 billion (Previous: ₦263 billion), while our provisions estimate has also been raised to ₦7 billion from a net positive figure of ₦0.9 billion. Ultimately, our Pat projection has been lowered to ₦67.6 billion (Previous: ₦69.4 billion). Therefore, we lower our 12-month target price (TP) to ₦43.00 (Previous: ₦43.93) and maintain our BUY rating on the stock. The bank is currently trading at a 41% discount to this target price and a P/B ratio of 1.0x.