Commodities
Startup plans to rescue diamond trading as banks flee
October 18, 20171.1K views0 comments
As major banks abandon the diamond trading world, one new lender is preparing to jump in.
Dfin, a London-based corporate finance firm that specializes in the diamond sector, plans to lend $250 million to diamond polishers, cutters and traders — known in the industry as the midstream — over the next two years, according to Dfin pitch documents seen by Bloomberg News. Within the next four years, it aims to expand lending to about $375 million, the documents show.
The diamond midstream, dominated by Indian and Jewish family businesses, makes up the invisible link between African mines and jewelry stores in New York, London and Hong Kong. The companies are heavily dependent on trade finance to buy rough stones, yet that money is drying up.
Total lending to the midstream has fallen from $16 billion in 2013 to just over $13 billion today and is forecast to fall below $11 billion in the next couple of years. Most of the contraction is coming from Standard Chartered Plc and KBC Group NV who are abandoning the sector. Standard Chartered has already taken about $400 million in losses and has about $1.7 billion of loans still to be recouped.
Dfin, run by a former investment banker Christopher Ellis and diamond banker Bryan Walker, will lend through its new DIAL lending venture.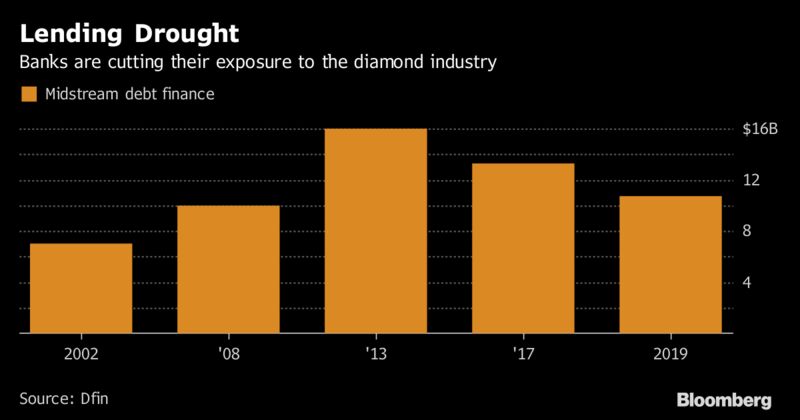 Part of the problem for the banks is the way they lend. Diamond companies borrow against IOUs, known as receivables, for goods that have been sold, but not yet paid for. There have been cases of companies inflating the value of goods or producing fake receivables that undermine the bank's collateral.
"The opportunity exists because financing to diamond midstream companies is completely broken," Dfin said in its information memorandum to potential investors. "Banks have been burned too many times by losses in this sector and are pulling away."
Dfin plans to sidestep lending risks by holding physical polished diamonds as collateral and lending a maximum of 55 percent of their value. The company hopes to attract outside investors and banks that see the sector as too risky to fund themselves. It's targeting clients in the diamond hubs of Antwerp, New York, Tel Aviv and Hong Kong.
Lending will start in the fourth quarter, with the company building a $250 million loan portfolio within two years. It plans to target medium-sized diamond traders and provide revolving inventory of loans between $5 million and $15 million.
Dfin is currently seeking $1.2 million in seed financing and is in talks with banks and mezzanine investors to fund the loan book.
"DIAL provides a solution to both banks and diamond midstream companies," the company said in the pitch. "It protects capital against risk of loss while creating a sustainable source of financing for companies. This is possible because the lending decision is based solely on the value of the diamonds, rather than the credit standing of the company."