Nigerian government officials, politicians, and bureaucrats like to pretend that they are a part of this world. In truth they are not. On the matter of taxation, they like to sing a swan song once the slogan was established that the country's tax-to-GDP ratio is one of the lowest in the world. You would think that it was the fault of everyone else but government that this is so. Once the opportunity has presented itself to do something about it, then caution is set aside and the baby is thrown away with the bath water.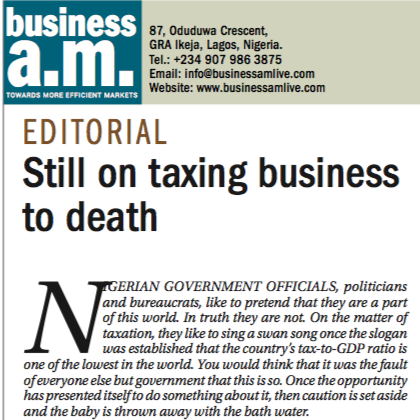 Last week, we drew attention to the cries of the organised private sector (OPS) against a Federal Inland Revenue Service (FIRS) programme on valuation and assessment of business premises or properties occupied by businesses for the purpose of imposing an additional tax burden on them. We urged caution and called on the responsible authorities to work better with the private sector in such a way that eases the burden it faces, so as to enable it create the jobs that politicians often promise electorates. We said tax needed to be fair and just and that the pursuit of revenue must not make government lose sight of its responsibility to keep businesses in business.
Today we have a reason to return to the matter of taxation again, the type targeted at companies in an unfriendly manner that threatens their continued existence. Last Friday, it was the turn of the Nigerian Employers Consultative Association (NECA) to raise an alarm that the long sought for legislation on Competition, has been manipulated to become a tool for the imposition of additional taxes on companies.
Through the new legislation, now before the President and awaiting his assent, known as Federal Competition and Consumer Protection Bill, sent by the National Assembly, NECA claims that an odious insertion has been made that would compel companies to pay a tax of 0.5 percent tax to fund the establishment of a planned Commission or Agency that would take responsibilities under the law.
We think that this is rather unfortunate. We want to ask: On what basis are companies being asked to shoulder the responsibility of funding the establishment of what is ultimately a government agency?
What is even more curious is the point made by NECA that this now contentious provision was not contained in the draft Bill that was exposed to the public and stakeholders and which was debated on during the public hearing. So, how did this get into the Bill now before the President? There are two groups of people that could be responsible for this illegality.
These are politicians, represented by the law makers, and government bureaucrats who probably see this as an opportunity to cut government expenditure, either honestly or disingenuously. We say disingenuously because inserting a provision that was not agreed on collectively is an abuse of power, especially because such a tax represents an ambush on companies who should not be made to take over government responsibility of establishing an institution akin to a Competition Commission meant to protect citizens.
This illegal act deserves to be investigated, especially to find out at what stage the provision was inserted, who did and for what purpose. NECA has made bold to say: "While the Private sector welcomed and, in fact, actively supported the introduction of a dispensation where an Institution will exist to promote fair, efficient and competitive markets in the Nigerian economy, at no time, during the public hearing on the Bill did we discuss the imposition of 0.5% profit after tax on companies operating in Nigeria, as a source of funding the Commission."
It would seem to us that there is still a huge knowledge gap within government as to what is going on out there in the world of business. There appears to be a misconception that businesses are thriving and as such every opportunity must be used to squeeze them of taxes. NECA lists at least 55 taxes and levies imposed on enterprises by all levels of government. When governments in other parts of the world are working to see how they can make business succeed, the Nigerian government often seem aloof and puts up an antagonistic posture in its dealings with business. It is worrying that this disconnect, among bureaucrats and politicians, about the real issues that businesses are facing continues to exist.
It is this that leads to this kind of arbitrary actions whose consequences are not properly thought through and are carried out in the quest to raise revenues. The President needs to return this Bill for this provision to be expunged, and let the government take responsibility for funding a Competition and Consumers Protection Commission, for fairness to citizens.
---