Mining
Tanzania hands mining company $190 billion tax bill
July 25, 20171.2K views0 comments
Tanzania sent Acacia Mining Plc a tax bill equal to almost two centuries worth of the gold producer's revenue.
The government issued the company, which mines all of its gold in the African country, with a $40 billion tax bill and another $150 billion in interest and penalties, Acacia said in a statement Monday. The charge covers alleged under-declared export revenues from the Bulyanhulu and Buzwagi mines over periods between 2000 and 2017.
Acacia reiterated that it has fully declared all revenues. The stock sank as much as 17 percent on Tuesday to the lowest since December 2013. In just three days, the company has lost 42 percent of its value.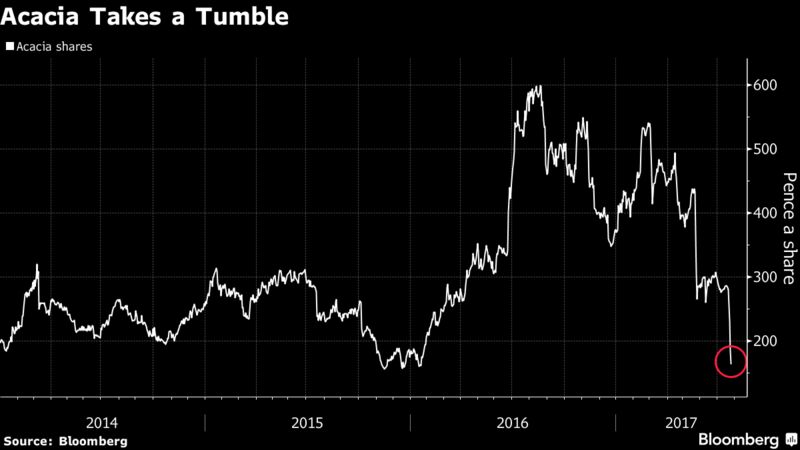 The giant tax bill is the latest twist in an increasingly ugly spat between the government and Acacia. In March, Tanzania banned exports of unprocessed gold and copper, a move Acacia said is costing it about $1 million a day in lost revenue. The situation escalated when the government accused the firm of operating illegally in the country and said mine operators had been evading taxes.
"The company is considering all of its options and rights and will provide a further update in due course," Acacia said in the statement.
To put the size of the bill in perspective, Acacia, which is majority owned by Barrick Gold Corp., had total revenues of $1.05 billion last year and has reported sales of a total of $7.7 billion since 2009.
"The $40 billion tax bill is more than twice what all top five global gold miners (including Barrick) combined have paid in taxes since 2000!" Hunter Hillcoat, an analyst at Investec Plc, wrote in a note to investors Tuesday.
At least two senior employees have been detained for questioning by Tanzanian authorities this month, while other employees have been interviewed by the police. On Friday, Acacia said the dispute had depleted its cash balance to $176 million from $318 million a year earlier and that it will have to shutter its flagship Bulyanhulu mine at the end of this quarter if the situation is not resolved.
The stock was down 13 percent at 160.6 pence by 8:54 a.m. in London, taking this year's decline to 57 percent.
---
Report courtesy Bloomberg