By Charles Abuede
Tencent to be second Chinese firm to join the trillion-dollar club after PetroChina Co
Chinese Internet behemoth, Tencent Holdings, lost as much as 6.7 per cent in Hong Kong on Tuesday which drove its market cap below $900 billion after a surge in the stock pushed its market capitalisation to the cusp of $1 trillion unexpectedly for the first time.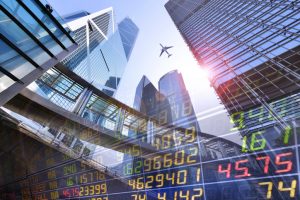 This was after Monday's rally which saw investors booking profits from a surge of 11 per cent which happens to be Tencent's biggest in almost a decade.
As investors seek less expensive investment options, they've been packing into Hong Kong equities. That has helped make the Hang Seng China Enterprises Index the best performing among the world's major benchmarks in the previous month. While Tencent has for quite some time been investors' top choice in Asia and returning over 100,000 per cent since its 2004 first sale of stock as of Monday, there I s a different risk to the rally.
Tencent was the latest big-cap firm to profit from investor excitement for the tech space with its forthcoming achievement, a marker for the elation clearing the stocks around the world. Prior to Tuesday, the company's stock had added $251 billion in January alone.
The possibility that China will fix financing conditions takes steps to crash Tencent's stock rally, which has been supported by a constant progression of capital from the Chinese mainland. Also, the coastal funds bought a record amount of Hong Kong shares this January with about a quarter of that focusing on Tencent.
Meanwhile, Tencent is pervasive to Chinese investors who have no access to the Hong Kong shares of opponent Alibaba Group Holding through the stock links; this is hinged on the fact that an excess of a billion people utilizeTencent's WeChat social media platform.
In 2018, a government crackdown on China's web-based gaming industry pressed Tencent's most profitable business, which at the time represented about 40 per cent of its revenue. Combined with an easing back Chinese economy and a debilitating Yuan, Beijing's nine-month stop on endorsements for new games added to a 22 per cent drop in the shares.
Also, the mission against monopolistic practices since the end of last year has focused on large numbers of the industries in which Tencent and rival Alibaba operate, including the online payments industry. Yet, while growing regulatory risk has left Alibaba's shares about 18 per cent lower than their October peak, Tencent has closed at seven new records in the previous eight trading sessions.
But one factor adding to the difference is that Alibaba's Hong Kong stock is excluded from trading links with mainland trades.
Tencent would be the second Chinese firm to join the trillion-dollar club after PetroChina Co., which was momentarily worth more than that in late 2007 before its value collapsed. However, U.S. tech giants Apple, Amazon.com, Alphabet, and Microsoft are worth more than $1 trillion respectively, as is Saudi Arabian oil company, Aramco.