World boxing great,  Anthony Joshua holidaying in Nigeria,  put up at The George. Here's why
Business tourists are finding new homes in hotels in very tranquil neighbourhoods away from the big names. In this report, SAMSON ECHENIM takes a close observation of two of Ikoyi's coolest hotels that are currently attracting business tourists like a mecca.
 The "beautiful ones are not yet born" is the title of a novel by a popular Ghanaian writer, Ayi Kwei Armah, but the expression has gone beyond Armah's creative mind. Indeed, with man's undying crave for change, innovation, advancement and deeper leisure, is leading him to creating beauties, after beauties across sectors and lifestyles.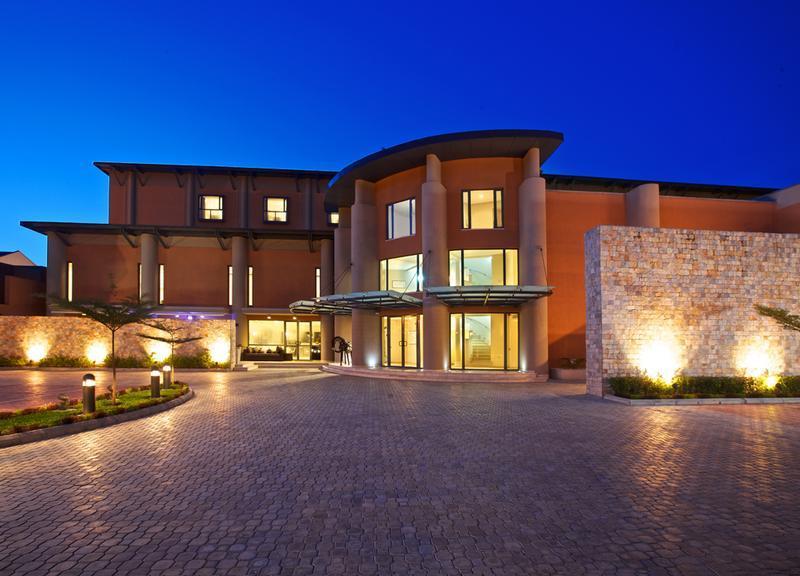 In Nigeria's hospitality experience, there are names, but new names are coming up to take the centre stage. The George Hotel and the Wheatbaker Hotel are inarguably, two 5-star hotels that are currently stealing the hearts of business tourists coming into Lagos, Nigeria's commercial capital. Little wonder, Nigerian-born British heavyweight boxer, Anthony Joshua is currently putting up at the George.
The George Hotel and Wheatbaker are independent luxury boutique hotels located in exclusive, high-brow residential streets. The Hotels' central location in Ikoyi makes them ideal for guests who would like to be within reach of the Central Business District, but would like to relax and refresh in a secure, tranquil and luxurious environment.
Located in serene neighbourhoods of Ikoyi on the island, tourists who choose any of the hotels can visit other tourist centres such as Nike Art Gallery, which is just 1.8km away and the Ikoyi Golf Course, about 2.5km away. The National Museum and Freedom Park are also near and tourists can shop at Lekki Market and Mega Plaza Century 21 Mall.
Ikoyi is a sister town to Victoria Island, Lagos' corporate business hub. This means that hotels in Ikoyi can be lovable homes away after hectic business hours in Victoria Island.
While the big old names still control a larger chunk of corporate events market, these smaller size, but exotic suites offering 5-star services appear to be the preference of the individual business tourist. However, there is a price to pay! The 37 kilometres journey from the Murtala Mohammed International Airport means more than its distance, with very heart-breaking traffic gridlocks that wreck the routes daily. Movement from the airport to the island in the morning and back to airport/island in the evening can mean bad business for hotels in Ikoyi, Lekki and Victoria Island.
The George
Since opening its doors to the public in July 2015, The George is cool to say that it has rapidly established a name for itself, catering to the needs of the discerning business traveller who is looking for a unique and personalised hotel to stay and those seeking the comfort, safety, tranquillity and quality of a five star hotel with superior levels of service and cuisine and attention to detail. The George boasts of 61 individually appointed en-suite rooms, ranging from classic rooms to penthouse suites with fittings and facilities of exceptional quality.
Planned with mid-size hall for meetings and events, The George prides itself as a class above the rest, and has become a favourite of celebrities, dignitaries and, royalty; a place where the astute traveller will experience home away from home in pure luxury and comfort.
Variety of rooms at the hotel range from the Classic Room to the half a million naira 2 bedroom penthouse suite. The classic room, The George's lowest is sold for over N100,000 per night and booked up for most of the nights. The 2 Bedroom Penthouse suite is the ultimate George experience. Ideally suited for a family vacation or extended stay, these ultra-spacious accommodations with king bed offer either city or pool views. Highlights of these elegantly appointed suites include an additional separate and private guest room, living room, two marble bathrooms, a separate powder room and private balcony.
Dinning
The George parades several dinning centres which include the Da Vinci Restaurant, pool side dinning, Sunday brunch room and private dinning room, among others.
At the Da Vinci, guests can enjoy the finest contemporary and African cuisine. Open throughout the day for breakfast, lunch and dinner, the hotel says each dish is exquisitely presented and served with passion. "Our Chefs use only the highest quality ingredients from selected suppliers. With deliciously new and inventive dishes alongside timeless classics and a selection of wines, you can look forward to a memorable and enjoyable dining experience."
The Wheatbaker
Perhaps, a curious tour into The Wheatbaker's heritage can set the hotel's preference scale high for a historically discerning tourist. The hotel was built in memory of Amos Stanley Wynter Shackleford, a hardworking Jamaican entrepreneur and baker, who originally built the edifice, where Wheatbaker now stand.
About that time there was a downturn in the economy , Shackleford , with his wife's help, went into business on his own, setting up a bakery on a small domestic scale. This business flourished, and Shackleford introduced new production and marketing methods. The business expanded into other Nigerian towns, and in the 1930s into the then Gold Coast and he became known as the 'Bread King' and the bread as 'Shackleford'. He eventually sold out and retired in 1950. He was also involved in transport and gas retailing businesses, and the importation of Jamaican rum.
He was an important pioneering industrialist and entrepreneur.
"The spirit of Amos Stanley shines through in defining the essence of The Wheatbaker. He was an outgoing personality who loved to entertain and a noteworthy stylish dresser. Shackleford was one of the only expatriates who completely integrated into Lagos life even becoming an honorary member of the political party that was fighting for independence from colonial rule. Amos Stanley Wynter Shackleford built his home here at 4, Lawrence Road in 1950 but never lived here. Over 50 year later, the building served as an inspiration to develop the hotel. Inspired by the story of Mr Amos Stanley Wynter Shackleford we coin the name, The Wheatbaker (Hotel) in his honour," a piece on the hotel's heritage runs.
Services
At The Wheatbaker, all rooms and suites have individually controlled air-conditioning, colour TV with 20 satellite channels, mini-bar, tea and coffee making facilities, direct-dial telephones, luxury private bathrooms, hairdryer, razor point and electronic safes in rooms.
Rooms are categorised from the lowest called the Executive Suites through the Standard Queen Room and Luxury King Room to the Executive King Room, depicting royalty for its guests.
The Wheatbaker places much premium on relaxation of its guests, hence it has about 10 spots where guests can dine, drink and relax in utmost leisure.
The Eko Bar is much more than a bar. It is different, innovative, charming and modern. Serving great Wine, Champagne and Cigars. From the kitchen, delight your palate with all five senses when selecting any of our items from the snack menu.
The grillroom – Specialising in prime steaks, seafood and a range of international dishes with a local selection of national favourites. The Grillroom Bar – Linking onto the pool terrace, it is the ideal venue for social or business meetings. Saraya Deli – A modern and fresh venue offers exciting and healthy dishes to eat-in or take home. Al fresco breakfast available.
The Wheatbaker spa provides a place to rejuvenate the guest's mind, body and spirit by indulging in high quality body and facial therapy treatments performed by trained therapists. With its many leisure and lifestyle facilities, The Wheatbaker offers the corporate traveller all the comfort and convenience of a luxury boutique hotel. Little wonder the hotel has become Lagos' top lifestyle and luxury accommodation.